Two rural Ontario churches are trying to combat COVID-19 isolation for local residents by running events and workshops that are open to the whole community.
Barrie Hill and Speedside United churches have created Connect29, a new community engagement project named after County Road 29 outside Guelph, Ont., where both of the congregations' buildings are located.
Tim Card, a Barrie Hill United member who is on Connect29's board, says the idea behind Connect29 is to take the "bricks-and-mortar churches and link [them] to our virtual community, which developed heavily during the pandemic, and our traditional rural community."
---
Interested in more stories like this? Subscribe to Broadview's weekly newsletter.
---
The congregations realized there was an appetite for connection in the outside community during Christmas 2020, when an interactive installation at Barrie Hill United attracted hundreds of visitors.
"People came down from Toronto, people came from the other side of the city of Guelph that aren't people that walk through our doors, but they wanted to celebrate in a community kind of event. And so we found that kind of connection was something people really wanted," Card says.
Since Connect29 started last winter, events have included a virtual Italian cooking night, a COVID-safe, in-person barn dance and an online beer tasting, among others — all open to outside community members. Every person at the barn dance had to have a negative COVID-19 rapid test before attending and show proof of full vaccination, including the band and caterers, says Susan Frasson, who attends Speedside United and is involved with Connect29. Tables were also spaced apart. The churches have also upgraded their technology for virtual worship and held workshops on youth mental health.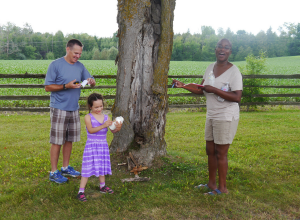 In-person Connect29 events, including some scheduled euchre nights, are on pause for the next while due to COVID-19, but the churches are planning to run more virtual programming.
The events have meant a lot to one participant and her family. Wale Shamonda Gordon recently moved to the area and attends Speedside United.
---
More on Broadview:
"We're quite fortunate because we live on a huge farm and so there has been a lot of open space for us to walk around in," Gordon says. But she has found the isolation difficult, as has her six-year-old daughter, who is an only child. Gordon says her daughter loved the Italian cooking night and the barn dance.
"It's just a way to be involved in our community, be involved in our church," she says of Connect29. "None of us had to reaffirm our faith; [these events] just give us that human interaction that is much needed in times like these."
EDITOR'S NOTE: This story was updated on Jan. 19, 2022 to add more details about the COVID-19 precautions taken at the barn dance. 
***
Emma Prestwich is Broadview's digital editor.
---
We hope you found this Broadview article engaging. 
Our team is working hard to bring you more independent, award-winning journalism. But Broadview is a nonprofit and these are tough times for magazines. Please consider supporting our work. There are a number of ways to do so:
Subscribe to our magazine and you'll receive intelligent, timely stories and perspectives delivered to your home 8 times a year. 
Donate to our Friends Fund.
Give the gift of Broadview to someone special in your life and make a difference!
Thank you for being such wonderful readers.
Jocelyn Bell
Editor/Publisher