The little free pantry movement, a grass­roots solution to local food insecurity, is sweep­ing across United Church congregations. Taking a crowdsourced approach to nourishing neighbourhoods, churches are installing small wooden boxes on their front lawns and in other visible spaces, stocked with non­-perishable food. In a spin on the Little Free Library concept, the pan­tries operate with the motto "Take what you need. Give what you can."
While some United churches are single­ handedly spearheading the mini­-pantries, others have teamed up with community partners, with locations including Gordon­-King Memorial United in Winnipeg, Christ the King United in Kitchener, Ont., Zion United in Hamburg, Ont., and Cowan Heights United in St. John's, N.L., among others.
---
More on Broadview:
---
In Barrie, Ont., a collective of churches and social service agencies launched an eight­-week pilot project last July that placed pantries at four different sites: Burton Avenue United, Collier United, Trinity Anglican and Grace United. "Because we were working ecumenically, and because we were sharing resources, it was a stone-­soup scenario: everyone brought what they had, and out came the soup," says Rev. Susan Eagle, minister of Grace United.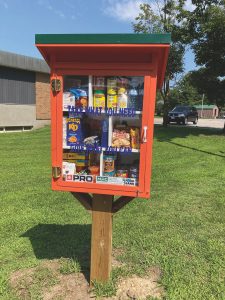 During the pilot, the local food bank, which also developed guidelines for appropriate con­tent and food safety, gathered data on how clients were accessing each pantry, including what kinds of products work well. Sharon Palmer, executive director of the Barrie Food Bank, says the pantries have been able to reach people who can't readily access a vehicle or public transportation to get to the food bank.
After the successful pilot, Barrie's four pantries are continuing, and the consortium is planning to add as many as 20 additional pantries across the city. "Caring for one's neighbour is the most important theological and relational principle," reflects Eagle. "It's about building a community where people have dignity and respect."
***
Julie McGonegal is a writer and editor in Barrie, Ont.
This story first appeared in Broadview's January/February 2022 issue with the title "United Churches Set Up Little Free Food Pantries."
---
We hope you found this Broadview article engaging. 
Our team is working hard to bring you more independent, award-winning journalism. But Broadview is a nonprofit and these are tough times for magazines. Please consider supporting our work. There are a number of ways to do so:
Subscribe to our magazine and you'll receive intelligent, timely stories and perspectives delivered to your home 8 times a year. 
Donate to our Friends Fund.
Give the gift of Broadview to someone special in your life and make a difference!
Thank you for being such wonderful readers.
Jocelyn Bell
Editor/Publisher