A dented, beige Dodge Caravan crawls through the quiet Junction neighbourhood in west Toronto. Five people are packed into the vehicle, one of whom cries in his car seat as Ed Sheeran's Supermarket Flowers plays on repeat (the song usually puts one-year-old Austin to sleep). The boy's fa­­­th­er, John Nino, is driving, while his mother, Silvia Vargas, and 13-year-old brother, Juanes, press their noses against the glass, scanning properties for signs saying "FOR RENT."
Vargas reads phone numbers out loud to their friend Chelsea Kerremans, who writes them down. When they collect seven or eight, they pull over and make cold calls. The group has been doing this three times a week for about a month as a last-ditch effort to find an apartment.
Vargas, Nino and their sons are refugees from Colombia, and at the time of the apartment search in 2017, they had been living at Romero House, a transitional home for refugees where Kerremans worked as an intern. They had spent months sifting through online rental sites, making hundreds of calls and attending more than a dozen appointments without any luck. In Toronto's expensive and competitive rental market, they soon discovered being a refugee family with a language barrier made them weak candidates.
Nino and Vargas had left a comfortable life and a nice neighbourhood in Bogota, where she worked in sales for Audi and he was a police officer. "We were very happy," Vargas says. "We had all our belongings, our cars, all of the common commodities someone has when you have an established job."
But when Vargas was seven months pregnant with Austin, Nino was attacked. (She doesn't want to say why; the family is still processing it.) Colombia's 50-year-long civil war only came to an unstable end in late 2016 and the country is still one of the most dangerous in South America. The UN Refugee Agency (UNHCR) estimates that there are 340,000 Colombian refugees in the world. In 2015, CBC reported that Colombia was the largest source country for refugees arriving in Canada.
Fearing for their safety, the family packed up their lives into three suitcases and flew to Toronto — all in less than a week. After arriving at Pearson International Airport and making their asylum claim, they spent the night sleeping on the floor of the terminal. Their son, Juanes, was hungry, and Vargas remembers looking at the vending machines. "We were doing the conversion from Canadian dollars to Colombian pesos, and we were asking ourselves, 'Oh my God, how [are we] going to buy those chips if it costs 5,000 pesos when in Colombia the cost would be like 500?'"
They left the airport after two nights and paid $80 (they had only $400) for a taxi to a refugee shelter in the city, but there wasn't any room. Instead, they were sent to a hostel in Scarborough, in Toronto's east end, where they were given a small, cramped room. The hostel had cockroaches and people would smoke in the hall — not ideal for Juanes or their unborn child. They were eager to leave, but finding a place on their own proved to be impossible.
At some point, a Colombian friend-of-a-friend directed them to Romero House, which is named after Archbishop Oscar Romero, who was canonized in 2018. Vargas and Nino began making daily visits, getting to know the staff while they waited for an available space.
Within weeks, they were given a place to sleep. Two months later, they got their own apartment at Romero House, where they were allowed to stay for a year while they looked for more permanent housing. Austin was born just two days after that. "We were lucky," says Vargas. "I was very tired because of all the moving, but we were really lucky."
Canada's largest city is the first stop for many refugees like Silvia Vargas and her family. But they often struggle to find even temporary shelter as Toronto scrambles to accommodate an unexpected influx of asylum seekers in the midst of a housing crisis. Since early 2016, the number of refugee claimants arriving in Canada has surged. In 2017, it climbed to over 50,000 from 23,000 the year before.
Reasons for the rising numbers are multifold. While ir­regular border crossings and the Syrian exodus dominate the refugee-related headlines, human migration is actually a global crisis. The UNHCR says 25.4 million people are seeking refuge worldwide.
Those who land in Toronto face a serious lack of housing. Thankfully, Romero House and six other faith-based organ­izations are quietly and fervently helping to fill the gap. These non-profits, many of which have been around for decades, started out as places of welcome and community. Now they're central to Toronto's ability to cope with exhausted newcomers who need a safe place to rest in a strange city.
Romero House, which has four separate houses, offers 10 subsidized apartment units with one-year leases to refugees and their families. Interns also live in the homes and act as companions to guide the refugees through the early settlement process. This ranges from finding a lawyer to obtaining a work permit. They also give referrals to resources such as ESL classes and help with accessing financial aid, health care and education. Most importantly, they help navigate Canada's complex refugee claimant process, as well as the city's notori­ously frustrating housing search.
Hannah Deloughery worked as an intern at Romero House for one-and-a-half years and remembers refugees would walk in, needing immediate support. Most had been directed to the organization either through word of mouth or new­comer services at the airport or other points of entry. Just as frequently, though, claimants would tell Deloughery, "I just googled 'refugee help.'" Deloughery, who now works at a refugee law office, met people who had been turned away from city shelters and had to sleep in abandoned storefronts and garages.
As part of its mandate, Romero House would rarely send anybody away, although Deloughery says staff would sometimes have to direct refugees to open shelter beds, which isn't always ideal. "Oftentimes you're sending people who have experienced really severe trauma to shelters with people who are going through a different kind of trauma," says Deloughery, who adds that these two populations need very different kinds of support.
Yet most new arrivals don't have the luxury of choosing where they sleep those first few nights. The immediate burden has fallen heavily on the city's shelter system. On average, about 20 new refugee claimants check into one of the municipality's 63 near-capacity shelters every day. In 2018, 40 percent of those in shelters were refugees.
The issue came to a head in the spring of 2018, when the city temporarily opened two college dorms and announced plans to set up four tent-like structures on municipal land to help house newly arrived refugees.
Mayor John Tory expressed his desperation, calling on the federal and provincial governments to help deal with the situ­ation. (In 2017 and 2018, Toronto was on track to spend over $64 million to provide shelter for claimants.) "We have exhausted our available sites, our resources and our personnel," he told reporters ahead of a council meeting in June.
The federal government pledged $11 million to Toronto in June 2018, but the city said it needed more. In January of this year, it gave the city an additional $15 million to keep temporary shelters running. At press time, there hadn't been any announcements of similar provincial funding.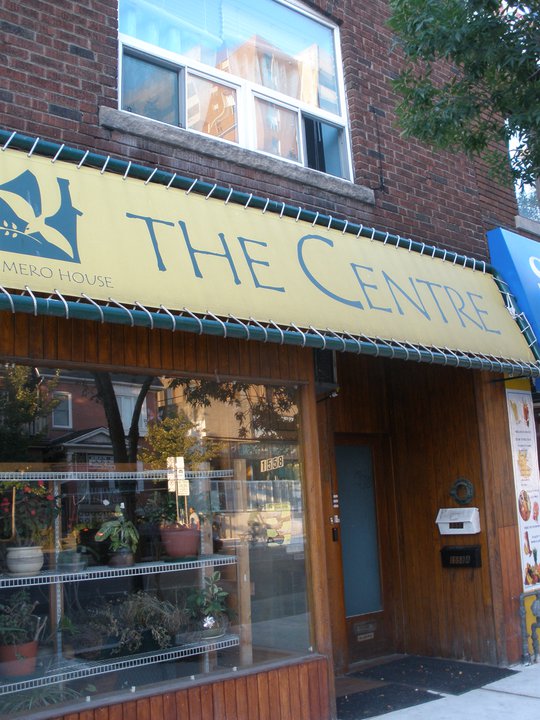 A few months after Silvia Vargas's family began their search for an apartment, a past intern recommended they go to the office of the Toronto Community Housing Corporation (TCHC) in person. TCHC provides subsidized housing with rents geared toward tenants' income. But units are in high demand. Up until that point, every phone conversation with TCHC had resulted in offers to be put on a waiting list, which can be almost 10 years long.
Arriving in person worked. When Nino and Vargas walked into TCHC, a two-bedroom unit was ready for them to view that day. By the next week, they had moved in. The family pays $1,200 a month, about half the amount they might have paid for a non-subsidized apartment.
With a 1.1 percent vacancy rate, Toronto's rental market is a landlord's game: they can charge high prices and have a large number of applicants to choose from. As of February, the median rent for a one-bedroom in Toronto was more than $2,000 — the most expensive in Canada. Refugees relying on social assis­tance receive $756 for shelter each month from the government, plus some money for basic needs ($494 for a family of four with two children under 18). So their apartment choices are extremely limited, often too small or in neighbourhoods far from the communities and lives they've already started to build.
There are multiple classifications of refugees in Canada, which determine the support families receive. The government may sponsor refugees, which guarantees them permanent residency, financial support and affordable housing for a year. Others are privately sponsored by a church or other community group, and will be similarly supported once they arrive. But refugees who enter the country unsponsored are given no such welcome. They often don't know where to go or who to call, making them the most vulnerable and in need of the most assistance.
Once their asylum claim is made either at the point of entry or "inland" at an immigration office, they are screened for eligibility and then are given a date for their hearing, when the Immigration and Refugee Board of Canada will determine whether they will be allowed to stay. Canada is a signatory to the UN's Refugee Convention and is responsible for protecting people who meet its definition of refugees. To be considered for refugee status, those requesting protection must have a well-founded fear of persecution in their home country.
It is a rigorous process, one they must spend their initial months preparing for, and with such a backlog of applicants, the wait for a hearing date may extend up to two years. During this limbo period, refugees are "claimants" and can apply for a work permit and register their children in school. "But the biggest anxiety is having a roof over their head," says former Romero House intern Hannah Deloughery. "There's just no way to focus on anything else until they know where they're going to sleep."
The North Toronto hotel lobby is bright and polished. Black leather arm chairs are arranged under sparkling crystal chandeliers. When I meet Luisa (not her real name) by the elevator, she furtively glances at the front desk staff, then tells me we cannot stay here. We pass through a service door, down two flights of concrete stairs and wind up in a large banquet area where refu­gee families line up for dinner — what Luisa says is mostly "rice and some funny-looking stew."
In November 2017, Luisa fled South Africa with her three children. Originally from a different African country, she says she endured xenophobia and violence before final­ly deciding to sell her business and find her way to Canada. Now she shares a hotel room with her teenage daughter and two young sons. She and over 75 others occupy three floors of the hotel in a city-funded effort to create more spaces for refugee claimants.
Luisa says she is thankful for the support of COSTI Immigrant Services, an organization contracted by the city to shelter the newcomers, but says it is like living in a box with no way out.
Despite regular meetings with housing workers, Luisa has had no luck in finding an apartment. She says she first needs a home before she can find employment, because nobody will hire someone who lists a shelter or hotel as their address. "It's very sad," she tells me, gesturing to the tables that are filling up with more residents. "Most of the people here are hard workers. I'm tired of sitting at home doing nothing, I want to … start working and start a new life. That is why we are all here."
Landlords in Toronto often require documents, such as credit scores and proof of employment, from tenants to prove their ability to pay rent. But most refugee claimants don't have such papers in their first months in Canada, putting them at a serious disadvantage in a competitive market. They also face open discrimination.
When she worked at Romero House, Deloughery would help residents overcome the language barrier by calling landlords on their behalf. Landlords are not allowed to deny tenancy based on immigration status, but the question often came up about why she was calling instead of the families. "Frequently, once they find out or if you don't want to answer, they'll find a way to get off the phone with you." She also had one landlord directly say, "I'm not renting to those people."
Until the various levels of government figure out a way forward, refugee workers are getting creative. Lucy Chaimiti is the executive director at Adam House, one of the faith-based transitional homes for refugees. She says a student at the organization had the idea of introducing individuals on Facebook's Bunz Home Zone, a popular group for many Torontonians seeking housing. By sharing the claimants' stories, the student hoped to persuade landlords to rent to refugees.
Besides Bunz, Chaimiti has personally asked friends and neighbours to take in refugees. Adam House has also made space on couches and in the basement. "We do everything that we can to keep people from having to sleep on the streets," she says.
For the past couple of years, Romero House has also been asking the surrounding community for help in housing new­comers it doesn't have room for. Caroline Newton is one of those neighbours; she's taken in three refugees since 2016. The first was an Ethiopian writer named Solomon who was desperate for somewhere to stay. "I thought, this was my chance," says Newton.
She had travelled to Sierra Leone after graduating from university and spent almost a year teaching French as a volunteer while staying with a midwife. When Newton asked why she was so kind to her, the woman said, "Your people have sent you to us and we must look after you, just as I know when our people come to you, you will look after them."
Newton thought of all the horror stories she had heard about the treatment of refugees back home: "I realized, 'Boy, we really don't do a great job.'" The woman's words stuck with her, and she started volunteering with Romero House after returning to Canada.
She learned Solomon was forced to flee his country, but his wife and two children were still living in Ethiopia. While staying in her spare bedroom, he went through the process of arranging his claim and obtaining a work visa. They bonded, eating breakfast together every morning since they are both early risers. "He became part of the family," says Newton.
What was meant to be a couple of weeks became a year and a half; Solomon stayed with Newton until his family arrived in Canada. Newton says it was hard for them to find a place to move into; neither Solomon nor his wife had a credit history or any ID besides their refugee claimant documents. In the end, Newton co-signed a lease for the couple.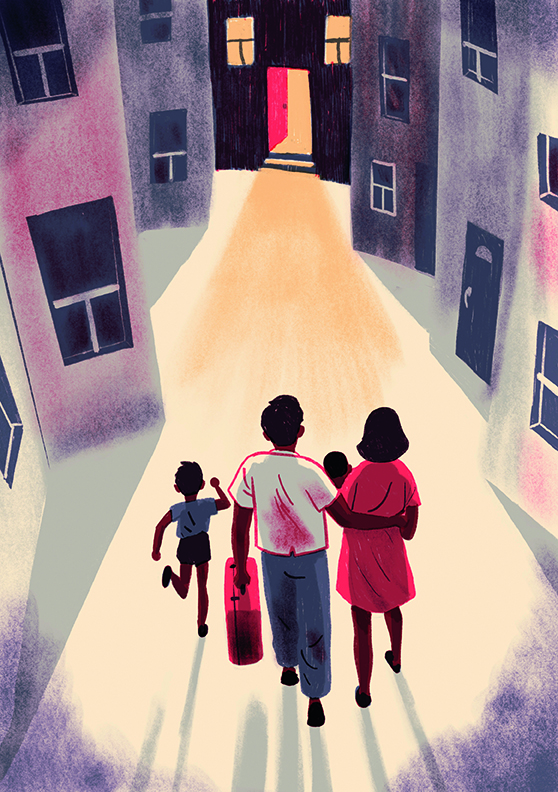 On the second weekend of June, a street in west Toronto erupts in colour and noise. Most of the road is blocked off, and fairy lights and flags are strung along towering white posts to frame the celebrations.
Volunteers test mics and set up the stage for the talent show, while children run around with painted faces and blow oversized bubbles that drift upward to the blue sky. A bouncy castle is at one end of the road, at the other is a sign that reads: "All Welcome."
This is the annual Romero House street party where staff, neighbours, and current and former residents gather to socialize, eat and, come evening, dance. The party spans the length of eight houses, one of which belongs to the shelter, and every lawn is littered with people seated in folding chairs.
Silvia Vargas sits underneath an awning and speaks in Spanish to her father, Jorge, who is visiting from Colombia. Every few minutes, he gives little high-fives to Austin, who sits on his mother's lap. John Nino laughs with Romero House staff. Nobody knows where Juanes is, prob­ably with his friends, says Vargas. "He feels much more comfortable with people at Romero."
A spontaneous puppet show near the stage draws the crowd, and an intern yells over the noise that it's time to set up for dinner. On the other side of the street, an assortment of crockery and plastic bowls filled with food from every culture cover three wide tables.
Luisa sits on a low wall and reprimands her son for only bringing back cookies. After they lived in the hotel for nearly two months, an apartment finally became available at a Romero House location for her and her children. Her toddler plays with a hula hoop close by.
Not every resident on the street liked the idea of living near refugees 25 years ago, but today neighbours help set up the lights and pack away the decorations in their garages until the next celebration.
Even before housing refugees, Newton has never missed the event, which she says started as a series of small potlucks held by residents to celebrate a positive refugee hearing decision or birth of a new baby.
As she helps me wipe a table, Newton says she just saw Solomon, who is taking a condo management course at a Toronto college. I tell her that what she did for Solomon was amazing. "It's so hard for them, and everybody has the tools of being human," she says. "There's really no magic to it; it's not that complicated."
This story was originally featured in Broadview's June 2019 edition with the title "No Vacancy." To read more of Broadview's award-winning content, subscribe to the magazine today.