Photography by Sonya Richmond and Sean Morton
In 2015, Sonya Richmond and Sean Morton were in a rut. Richmond was working 50- to 60-hour weeks researching birds, mapping their populations and analyzing data. Morton, who had spent 20 years in academia, decided to leave his PhD program in interdisciplinary humanities and start freelancing as a writer and photographer. The couple were based in Simcoe, Ont., and felt like they were working to live but barely making ends meet.
One day, Morton turned on the TV to find the movie The Way, starring Martin Sheen. It's about a man who, after his son dies while hiking Spain's Camino de Santiago, decides to complete the nearly 800-kilometre pilgrimage himself. "It just sucked me in," says Morton, "the notion that everything could go absolutely wrong, your world could fall apart, and yet you could find something, and find yourself, back in nature."
He pitched the idea of hiking the Camino to Richmond, who thought it sounded like a huge challenge — and an adventure. The couple enjoyed spending time outdoors. When they met at Trent University in 1998, they often walked the hills around the Peterborough, Ont., campus and kayaked in the river. A few years into their relationship, they took their first backpacking trip together in Algonquin Provincial Park. "I thought [the Camino] was something really positive to shoot for," she says.
After a year of saving money and doing training hikes, they spent 35 days on the Camino in fall 2016. They'd get up early, around 4 a.m., to start their daily journey, then take the afternoons to explore whichever town they were staying in that night. At that time of year, they shared the trail with retirees, some of whom struggled with its physical demands and urged Richmond and Morton, both 37, to keep hiking while they were young.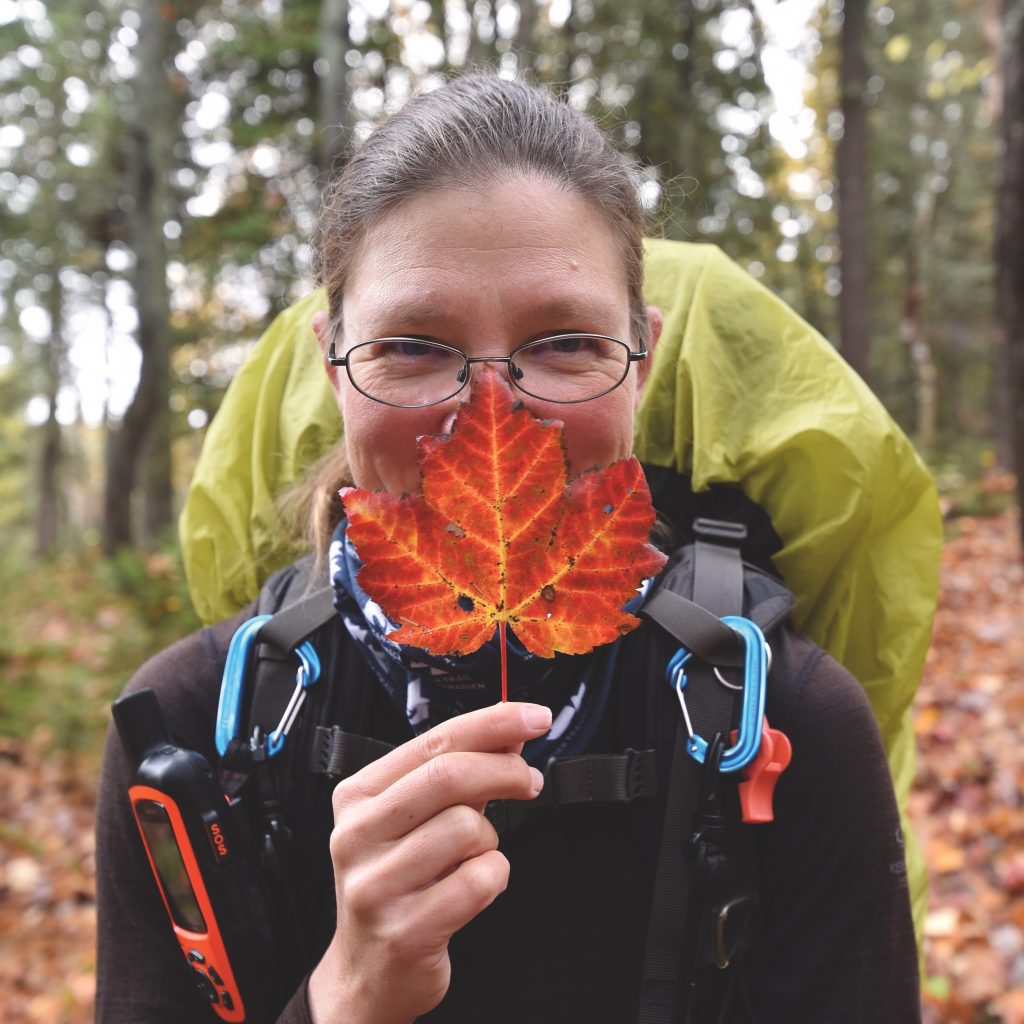 So they did. In 2017, they travelled back to Europe to hike the Via Podiensis, an over 700-kilometre pilgrimage from France into Spain that took them 41 days. When people on the trail learned the couple were Canadian, they often responded, "Oh, what a beautiful country! Why aren't you hiking there?" And so they did. In 2018, Richmond and Morton trekked about 250 kilometres on Newfoundland's East Coast Trail and completed Ontario's 900-kilometre Bruce Trail after hiking sections of it over the previous four years.
As they slotted these hikes into Richmond's vacation time, they wondered how they could strike a better work-life balance. They didn't want to spend the majority of their lives sitting at their desks. They wanted to be outdoors, in nature. "One of the nice things about hiking is that it gives you identity, it reconnects you with yourself, but it also gives you a goal to look forward to," says Morton about their love of epic journeys. "Often, no matter how bad things get on the trail or how challenging they get, you still know you have direction and that gives you some certainty."
---
Interested in more stories like this? Subscribe to Broadview's weekly newsletter.
---
Around this time, the Trans Canada Trail was completed, connecting Canada's three coasts and stretching 24,000 kilometres. The idea of hiking its entire length appealed to Richmond and Morton as a way to get to know their country more intimately. They figured if they hiked at least 25 kilometres a day through spring, summer and fall — with winters off to work — they could complete the distance in three years. It was a huge goal, but it felt like forging a new lifestyle, one in which they'd learn more about themselves in the process.
So they sold their house, rehomed their three cats and donated many of their belongings. In May 2019, scared and excited, they boarded a plane to Newfoundland. Days later, on a grey morning at Cape Spear, the easternmost point in the country, gulls screeching around them, they started walking.
---
Humans have walked in nature for millennia. Hippocrates called walking the best medicine, while legend has it that Aristotle strolled while lecturing his students. "I have walked myself into my best thoughts," wrote Søren Kierkegaard, "and I know of no thought so burdensome that one cannot walk away from it."
As these philosophers could attest, the physical, mental and emotional benefits of walking abound. Studies have shown that walking reduces stress, elevates mood, increases energy and improves sleep. Not to mention the positive effects of nature: increased endorphins, lower blood pressure and reduced cortisol levels.
During the pandemic, many Canadians figured this out for themselves. Since March 2020, people have flocked to the outdoors for recreation, exercise and improved mental health. According to a February 2022 survey conducted by the Trans Canada Trail, 57 percent of Canadians used trails to reduce social isolation and to see family and neighbours.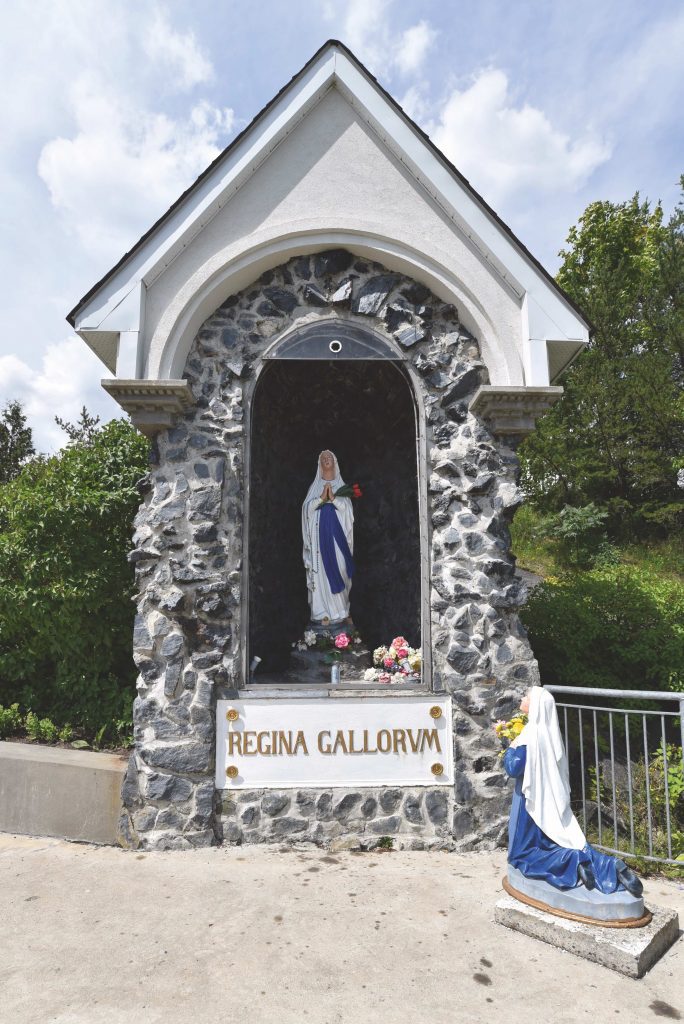 Given nature's powerful effects, it's no surprise that long walks often accompany, or provoke, inward journeys of discovery, growth and enlightenment. In her book The Nature Fix, Florence Williams writes, "If Muir and Emerson and, before them, 18th-century Irish philosopher Edmund Burke had it right, feelings of spirituality don't just spring from religion; they also spring from transcendent experiences in nature."
Some who walk the Camino de Santiago say that hiking is like praying with your feet. People who set out on that trail are called pilgrims — someone who travels to a sacred place in search of deeper meaning. The Camino (in English, the Way of St. James) ends at the saint's tomb in northern Spain. "We all have a quest," says one character in The Way. "Pilgrims march towards a new kind of peace."
Does a pilgrim have to be religious? Richmond, who's mulled this over on her Trans Canada Trail journey, describes a pilgrim as someone who's after more than just a physical challenge, someone who's looking for more in life — even if the person isn't quite sure what that might be.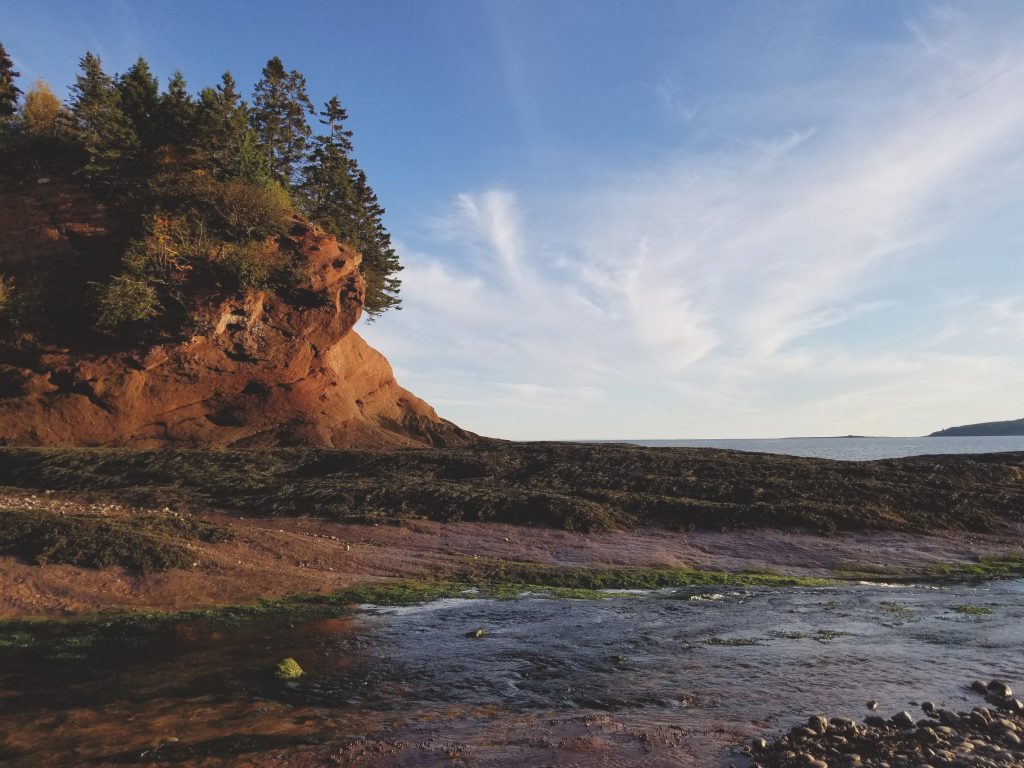 Over the last three years, Richmond and Morton have hiked through forests that skirt coastal cliffs, along gravel roads lined by farmers' fields, through grassy meadows, on the paved shoulder of the Trans-Canada Highway and through thigh-deep marshes. As they've moved across the country, they've visited churches and cathedrals, but they've experienced moments of spirituality and meaning at other sites, too.
The Agawa Rock Pictographs in Ontario's Lake Superior Provincial Park was one such place. There, on large rock walls along the edge of the lake, are centuries-old paintings of moose, deer, bears, canoes and a creature known as Mishipeshu, or Great Lynx. The Ojibwe believe Mishipeshu lives in deep bodies of water and can cause storms and whirlpools.
"To get to [the pictographs], you are holding on to a chain and walking in the surf," Richmond says. "So to visit them is very humbling. You have a very clear sense of the scope of the lake and landscape and what it would take to put the pictographs in such a place."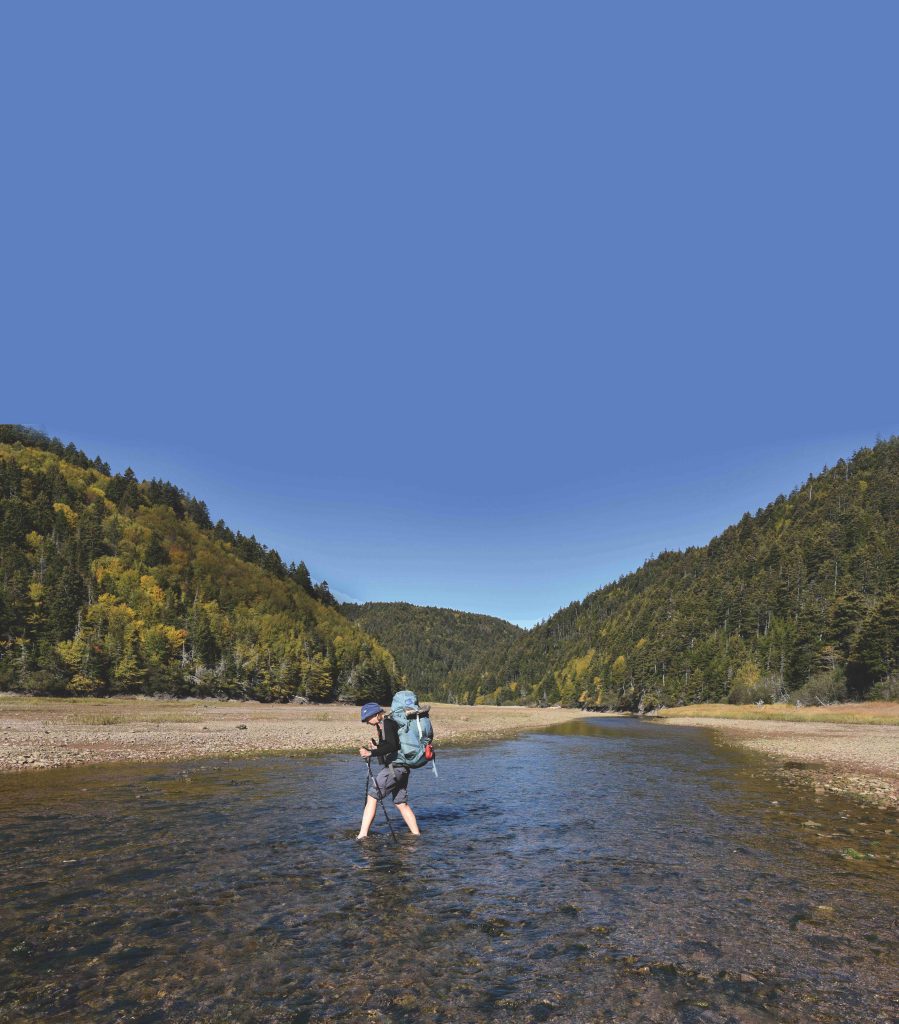 They also marvelled at the Bannock Point Petroforms in Whiteshell Provincial Park in Manitoba, where Indigenous people placed rocks and boulders in shapes of things like turtles and serpents over thousands of years. Water, flora and fauna are key elements in Indigenous spirituality and, in Anishinaabemowin, the sacred site is called Manidoo-Abi, meaning "Where the Spirit Sits."
To Richmond, Canada's vast landscapes are "inherited cathedrals" that inspire self-reflection. For her, hiking for months on end forces her to slow down and think about life anew. "It brings you more into the moment, and I think if you're out there hiking, basically you've stripped away a lot of the things that occupy your time and your mind in everyday life," she says.
A long-distance hike pares down life to the fundamentals: Where will we sleep tonight? What will we eat? Are we warm enough? "I think most people are certainly out there to just clear their mind and get away from things that aren't essential," says Morton. "And reconnect with things that are."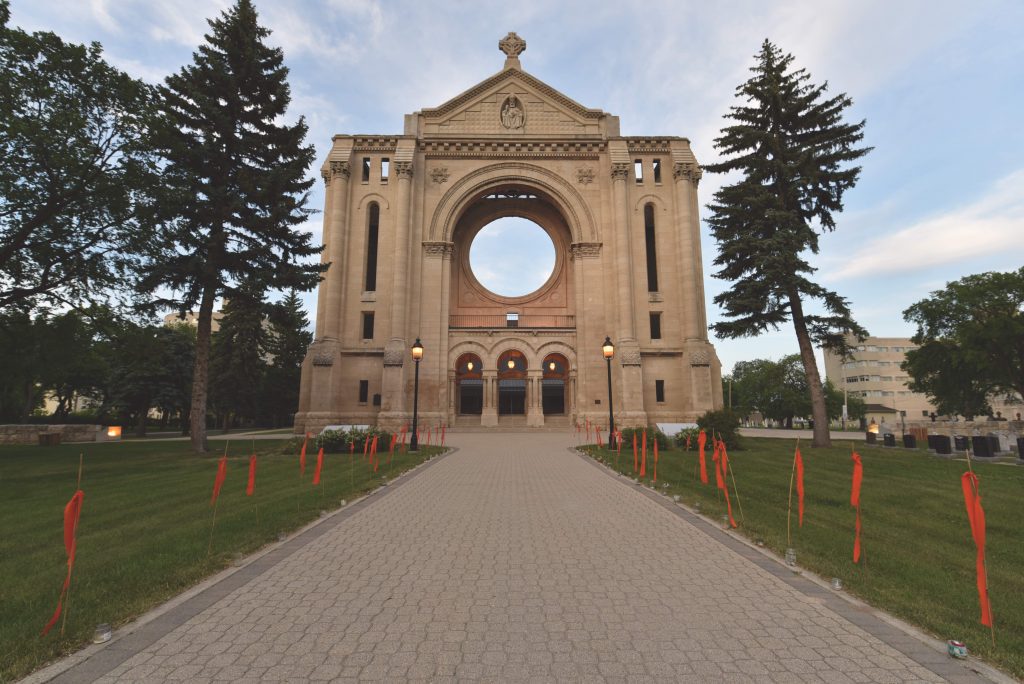 To Richmond and Morton, it's essential to inspire others to get outside, learn about nature and absorb its benefits. As the couple have trekked across the country, they've given presentations to schools and nature groups, showing kids and adults alike how to interact with the outdoors through apps like iNaturalist, where you can log your sightings of different species, from plants to bugs to animals.
By spending time outdoors, identifying the flora and fauna, Richmond and Morton believe people can connect more deeply with the environment while helping scientists monitor Canada's biodiversity. Most importantly, they want nature to feel accessible for everyone. Their outreach work was recognized as a Royal Canadian Geographical Society Expedition last year.
---
So far, Richmond and Morton have hiked 10,000 kilometres of the Trans Canada Trail. They spend winters house-sitting in London, Ont., while Richmond does contract biology work and Morton plans the next leg of their journey, applies for grants and co-ordinates presentations. This summer, they'll resume hiking at the Alberta-Saskatchewan border and hope to make it to Victoria by season's end. In 2023, they'll head north to their final destination, Tuktoyaktuk, N.W.T.
For Richmond, seeing so much cultural and natural diversity has changed her perspective on the country she calls home. "I can't describe it yet very well, but following Métis trails and oxcart trails and following the footsteps of the voyageurs…I'm starting to understand things a bit differently."
Morton says the hike has made him more patient and forced him to go with the flow. He's a planner by nature, but he quickly learned on the trail that things like sudden storms, road construction, a pandemic and a 4,000-kilometre expansion of the trail can throw a wrench into even the best-laid plans. It's why the hike will take them five years, rather than the three they expected. "We just know that we keep moving on, and that's something I've had to get very, very used to," he says.
In a post on their blog, the couple provide advice for those who want to do their own long-distance hike. Many of the tips — enjoy the moment, be kind, don't get too caught up in trying to plan things perfectly — apply to life in general. They also advise knowing your reasons for hiking: "When you know them then you are going to want to hold onto those reasons…because they will get you through the days of self-doubt, the painful miles on the trail, the obstacles en route, and help you stand up to the disappointments and the critiques along the way."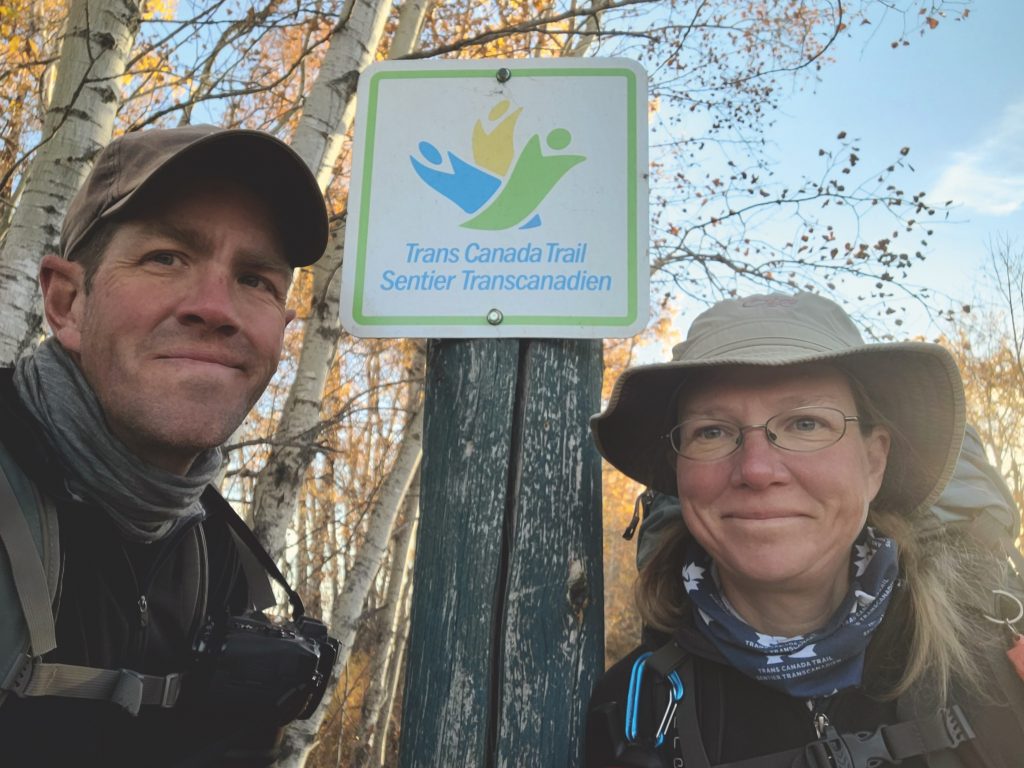 Despite the challenges, Richmond and Morton have no doubt that they want to keep walking. When they decided to hike the Trans Canada Trail, Dana Meise, the only person to have completed the route on foot, reached out to them via Facebook. "You have a problem when you do this," warned Meise, who took 10 years to finish the trek. "You'll have hiked the world's biggest trail, and nothing after this will match it."
The couple know the post-hike blues. When they finished the Camino, other pilgrims sat outside the cathedral, drinking wine and celebrating. Morton walked by them and into a nearby shop where he bought guidebooks for the next three trails he wanted to do.
After spending weeks or months outside, with a clear sense of purpose, returning to regular life — working, running errands, paying bills — can be deflating and overwhelming. "You do wind up watching The Way far too many times," says Morton.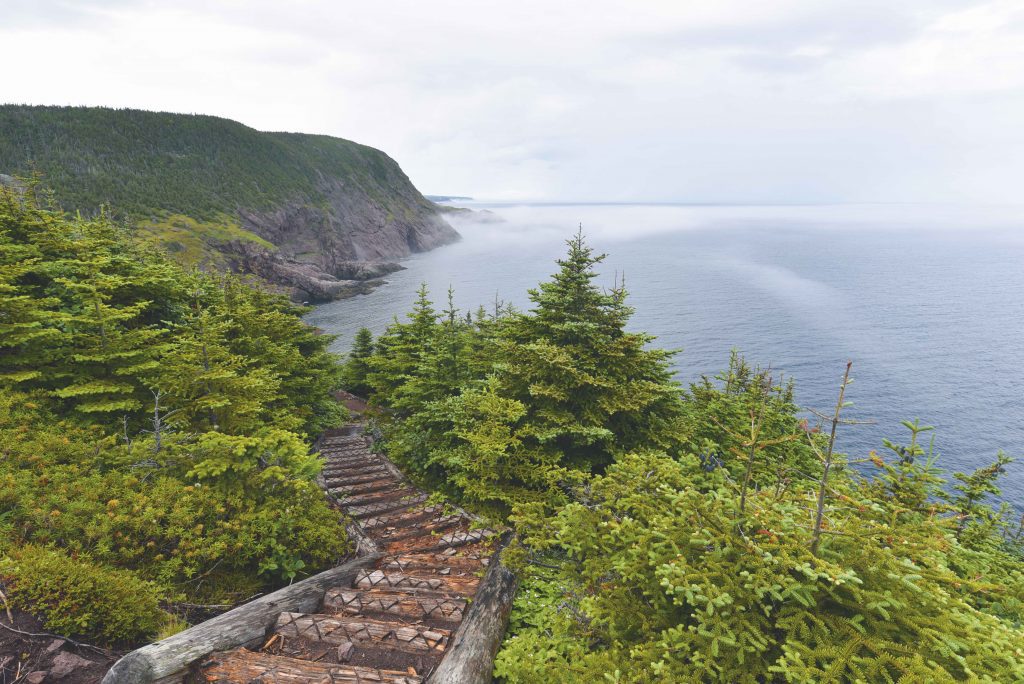 Even now, with at least another year and a half of hiking ahead of them, Richmond and Morton know what they want to do next. At the top of their list is walking the 1,900-kilometre length of Great Britain and trekking more than 2,000 kilometres from Canterbury, England, to Rome on the Via Francigena, a centuries-old pilgrimage route. They know they want to continue a lifestyle that allows them to hike, working just enough to fund their adventures. To them, it's about seizing the moment — their health, their youth, their ability, their present.
---
Last September, the pair were walking across Saskatchewan, where they watched thousands of snow geese flying above them. Later that fall, they were in Quebec, having returned to a section of trail they couldn't hike the year before when the province shut down. Again, they saw huge flocks of the white-bodied birds moving across the sky as they migrated south.
Since setting out on the trail in 2019, the couple had marvelled at owls, pelicans, hawks, barn swallows and puffins. In that moment, as they watched the snow geese, Richmond thought about how the birds were travelling much farther and faster than she and Morton were.
"I often wonder what migrating birds have seen in the south during the winters, on their flights back and forth, and in the north during the summer," says Richmond. "I wonder who else has seen them, put out bird feeders or bird baths for them, and if they are just as amazed as I am." To her, it was a clear example of how we're all connected, in at least one way, by these birds that travel huge distances from one backyard, one habitat, one continent, to another.
***
Rhiannon Russell is a writer in Whitehorse.
This story first appeared in Broadview's July/August 2022 issue with the title "Transformation on the trail."
---
We hope you found this Broadview article engaging.
Our team is working hard to bring you more independent, award-winning journalism. But Broadview is a nonprofit and these are tough times for magazines. Please consider supporting our work. There are a number of ways to do so:
Subscribe to our magazine and you'll receive intelligent, timely stories and perspectives delivered to your home 8 times a year.
Give the gift of Broadview to someone special in your life and make a difference!
Thank you for being such wonderful readers.
Jocelyn Bell
Editor/Publisherd