I could never stop at just one. I always had at least two glasses of red wine. Often three. Sometimes four. Occasionally I could polish off an entire bottle in an evening. How did it come to this?
Drinking can be progressive, and for some it gets worse as we age. I know this to be true. In my 20s, I only drank at parties. In my mid-30s, after having two kids, a daily glass of wine was a reward after a long shift at the office and a second shift of toddler time at home. In my 40s, I had started working as a freelance writer, and wine released the steam on pressure-cooker deadlines. Two glasses became a daily habit; on weekends it was usually more. In my 50s, the Barolo buoyed me and the Shiraz soothed me as my long-term marriage began to unravel. Our mutual love for our daughters still connected us. So did a good Netflix series. We'd pour another glass and watch another episode.
Then, two years ago, my husband and I separated after 32 years of marriage. This was supposed to be a blissful time in life with the kids launched, the mortgage paid and retirement beckoning. Even though it had to happen and we are amicable co-parents, I mourned our ending. I was 56 and had never lived alone. Wine was the reliable old friend I could count on to help me manage my angst over the situation. There were many nights when it made me feel better. And many mornings when it made me feel worse.
I didn't think I had a problem with alcohol — not a big one anyway. But there were signs my drinking was veering into the danger zone. Once, at the end of a long dinner party, I lost my balance and slid off an ottoman when I was putting on my boots to walk home. Another time, a friend said "You were so funny last night" when I met her on the street after a neighbourhood party. I was mortified; I had no memory of the last couple of hours of the evening. It was my first blackout, but not my last.
A growing number of women are using alcohol to smooth out the rough edges of life. Two years ago, Canada's chief public health officer sounded the alarm, warning that women are increasingly drinking themselves to death. Alcohol-related deaths increased by 26 percent between 2001 and 2017 for women, compared to a five percent increase for men. An American study found that the prevalence of high-risk drinking (regularly exceeding the daily guidelines) among women shot up almost 60 percent between 2001 and 2013. Women aged 55 to 64 represent the highest increases in visits to hospital for acute alcohol consumption.
Women are starting to catch up to men in drinking, and it's killing us. Because of our physiology, we're more sensitive to alcohol than men. We metabolize it differently, and thus experience higher blood-alcohol and impairment levels after having the same number of drinks. This puts us at greater risk of liver damage, heart disease, cancer, memory loss and brain damage. The chance of stroke doubles for women who exceed the drinking guidelines. Alcohol also disrupts our sleep and contributes to depression. "What's your poison?" we joke when we offer a friend a drink. Indeed, alcohol is a common form of ethanol, a toxin that at high concentrations can damage virtually every organ in the body.
Addressing the issue of older women and drinking at the 2019 annual meeting of the North American Menopause Society, Dr. Connie Newman of the New York University Grossman School of Medicine said that "alcohol use disorder is one of the most underdiagnosed and undertreated conditions we have today." She added: "We need to screen women to identify alcohol use disorder and at-risk drinking, so they can be treated earlier or referred to a specialist."
---
More on Broadview…
---
As baby boomer women age, the problem may get substantially worse. For many, booze is the drug of choice to deal with the losses that accompany aging, including the empty nest, retirement, ill health and bereavement. We may drink to ease the pain that comes with late-life divorce or an ongoing unhappy marriage. Often, we're lonely. Women tend to outlive their partners. Our friends start to die. And we're more likely to be financially unstable than men in our later years.
"Alcohol is very effective as a numbing agent," says Ann Dowsett Johnston, author of Drink: The Intimate Relationship Between Women and Alcohol, which details how her heavy drinking was precipitated by the loneliness that resulted when her only child left home. Dowsett Johnston is a former Maclean's editor who went on to become vice principal of McGill University. She left that job and sought treatment for her alcoholism in rehab. She notes that women are twice as likely as men to suffer from depression and anxiety, which can cause them to turn to booze to try to bolster their mood. But it ultimately worsens depression and can even be responsible for its onset.
Despite the harm drinking can have on women, the alcohol industry positions booze as a liberating remedy with brands such as Skinnygirl and Mommy's Time Out. Marketers will even slap a pink ribbon on their bottles despite the fact that women have a 15 percent higher risk of breast cancer if they drink just three alcoholic beverages per week. When it comes to alerting Canadians to the dangers of alcohol, we're one of the countries with the least stringent labelling policies — the federal government does not require health warnings on alcohol packaging.
Our tolerance increases the more we drink. Where once a single drink could create a buzz, eventually it may take three glasses. Dr. Vivien Brown, a Toronto family physician and past president of the Federation of Medical Women of Canada, told me a few years ago that she has female patients in their 70s who have "a sherry in the late afternoon, followed by a couple of glasses of wine at dinner and a hot toddy before bed." That's 28 drinks a week, almost three times the recommended low-risk guidelines of 10 drinks per week for women.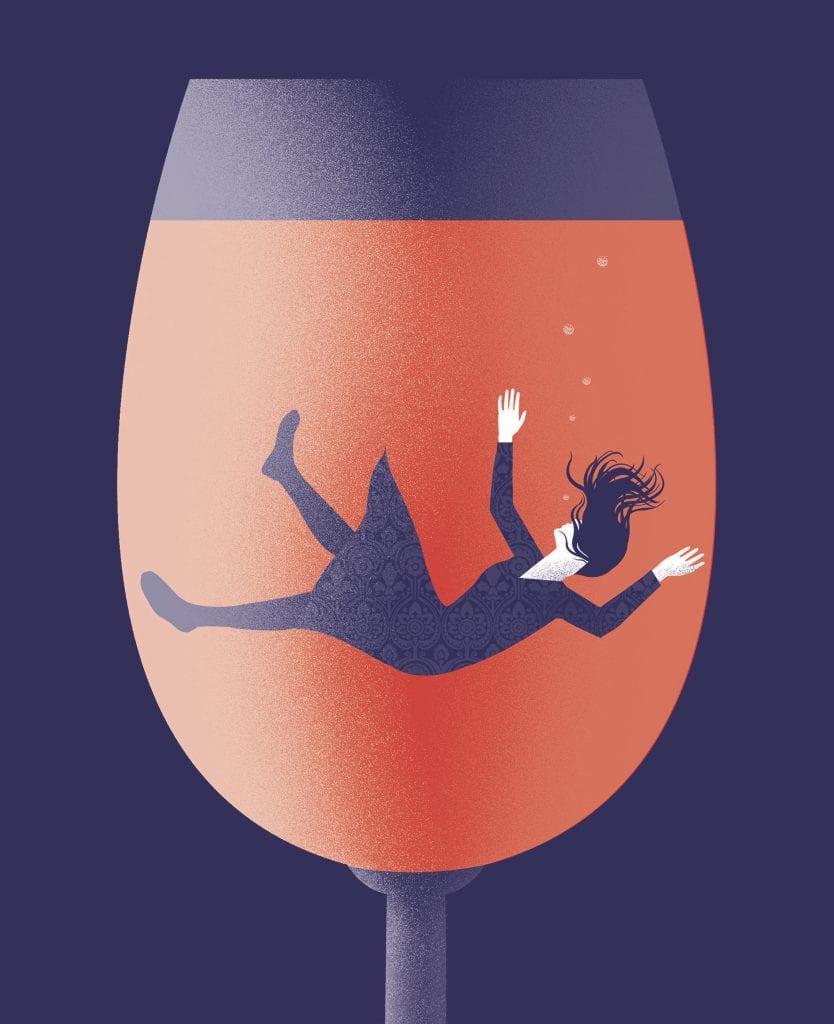 We may be under the illusion that our drinking is under control until we actually do the math. A 2014 study found Canadians under-report their alcohol consumption by as much as 75 percent. As for me, I suspected I was somewhat beyond 10 drinks a week, but when I actually added up how much I was consuming, it was close to double that.
"Addiction is progressive, and booze is an elevator ride that only goes down," says Belle Robertson, a 54-year-old Canadian sober coach (85 percent of her clients are women between 45 and 55). Eight years ago, she started to face her own issues with drinking when she Googled that worrisome question — "Am I an alcoholic?"
"I tried to quit for a month to prove to myself I didn't have a problem and found it very difficult," she says. "I thought either you were an alcoholic or you weren't. I didn't know about grey-area drinking," the space between excessive consumption and moderate use.
Robertson says she's fielding double the number of requests for support due to COVID-19. The deprivations of the pandemic seem to have bumped up our collective booze intake. Canadians began drinking in isolation, stockpiling alcohol along with toilet paper and hosting COVID cocktail parties on Zoom. In a survey last fall from the Centre for Addiction and Mental Health, 23 percent of women reported binge drinking since COVID-19 emerged.
It's no surprise that women are using booze to cope with the pandemic, says Dowsett Johnston. Alcohol has replaced the tranquilizers that millions of housewives used in the 1960s and '70s to address dissatisfaction with their lives. "I'm the daughter of a female alcoholic who was cross addicted to Valium and vodka and was the classic stay-at-home mom at a time when the worst thing you could ever do was speak about the problem [of addiction]. I wrote my book so I could get my story out there and help other women face what they had to face," says Dowsett Johnston, who now runs a psychotherapy practice that helps women with their addictions. "Secrets keep us sick. Speaking about it is healthy."
After decades of overdrinking, Tina Clarke* finally found community support for her problem by going to Alcoholics Anonymous at the age of 65. Outwardly, her life looked great: she had a beautiful home and cottage, and a successful career in the tech industry. But personal problems plagued her, especially the betrayal of her husband, who cheated on her with the couples therapist they were seeing. Divorce followed and so did loneliness. "On weekends, I would sit in my chair at the cottage and drink a bottle of wine every night, and sometimes more. I wouldn't admit I was an alcoholic, but I knew I had a problem."
A friend who had quit drinking invited her to a women's-only AA meeting at Deer Park United Church in Toronto three years ago, and she became a regular attendee. "I was such a basket case when I arrived," she said. "It's brought me back to living a more spiritual life. I even started going to the local Anglican church." She also found meaning in raising money for social justice causes in her Toronto neighbourhood. "Life got richer. I'm still lonely, but I'm less lonely." (Sadly, Clarke died last November in an accident not related to drinking.)
Carol Davies, a 58-year-old retired teacher from Dundas, Ont., says her drinking began to escalate 20 years ago, after her divorce. "I was lonely and depressed. I'd come into my classroom hungover on Monday morning and knew I had a problem. But by the end of the day, I'd treat myself to wine again." She sometimes blacked out and once had her driver's licence taken away for 72 hours. She "hit bottom" (the term used in AA to describe the state heavy drinkers reach before admitting they have a problem) after a failed relationship that was followed by a series of depressing dates. One particularly humiliating date led her to return home and drink a bottle of wine. "The very next day, I went to AA."
There, she found the sense of belonging she needed. Davies volunteered to drive others to meetings and eventually married a man she met in AA. Six years after making a commitment to sobriety, she's doing well. "What I learned is that if you feel like you have a [drinking] problem, take it seriously….If you are drinking too much, you need to look at the reasons why. You might need counselling or a sobriety coach so that you can understand what you need to do so that it doesn't rule your life again."
For some people, hitting bottom is an impaired driving charge. Or going to jail. Or getting fired for missing too much work. For me, it was a trip to emergency after a fall on my front porch 18 months ago. A group of friends had been over, and we polished off several bottles of wine. When they left, I went to walk the dog. I tripped over a branch that had fallen across my front steps. Down I went, face first on the cement walk. When I got up, blood was streaming down my face from a gash on my eyebrow. My oldest daughter, then 22, called an ambulance and came to the hospital with me. She held my hand, a worried look on her face, as the doctor stitched me up. "You kept repeating yourself," she told me later. "I was worried you might have brain damage."
I tried to justify the fall by telling myself it was the stupid branch, but I knew that if I hadn't been wobbly from the drink, I likely wouldn't have fallen. It was my worst moment. It was my wake-up call. Alcohol is a factor in some 60 percent of falls, and falls are the leading cause of injury-related deaths among people over 65. I could have died that night. Instead, I was left with a small, slight scar above my eyebrow, a permanent reminder of my recklessness.
I stopped drinking completely for a couple of months, but then, last New Year's Eve, a man I was dating was alarmed that I'd had five drinks over the course of the evening. It was an uncomfortable conversation, and I felt defensive. They say if someone questions whether you have a problem with alcohol, you most likely do.
I wanted to cut back, not stop drinking completely. AA, with its emphasis on a higher power and self-recrimination, didn't appeal to me. But when COVID-19 hit, the online sobriety world seemed to explode with meetings and recovery programs led by experts and influencers sharing their advice and their communities online. I signed up for programs with three of the biggest sobriety superstars: Laura McKowen, Annie Grace and Holly Whitaker, all of whom have bestselling "quit lit" memoirs.
It surprised me that there were often hundreds of people in these Zoom support meetings, almost all of them women. The majority looked to be midlife and beyond. Many told stories of serious drinking issues that seemed far worse than mine. I felt relieved that I wasn't that bad. But then I'd rub my finger over the slight bump on my left eyebrow and remember the night I was rushed to the hospital.
I also checked out She Recovers, a popular support group for women. With 270,000 Facebook and 18,000 Instagram followers, it offers online yoga classes, coach training, Zoom meetings, events with high-profile speakers and four-night luxury retreats. Co-founder Dawn Nickel, 60, a former director of research for the British Columbia government who kicked a drug and alcohol habit more than 30 years ago, acknowledges that the new wave of sobriety startups are often accessible only to women who have money to spend on pricey programs. "The main underlying characteristic of the women in our community is that we are all seeking connection," she says. "It's about women sharing the truth of their lives."
Dowsett Johnston reflects that the new "women-led movement of recovering out loud" is a positive step forward. "The new sobriety movement is largely owned by women, and it's an important revolution," she says. "We are speaking our truth, and we're not hiding in church basements any longer."
As for me, I've cut my drinking by about half over the past year. I try not to drink when I'm alone, but I still like to imbibe with friends. My goal has been to stay within the low-risk guidelines — no more than 10 drinks a week. And now that the season of Lent is upon us, I'll attempt to give up wine for 40 days, just to prove to myself that I can. I may yet find that I have to give up wine for good. The fact that this still seems as unthinkable as giving up my morning coffee may be a clue.
*Names have been changed
***
Anne Bokma is a writer in Hamilton.
This story first appeared in Broadview's March 2021 issue with the title "Unhappy Hour."
---
We hope you found this Broadview article engaging.
Our team is working hard to bring you more independent, award-winning journalism. But Broadview is a nonprofit and these are tough times for magazines. Please consider supporting our work. There are a number of ways to do so:
Thank you for being such wonderful readers.
Jocelyn Bell
Editor/Publisher