The Canadian Centre for Refugee and Immigrant HealthCare (CCRIH) had humble beginnings. It opened in 2000, and its first home was in the basement of a church. To date, they've had 40,000 visits and have vaccinated over 10,000 patients.
Their clinic in Scarborough, in Toronto's east end, provides free healthcare for immigrants and refugees without health coverage. In addition to their regular clinic, they have a program, Scarborough Women Assessment and Need, aimed at helping vulnerable women with counselling and reproductive care.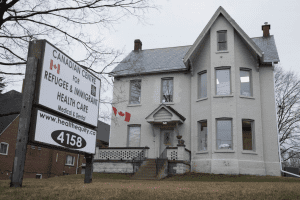 They are also associated with Filling the Gap Dental Outreach, a program that provides dental care to low-income individuals. 
Dr. Paul Caulford co-founded CCRIH with Jennifer D'Andrade, a Toronto-based registered nurse, and Dr. Amanda More, founder of Filling the Gap. The clinic is providing both virtual and in-person care during COVID-19 pandemic. Caulford spoke to Brooklyn Patterson about how the clinic has pivoted and the people he serves.
Brooklyn Patterson: When is in-person care permitted?
Paul Caulford: What we've figured out and what most people have figured out is that, maybe one or two out of every 10 persons actually can't be properly treated with virtual care only. So, we separate them out and the in person-care would be vaccinations, employment requirements and that's very important to the new Canadian population because many are working multiple jobs to survive and pick up jobs wherever they can, as they start out again. 
And they need information, things done. So, they might need a tuberculosis test, because they're working as a personal support worker. They might need a vaccination, or bloodwork for vaccinations, and they may not have the health card for it. And they may be pregnant with a complication that needs to be seen. We have a large diabetic population and all of their wounds and their legs need care because there's been an uptick in amputations, which you might not be surprised at, unfortunately, during COVID. And those are because of untreated chronic diseases. So, sometimes they need to be seen in-person for an ulcer on a leg or a foot that would lead to gangrene if it wasn't properly treated. So, wound care. People with injuries, who may or may not have a fracture, and may need an X-ray. The kind of conditions that you just can't properly manage over the phone.
BP: How have the clinic's policies changed from the beginning of COVID? 
PC: We used to run a drop-in clinic. A drop-in is not a good situation because people have to be screened first, for whether or not they might have COVID. So, we triage them on the phone and we give them a specific appointment time so we space our appointments out, so that we're not overlapping patients. We do a lot of the history-taking over the phone and we do a lot of the prescriptions and whatnot afterwards, in our notes after, so we're alone and the patient has been able to go and we can then speak to them on the phone about their management. So we reduce the risk of infection and exposure across the board. 
---
More on Broadview:
---
BP: Are there plans for the clinic to receive COVID vaccines?
PC: Our centre is on the advisory to the vaccine table for Ontario. We're not the only centre doing that. We serve a very hard-to-reach population, a population that is living in crowded conditions, sometimes five people in a motel room. And they are at high risk for COVID, so some of our services have been mobile. As for the vaccine, we are penciled in to be a vaccine distributor. So, we are making plans for that. In Scarborough, there's an over 20-per-cent infection rate because of the poverty and the underhoused situation, the crowded housing situation. So, for those patients who can get to us, we will be having a site and we are penciled in to receive vaccines that we will mobilize to actually go out to and get to the population. For example, we're examining the likelihood of having a clinic on site at some of the motels where people are. Not just new Canadians, but also other homeless, who are resident Canadians. So, we have a mobility plan to get the vaccines to the persons, because otherwise they'll come on a bus.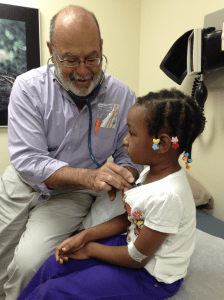 BP: Have there been any new additions to the clinic?
PC: We have ultraviolet lights inside now. Each room has ultraviolet C light. And in-between patients, those lights come on and they sterilize all the air in the room. So, for droplet spread, it stops that and surface spread and sterilizes examining beds. We still wash, but the washing isn't as effective as the ultraviolet lights. And we also have a grant for air filtration units that turn over the air in the room every 15 minutes.
BP: How can people who want to get involved help the clinic?
PC: Even though we do receive a small amount of money from the government, now, that funding very much under funds… it wouldn't fund the medication program. So we have a large volunteer group, really only volunteer positions. Nurses, nurse practitioners, other peer providers. Clothing, food [are donated], we have a modest food bank for patients who are in significant need. So, we have volunteers who come in and help with these needs. As far as people knowing about our needs to donate, we are very, very grateful for our donors. They make a huge difference to all of these services, and have helped us expand. People can donate to these services, and they can simply go to our website. I would like to emphasize that at last calculation, 90 to 95 per cent of our funds go directly to our clients' care. We have very, very low admin costs. 
***
Brooklyn Patterson is an intern at Broadview.
---
We hope you found this Broadview article engaging. 
Our team is working hard to bring you more independent, award-winning journalism. But Broadview is a nonprofit and these are tough times for magazines. Please consider supporting our work. There are a number of ways to do so:
Subscribe to our magazine and you'll receive intelligent, timely stories and perspectives delivered to your home 10 times a year. 
Donate to our Friends Fund.
Give the gift of Broadview to someone special in your life and make a difference!
Thank you for being such wonderful readers.
Jocelyn Bell
Editor/Publisher