Finding love has looked different during the COVID-19 pandemic. Some have put their search for a partner on hold, or found that isolation has hampered opportunities to meet new people. For others, love blossomed despite distance.
My now-partner and I began talking on a dating app around the time that COVID-19 stay-at-home advisories were put in place in Toronto last year. I knew pretty quickly that this person was special. But we waited more than two months from our first conversation to see each other, wanting to ensure that we were following guidelines. Now we, and our four pets, live together.
Here are three other couples who found love during this very strange time. Photographer Colin Boyd Shafer captured their wonderful stories.
— Emma Prestwich, Broadview's digital editor
---
Kiyo Campbell (28) & Kelly Kamo McHugh (29)
Inuvik, N.W.T. and Elmira, Ont.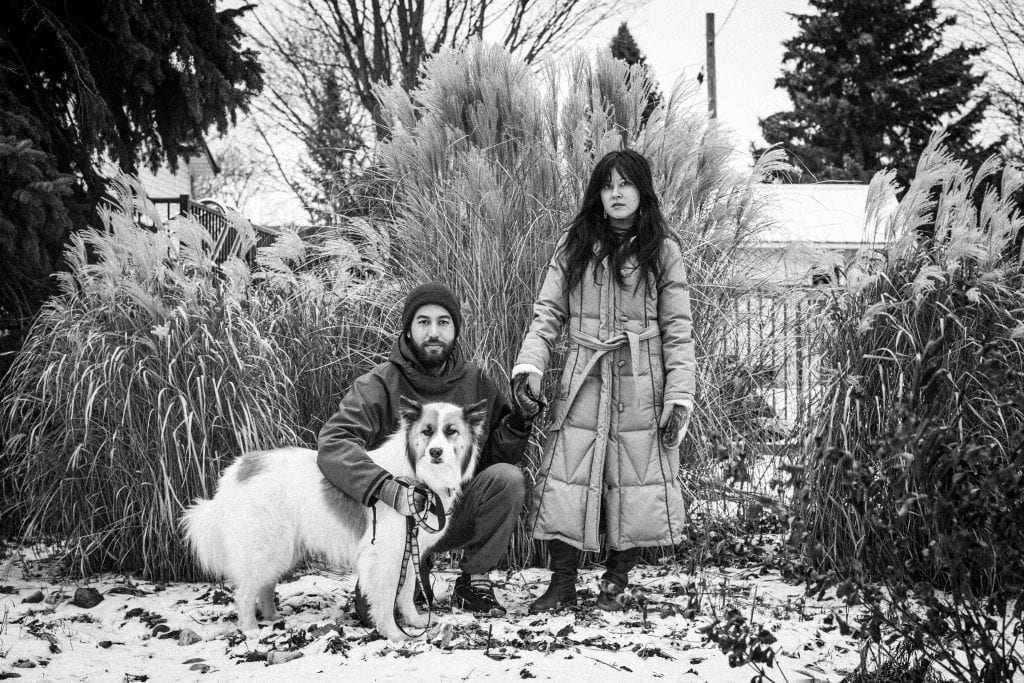 Kelly and Kiyo knew of each other for many years before meeting. They first had a class together at the University of Guelph in 2013, although they never spoke. Later, Kiyo worked summers as a research assistant in Inuvik, a small community in the Northwest Territories where Kelly was also working as an environmental technician. Kiyo remembers Kelly dropping off samples at the research station: "I think I held the door open for her once. We never talked, though."
Three months after Kelly moved home to Ontario in 2019 to be closer to family, Kiyo moved to Inuvik permanently. Many of Kelly's friends became Kiyo's, and he heard lots of stories about this great person who had just left. Then, in April 2020, Kelly's friend in Inuvik organized a Zoom yoga class. Initially, Kelly didn't plan on partaking, but Kiyo's name on the participant list caught her attention. The night before the class, Kelly dreamt that she and Kiyo were dating — a sign she needed to attend the class, even if yoga wasn't her thing.
Towards the end of the online class, the organizer split the attendees into smaller groups and Kiyo and Kelly were grouped together. Immediately, they started chatting about their mutual connections, like the fact that they are both Japanese Canadian and that Kelly's mom's best friend is Kiyo's cousin.
Kelly laughs, remembering how the two of them ignored the third person in their group (a friend of Kelly's). Kiyo remembers how Kelly couldn't stop grinning from ear to ear as they chatted, and Kelly admits that she felt particularly infatuated with his smile.
After yoga, Kiyo added Kelly on Facebook and she waited for him to message. A couple of weeks went by, and still nothing, so Kelly took matters into her own hands and messaged him. From that point on, they chatted every day, which led to video-calling regularly. It wasn't until July 2020, three months after they first started talking, when Kelly went on what she calls her "quest for love" and travelled back to Inuvik to meet Kiyo in person. In hindsight, Kelly and Kiyo feel like their relationship benefited from the pandemic — preventing them from rushing into things too fast.
Kelly explains:
"It was tough since we couldn't easily meet and we didn't know when we would meet. However, we built a strong foundation by talking every day for three months before physically meeting. As crappy as 2020 was, I am grateful I met Kiyo and have him in my life. We are still doing long distance [Inuvik, N.W.T to Elmira, Ont.], which is hard, but we hope to be together soon."
---
Victor Roney Wiebe (78) & Danna Carlene Wiebe (71)
Regina, Sask.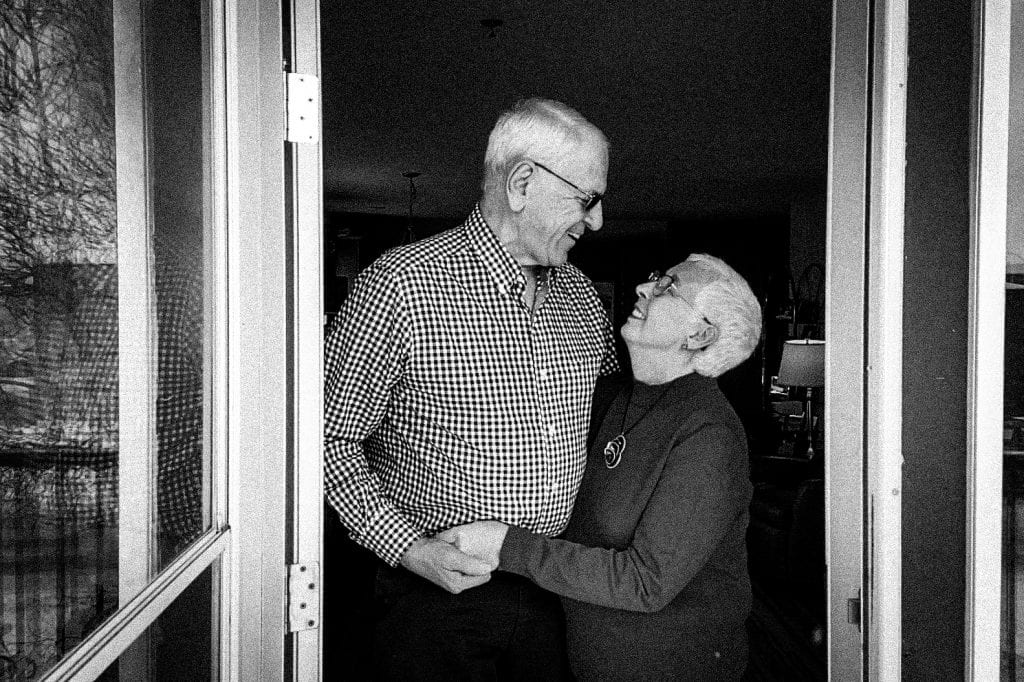 Danna and Vic have known each other for more than four decades. They first met in 1978 when Vic's wife started working as a teaching assistant in Danna's kindergarten class. Both families were members of the same congregation at Regina's St. James United and kept their family friendship going, even after Vic's family moved to Thompson, Man. in the late '80s and Weyburn, Sask. in the late '90s for his career. Despite the distance, each family made sure to attend the other's marriages, graduations and funerals.
The United Church always played an important role in both of their lives. Following his retirement, Vic took a very active role in the larger organization of the church, and Danna left teaching to pursue a second career as a United Church minister.
In 2019, within the span of four months, both Danna and Vic's spouses passed away.
In March 2020, Vic, feeling an increased sense of personal isolation, reached out to Danna online. They made plans to meet for coffee, and that conversation led to the decision to travel to Saskatoon and have lunch with some mutual friends. At that lunch, their former minister and friend, Tom Powell, asked the pointed question: "Are you two an item or not?"
Danna remembers feeling a little embarrassed and caught off guard by the question, but she realized it was something they hadn't discussed but needed to.
"On the trip home, we agreed that we both wanted to explore this further, but we also wanted to ensure that we could retain our friendship regardless of our ultimate decision," she says. "Our exploration of this moved along very quickly as our long conversations and hours together assured us that we had much in common. We felt secure in our deepening relationship and, at our advancing age, wanted to share as much of our remaining years together pursuing the number of interests that we share."
Vic and Danna were overwhelmed by the way their friends and family supported their friendship blossoming into love. By July, they decided to get married and scheduled the wedding for October at Saskatoon's St. Andrews College Chapel. Due to COVID-19 restrictions, attendance was limited to 30 people. It meant the world to them that many friends and family who they were unable to invite made sure to send best wishes. Only four months after that first lunch together, Vic and Danna were married.
"We are too old to waste precious time on a long-distance engagement [Weyburn to Regina]," Danna says. "We didn't want to find ourselves in different cities through another COVID lockdown either. Would we have gotten together if COVID-19 hadn't happened? We'll never know, but we feel that our relationship is sound despite the haste. We are thankful to be together."
---
Rolando Perez-Lorenzo (50) & Yiannis Psaroudis (50)
Sugar Hill and Soho, New York City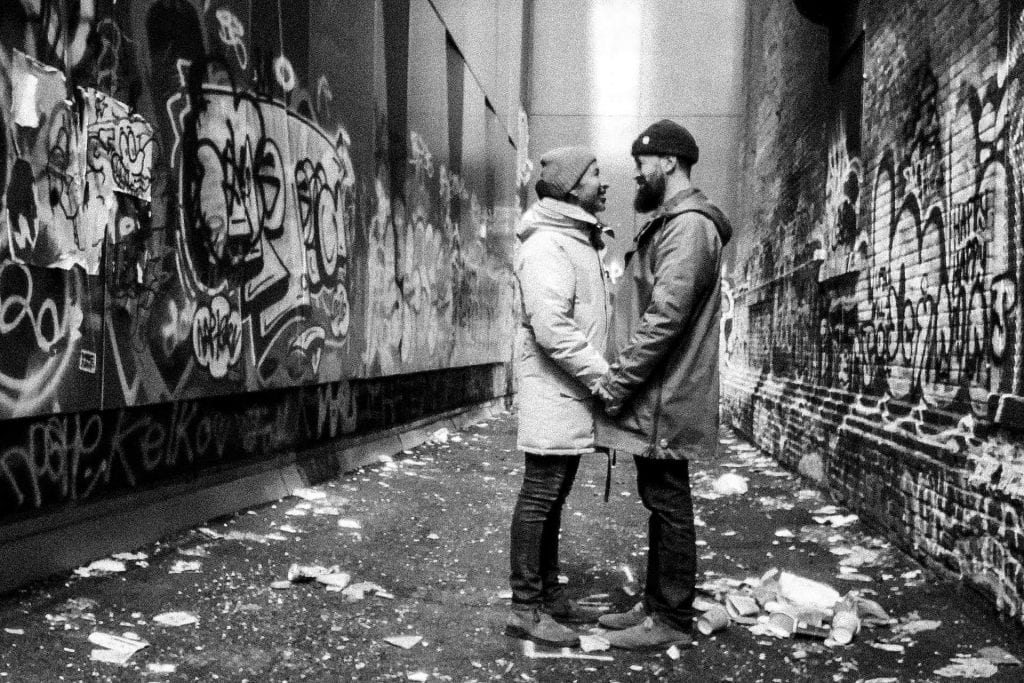 Yiannis, a digital project manager and trapeze instructor, and Rolando, a chemistry professor and research scientist, met on the dating app Hinge.
It was early July 2020, and after they "liked" each other, Yiannis messaged Rolando, "Hinge says we're a match. True Story?" Rolando found his message funny and sweet, and after he wrote back, the conversation flowed. They set the date — July 26 — to meet. Yiannis says that Rolando asked if they could get together before the actual date to say hi. Yiannis found this a little odd — like Rolando wanted to check him out to decide whether he really wanted to go on a date or not — but he went along with it. As Rolando says, "I'm so glad that happened because I got to see that he wasn't just the product of good photography!"
Yiannis passed the test, so on July 26, they met halfway between their homes for takeout tacos and a walk through Central Park. Rolando remembers wondering when their next date would be before their first date had even finished.
Yiannis and Rolando figure that the pandemic slowed how their relationship unfolded. They both consider themselves old-fashioned, so taking things slow wasn't a problem. They feel lucky to have met in the summer, when the weather was conducive to dates outdoors — biking, walking and kayaking the Hudson River. Meeting halfway between their respective homes, often in parts of New York City that neither of them was too familiar with, meant that they needed to be a little more creative and willing to improvise.
"We're both pretty flexible and just enjoyed being around one another, so it didn't matter what we were doing," Yiannis says.
In the beginning, while the weather was nice, they met outside socially distanced or "masked up." When it got colder, and their relationship was getting more serious, they had to have "the COVID talk" and decided they were "bubble official." Yiannis asks, "why hasn't Facebook added that relationship status yet?"
"As gay men, in our 50s, we feel like we've both lived through a version of this [COVID pandemic] with the AIDS epidemic," he says. "Granted, there are many differences between the two, but the former has prepared us for the latter and we know that one key aspect is trust. That's why taking it slowly and getting to know one another worked out perfectly. We got to observe one another's behaviours, both as it relates to COVID, but also as it relates to each other. We know the other has our best interest at heart and is likely being even more careful, now that we have each other to consider. All that said, we'd both really like to take a vacation together soon."
---
Colin Boyd Shafer is a documentary photographer with a big heart, based in Kitchener, Ont. You can see more of his work at colinboydshafer.com.
---
We hope you found this Broadview article engaging.
Our team is working hard to bring you more independent, award-winning journalism. But Broadview is a nonprofit and these are tough times for magazines. Please consider supporting our work. There are a number of ways to do so:
Subscribe to our magazine and you'll receive intelligent, timely stories and perspectives delivered to your home 10 times a year.
Give the gift of Broadview to someone special in your life and make a difference!
Thank you for being such wonderful readers.
Jocelyn Bell
Editor/Publisher