Chase Padgett was about to get his big break. The performer has toiled on the Fringe circuit for years, singing, writing, acting and improvising his way to his current status as a mainstay in the festivals that bring independent theatre productions to over 30 Canadian and American cities each summer. His one-man show 6 Guitars, a funny and moving story about the power of music, debuted in 2009 to rave reviews and awards.
Padgett has toured the show all across North America, but his major-league debut was set to happen in March: Mirvish Productions, Canada's largest commercial theatre company, booked him for a week-long run of 6 Guitars in Toronto. Ten days before opening, those performances evaporated as a result of the COVID-19 outbreak.
"It's been pretty devastating," Padgett says over the phone from his home near Portland, Ore. "This was going to be the biggest year of my career so far, and now it has become the worst. Hands-down the worst." One by one, each and every one of Padgett's gigs was postponed or cancelled. But he couldn't just sit idly by as his financial and creative lifelines — and those of his peers in the Fringe theatre world — slipped away. So he got to work.
Right as quarantine became the new normal, Padgett launched Digital Fringe, an online collection of 10 shows by popular Fringe artists. The shows can be purchased individually or as a package through the video-streaming platform Vimeo, with almost all of the proceeds going directly to the artists. Padgett filmed the productions on the Canadian Fringe circuit last year and had originally planned to release them in late 2020. But when COVID-19 hit, he decided to make the videos available much earlier than anticipated. "As we all started losing gigs, I figured, well, maybe this doesn't make up for everything, but it's something that I could do."
Padgett isn't the only one reimagining theatre in the wake of COVID-19. Organizations and individuals have been drumming up new ways to share performances, both to pick up the financial slack for artists and fill an entertainment void for theatre lovers stuck at home. Livestream videos are proliferating, and audio plays are making a comeback. The Toronto-based theatre company DLT (DopoLavoro Teatrale) started Theatre On-Call, a service where people can call a phone number and listen to a live performance.
Buddies in Bad Times, an LGBTQ2 theatre in Toronto, has focused its efforts on social media. After its physical space closed, the theatre created an Instagram series featuring a live performance each weeknight. Called Queer, Far, Wherever You Are (in honour of Celine Dion's Titanic hit, My Heart Will Go On), the series showcases voices that are often ignored by mainstream theatre companies, says Buddies' artistic director intern, Daniel Carter. Instagram users can tune in nightly to watch everything from drag and burlesque to opera and poetry readings. Buddies in Bad Times pays each artist an honorarium, but performances are free to view. "We were really thinking about our role as a theatre company during this moment, and how are we able to put money in the pockets of artists," says Carter. "Queer people have always found ways to connect and convene."
Heath V. Salazar, who performs in drag under the cheeky moniker of Gay Jesus, was part of the Instagram lineup in March. Salazar lost all their gigs when the lockdown hit but says the LGBTQ2 community has helped them stay afloat. "When [Buddies] messaged me, I fully cried," they say. Since their appearance on Queer, Far, Wherever You Are, Salazar has hosted a number of livestreams and has performed during Club Quarantine, an online queer dance club run through the video-conference service Zoom. "The biggest game changer for me has been seeing the way the queer community has come together for one another," they say.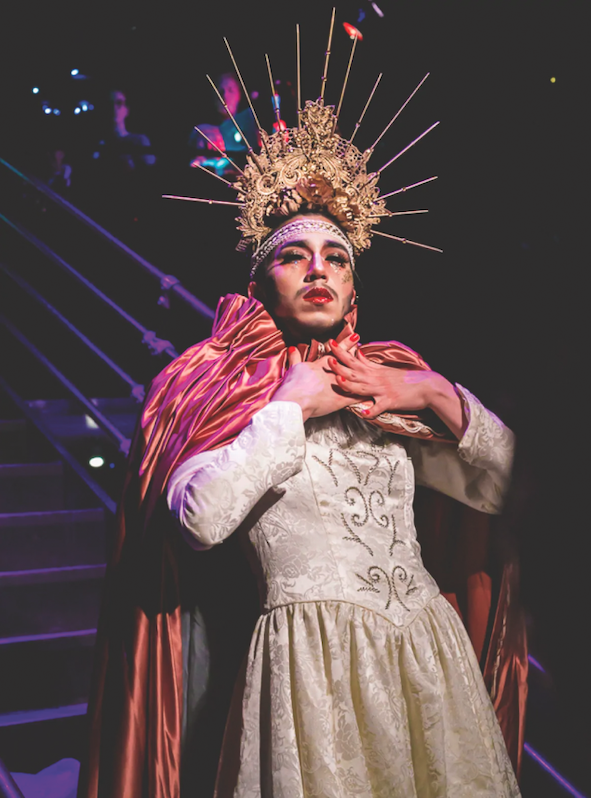 CBC has also reached out to theatre artists, including through the new podcast series The Show Must Go On. Evolving out of the CBC podcast PlayME, which turns buzz-worthy Canadian stage plays into audio dramas, this special pandemic series adapts shows that had their productions cancelled due to the virus. Available at playmepodcast.com, the first episode is an audio version of David Yee's award-winning play carried away on the crest of a wave, which shows the human side of the catastrophic 2004 Indian Ocean tsunami that killed over 200,000 people.
While Yee's work is voiced by a large cast of actors, podcast hosts Chris Tolley and Laura Mullin are also spotlighting smaller productions. Another episode of The Show Must Go On features an audio adaptation of Jivesh Parasram's Take d Milk, Nah? The solo show, written and performed by Parasram, fuses storytelling, comedy and ritual in an attempt to dissect the Canadian-Indian-Trinidadian artist's multicultural identity. "As far as I can tell, this is actually the first Indo-Caribbean, Hindu-Canadian identity play ever done," he says in the preamble. "So we are making highly hyphenated history here — and using tax dollars."
A season without live theatre will also be historic, and despite the best efforts of artists, it might feel strangely incomplete. Fans missing the summer Fringe experience can at least take comfort in seeing some of their favourite performers on video.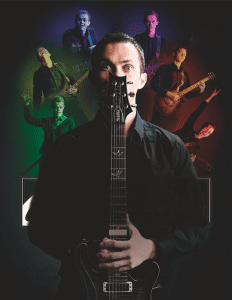 Among the hits of the Digital Fringe is Melanie Gall's Ingenue, a one-woman musical that tells the true story of the Winnipeg-born film star Deanna Durbin, whose fame in the 1930s and '40s rivalled Judy Garland's. Another highlight is Operatic Panic Attack by Canadian Fringe legend TJ Dawe. The solo show chronicles his struggle with anxiety and panic attacks, starting from when he was a theatre student in his early 20s.
Dawe, a longtime Fringe performer who also directs a show in Padgett's Digital Fringe lineup, is concerned about the future of live theatre. "A festival environment necessitates strangers congregating in close quarters," he says, adding that people will be reticent to come together once the restrictions are lifted. "A lot of people are just going to choose to stay home and keep watching Netflix."
For that reason, he thinks Digital Fringe is an excellent idea. "This could be the future, you know, because it makes something accessible to somebody no matter how broke they are — and a lot of us are — as well as to people who actually are lucky enough to have money and want to support artists."
For Padgett, Digital Fringe has reinforced the sense of community that COVID-19 originally threatened to take away. "Nobody knows what to expect," he says about the long-term impact of the virus. "The one thing I do hold a lot of trust in, though, is the fellowship of artists towards other artists and towards their patrons."
This essay first appeared in Broadview's July/August 2020 issue with the title "On with the show."
KC Hoard is Broadview's intern.
---
I hope you found this Broadview article engaging. The magazine and its forerunners have been publishing continuously since 1829. We face a crisis today like no other in our 191-year history and we need your help. Would you consider a one-time gift to see us through this emergency?
We're working hard to keep producing the print and digital versions of Broadview. We've adjusted our editorial plans to focus on coverage of the social, ethical and spiritual elements of the pandemic. But we can only deliver Broadview's award-winning journalism if we can pay our bills. A single tax-receiptable gift right now is literally a lifeline.
Things will get better — we've overcome adversity before. But until then, we really need your help. No matter how large or small, I'm extremely grateful for your support.
Jocelyn Bell
Editor/Publisher