The New Corporation: The Unfortunately Necessary Sequel
Directed by Jennifer Abbott and Joel Bakan
Seventeen years ago, the documentary team behind The Corporation posed a question, one that remains just as provocative and pertinent in their film's new "unfortunately necessary" followup. If we accept the premise that a corporation should be considered a person in the eyes of the law — as the U.S. Supreme Court ruled in the 19th century, enabling companies to pursue rapacious growth while protecting them against liability — then what kind of person would it be? The Cor­poration's makers put their subject on a psychiatrist's couch, analyzing its behaviours with the help of authors and activists, and applying criteria used by the American Psychiatric Association. They concluded that the corporation would be the kind of person you don't want to encounter in a dark alley, let alone entrust with society's well-being: a psychopath.
This disconcerting insight had a huge impact. Not only did the film become one of the most successful Canadian documen­taries ever, but it also helped galvanize resistance to the ways in which corporations dominate so many aspects of our lives while undermining democratic in­stitutions.
Alas, as this sequel suggests, that original diagnosis may have also contributed to a less welcome development. Co-directed by the Vancouver team of Jennifer Abbott and Joel Bakan, The New Corporation scrutinizes the efforts of corporate giants to assume a kinder disposition. Whether they're venture cap­italists reinvesting in distressed cities or fossil fuel conglomerates promoting green energy, these captains of industry want to seem empathetic. As Prime Minister Justin Trudeau effuses in one clip, corporations now strive to "serve a social purpose."
But as journalist Paul Mason counters, "The capitalist system as a whole is not built for that." Using punchy sound bites from people like U.S. congresswoman Alexandria Ocasio-Cortez and a new array of interview subjects, the film demonstrates how corporate social responsibility can only be a PR pose in light of these same companies' legal mandate to produce profits.
---
More on Broadview:
---
Potentially even more troubling are corporations' efforts to paint themselves as the white knights rescuing society from its ills, expanding into the realms of health care and education to address crises they helped create. That's all in keeping with another quality of psychopaths: the ability to charm and ingratiate to achieve their aims.
Abbott and Bakan were in the finishing stages of the film when the pandemic hit, exacerbating an ever-expanding list of global problems, from racial injustice to the lack of labour protections for frontline workers.
While their attempt to cover everything threatens to turn The New Corporation into a landslide of bad news, it still contains a measure of hope as activists also change up their game. Just as The Corporation's alarm bells inspired a wave of dissent, so too may its successor encourage viewers "to dream again," in the words of Occupy Wall Street organizer Micah White. And that's a good thing, given how much imagination it may take to outsmart such a cunning adversary.
The New Corporation opened in select theatres in November.
---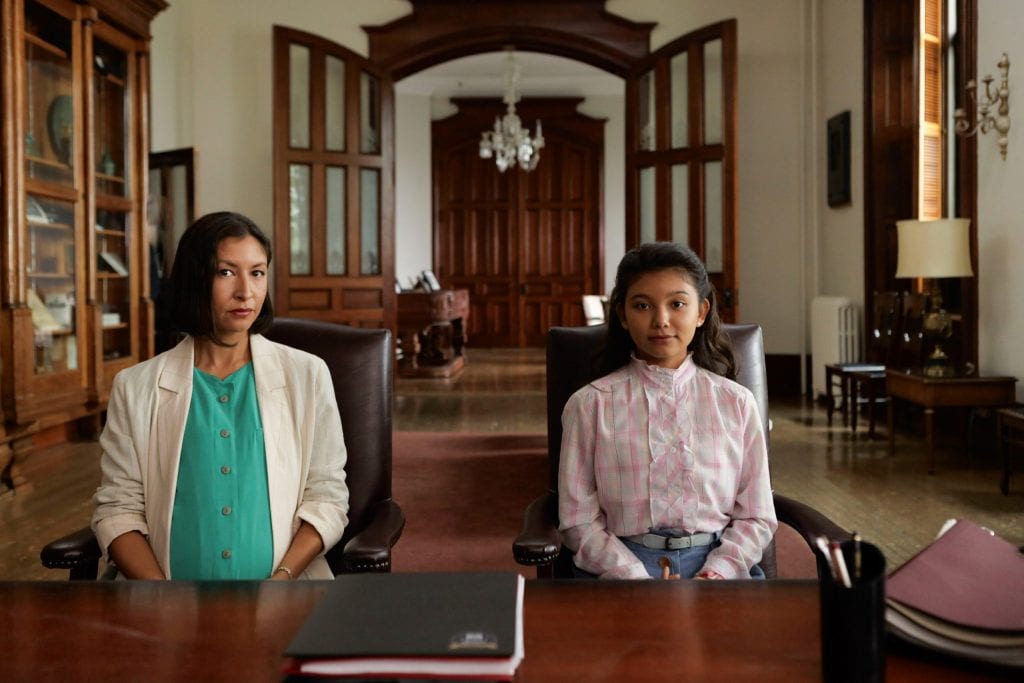 Beans
Directed by Tracey Deer
Like the character whose nickname provides the title of Beans, filmmaker Tracey Deer was 12 years old and growing up on the Kahnawá:ke reserve in Quebec during the Oka Crisis in the summer of 1990. Provoked by the neighbouring town of Oka's plans to expand a golf course and build a new condo development on a Mohawk burial ground, the tense and sometimes violent events of those months remains an open wound in the affected communities and another painful episode in the long struggle for Indigenous sovereignty in Canada. Deer, a first-hand witness to the conflict, describes it as a "very shattering time." What she saw and experienced profoundly changed how she saw the world. More crushingly, it taught her how the world sees her.
Deer draws closely on those experiences in Beans, which she co-wrote with Meredith Vuchnich. Played by the young Mohawk actor Kiawentiio, the film's title character is a good girl in a loving family whose mother, Lily (Rainbow Dickerson), assures her that she can grow up to be whatever she wants. Getting her into a prestigious private school is the crucial first step.
But as the crisis intensifies and the reserve becomes more isolated, Beans and her family must contend with growing hostility. In one harrowing scene, Lily drives Beans and her younger sister through an angry crowd of Oka residents who hurl slurs and pelt their car with rocks as police officers stand idly by. The incident draws directly on Deer's personal experience from that time, and the family's raw confusion and terror makes it difficult to watch. There's no denying its awful power or the shame it provokes in any viewer who ever clung to the convenient belief that Canadians are incap­able of that kind of hate.
At other times, Beans is equally remarkable for its warmth and humour, qualities that are fundamental to any coming-of-age movie. The film's richness and nuance are a testament both to the storytelling skills Deer developed over the four seasons of her APTN series Mohawk Girls and the capabilities of her cast, especially Kiawentiio. A preco­ciously talented performer who also made an impression on Anne with an E, she captures her character's mixture of bewilderment and fear — along with a growing sense of agency — as Beans's relationship with a troubled new friend, April (Paulina Alexis), leads her into a thornier corner of adolescence.
Just as Deer bends the conventions of the coming-of-age film to suit her needs, she invests this deeply personal story with a unique urgency. The events portrayed on screen may be 30 years in the past, but as the recent attacks on the Mi'kmaw lobster fishery make all too clear, Beans is not the kind of period piece that can be viewed from a safe remove. The film's hard truths and traumas claim the territory of the present, too.
Beans is scheduled to be released in spring 2021.
***
A version of this essay first appeared in Broadview's January/February 2021 issue with the title "Worlds out of balance."
---
We hope you found this Broadview article engaging. 
Our team is working hard to bring you more independent, award-winning journalism. But Broadview is a nonprofit and these are tough times for magazines. Please consider supporting our work. There are a number of ways to do so:
Subscribe to our magazine and you'll receive intelligent, timely stories and perspectives delivered to your home 10 times a year.
Donate to our Friends Fund.
Give the gift of Broadview to someone special in your life and make a difference!
Thank you for being such wonderful readers.
Jocelyn Bell
Editor/Publisher