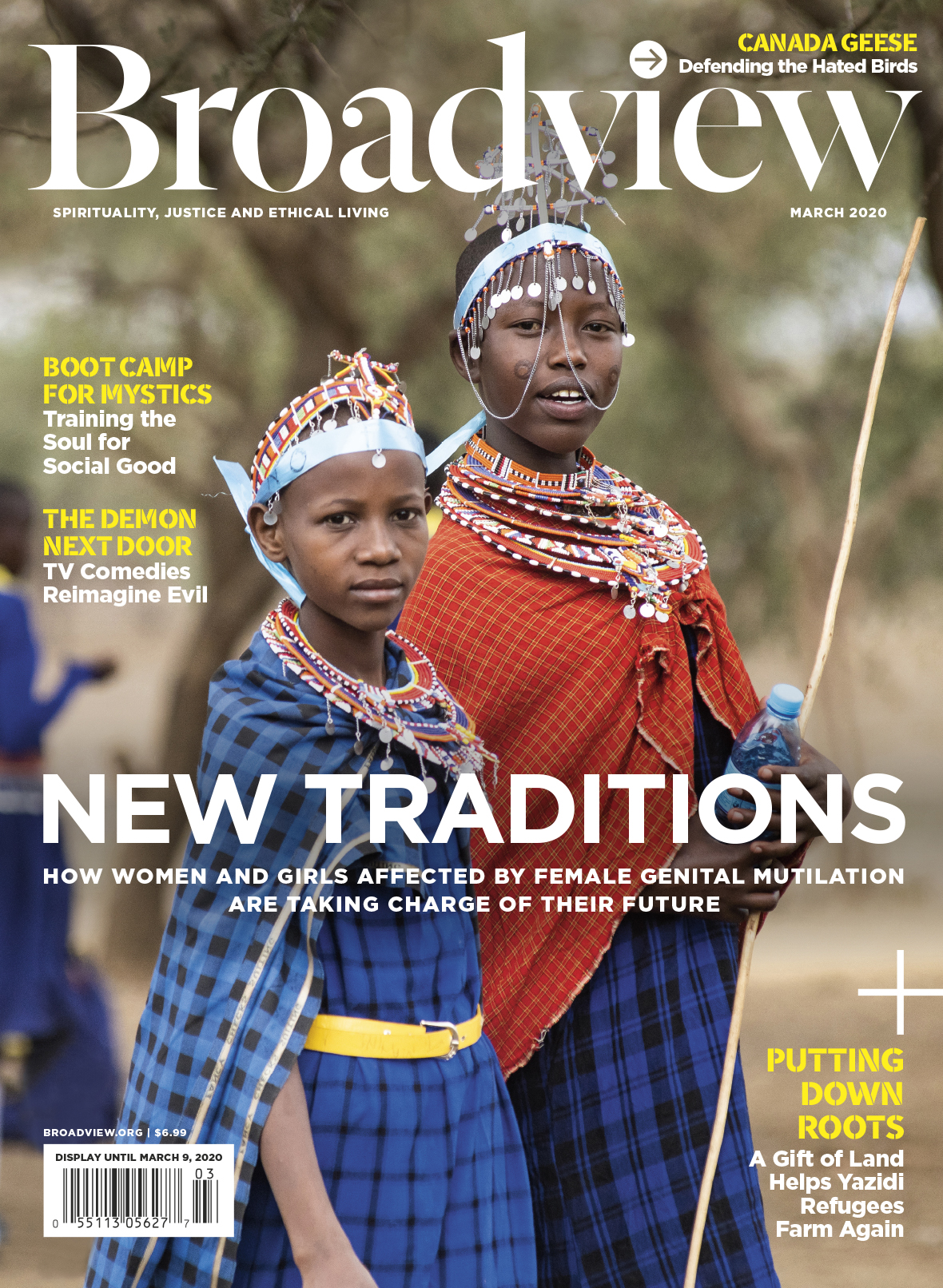 Current issue
March 2020
In this issue:
How women and girls affected by female genital mutilation are taking charge of their future
A gift of land helps Yazidi refugees farm again
Defending the Canada goose
Scroll down for more content from the March 2020 edition. When/if a story appears online, the headline will be bolded and clickable. 
In This Issue
Letters
Topics: Uncategorised

Responses to our December issue (print exclusive)
Features
Topics: Spirituality

What I've learned at Richard Rohr's Living School

The immersive program trains the soul for social change

Topics: Justice

Healing all wounds

As calls to end female genital mutilation rise, survivors are reclaiming their bodies and their lives

Topics: Justice

Unspoken

I didn't fully understand the frightening incident I experienced as a girl until recently. Now, I'm learning that FGM/C doesn't define me — or my community.

Topics: Justice

The life and death of an undocumented construction worker

Fearing deportation, Alvaro Vargas Fonseca lived under the radar in Canada. When he died, his family in Costa Rica struggled to find answers.
UCC in Focus
Topics: UCC in Focus

Church opens café for its community

Glebe Road United is providing community for children and teens, as well as millennials and new immigrants of all ages, even as it struggles to achieve financial sustainability

Topics: UCC in Focus

New United-Anglican shared ministry (print exclusive)

In September, Anglican minister Rev. Andrea Brennan took to the pulpit at Knox United in Fernie, B.C., to celebrate the official beginning of a new ecumenical shared ministry

Topics: UCC in Focus

Nora Sanders is retiring later this year (print exclusive)

Nora Sanders will be retiring as the United Church's general secretary, the denomination's highest administrative position, in September 2020.

Topics: UCC in Focus

Question box (print exclusive)

Looking for digital inspiration

Topics: UCC in Focus

Retrospect (print exclusive)

1989: Churches against apartheid

Topics: UCC in Focus

Putting down roots

How a gift of land is helping Yazidi refugees farm again

Topics: UCC in Focus

Rueben George

On his sacred duty to nature

Topics: UCC in Focus

'Your place is your parish'

An interview with Shawn Sanford Beck, an ecumenical priest and Christian Druid living off-grid on the shores of Murray Lake in Saskatchewan