The SUV outfitted with loudspeakers started making the rounds earlier this year than last, it seems. It drives slowly through Bayfront Park in Hamilton, a light flashing on its roof and recordings of eagles and other predators emanating from its speakers.
It's never a welcome sight for me. The vehicle is meant to scare away Canada geese in order to keep the grass and pavement clear of feces and usable for special events. That may not sadden most people, but to me it means losing something vital: without the geese, Bayfront Park becomes little more than a well-manicured lawn.
The vehicle reminds me of the uneasy relationship the city has with the wild, such as it exists at the park. It's a natural discomfort, I suppose. Nature can, after all, be unpredictable and not particularly mindful of regulations, and the city has to protect the safety and health of its residents. The goose itself doesn't help matters; its poopiness, incessant honking and perceived ugliness make it one of our least popular birds.
But to me, the Canada geese are a big part of what makes Bayfront Park so magical.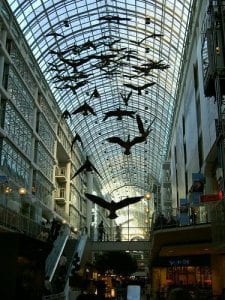 Before I moved to this area of Hamilton, I primarily knew Canada geese through visual art. They were the elegant subjects of Benjamin Chee Chee paintings or the lofty creatures immortalized in sculpture at the Toronto Eaton Centre. At Bayfront Park, though, they came to life in front of me: landing, navigating, squabbling, preening, pairing, defending, moulting, relaxing — even dying. I've seen them cock their heads en masse upon the entrance of a dog to the park, lie down with goslings under their wing, and endeavour to cross busy Bay Street in single file.
Bayfront Park isn't just a clean, decorative green space for humans. At least, it shouldn't be. It's a place where we animals — geese, humans and the rest — get a privileged glimpse of all the others doing their thing, provided, of course, that we give each other the space to do so.
When I'm able to share the park with the geese, I end up feeling connected to parts of myself beyond what is urban and contained — to what is wild, untamed, sacred. In the process, this part of the city becomes a threshold space: a place that is both city and somehow beyond city.
I like to think that the movements of the city residents at Bayfront Park might even connect the geese and other animals to something they might not otherwise have access to; maybe an untouched part of their animal soul. Who knows?
I understand the need to not let feces accumulate, but do we have to employ scare tactics to chase out the geese? The SUV reminds me that urbanites often desire nature, but on our own terms: curated and cultivated, and without the mess, inconvenience and sometimes even ugliness that comes with it.
But a little mess seems to me like not such a big price to pay for the privilege of connecting to nature's unscripted magic. Honk if you agree.
This column was first published in Broadview's March 2020 issue with the title "Wild goose chase."
Broadview is an award-winning progressive Christian magazine, featuring stories about spirituality, justice and ethical living. For more of our content, subscribe to the magazine today.