When Sheima Benembarek discovered Islamic feminist scholars, it was a revelation. "That brought me closer to faith —  it made me feel so much more liberated," says Benembarek, who is a senior editor at Toronto Life. It helped her discard received wisdom about the role of women in Islam, and move beyond the binary of "good Muslim" and "bad Muslim." While researching her forthcoming book, Halal Sex: The Intimate Lives of Muslim Women in North America, Benembarek realized many Muslim women struggle with this false dichotomy, especially when it comes to reconciling their sex lives with their faith. 
Over four years, Benembarek interviewed more than 40 female and non-binary Muslims across Canada and the United States, resulting in six in-depth portraits, spanning from a Nigerian American cautiously exploring her sexuality during her college years to a lesbian comedian whose Palestinian parents still refer to her Jewish wife as her "friend." 
Sadiya Ansari spoke with Benembarek about how shame can impact the feeling of belonging in faith communities, and the responsibility she felt to her sources. 
What made you want to cover this subject?
I was taught by my mom that a good woman is a virgin until she gets married, and that anybody else that has sex with you is just using you. Then I came to Canada at 18 from Morocco and started interacting with other cultures, and I realized there are so many different ways to be a woman and to be sexual. But there was a fear in me to actually engage in sexual encounters — I was constantly scared that I'd end up in a crazy orgy or at some guy's house where he'd cut me up in pieces. That's when I started thinking about how the lack of conversation around sex creates this fear. 
Now I'm almost 40 — I've had good sex and multiple partners, but I had to learn through trial and error, a lot of pain and misinformation that could have totally been avoided. It made me angry because it limited my experience as a sexual human being more than it would have had I not had those layers to work through. And so I was like: What's it like for Muslim women who grew up here? Is there the same type of crap, essentially, that I grew up with in a Muslim-majority country?
---
Want to read more from Broadview? Consider subscribing to one of our newsletters.
---
So I put out a call, started talking to all these women and realized there was a problem.
What was the problem?
Women and gender-expansive Muslims find themselves in painful situations because their families and community are not equipping them with the necessary sexual education they need to make informed decisions.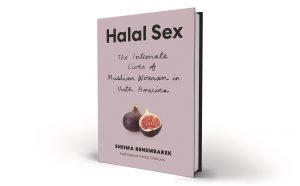 A lot of shame comes up in the book, which I think women across many faiths feel in relation to sex. Were you surprised it was so prevalent?
Shame is a very strong deterrent to behaviour in any culture. For some of the women, there was this idea: If I want to be a Muslim, this is how to be a Muslim. But if I don't want to do that, then I'm not a Muslim anymore. All the people featured in the book are Muslim — they love Islam and they're not interested in leaving it.
---
More on Broadview:
---
But everybody had to go through this shame that was instilled by the people closest to them: parents, uncles, aunts, grandmothers. It's heartbreaking to know that it's the people who care about you most who create such a difficult experience for you to self-actualize.
What harm results from shame? 
The biggest issue that everyone I spoke to faced was dismantling the shame to live the way they wanted to live. And the second thing was the feeling that their parents' love is conditional — that if they're not a certain type of Muslim they would lose that relationship. That's a terrible feeling for a child, for anyone, to have.
Your epilogue describes how you shared chapter drafts with the people you profiled, breaking a traditional rule of journalism. Why was it important to you to give them this input into how their stories would be told? 
I spent four years having these conversations — the burden [to do no harm] is huge. First, I had to make sure that I sufficiently concealed the identities of those who didn't want to be named. I couldn't sleep at night just thinking about that. I also wanted this to be a collaborative effort. These are their stories, their lives. And I needed them to be okay with it. 
Do you live in Toronto? Join author Sheima Benembarek at Lula Lounge on March 21 for the launch of Halal Sex and a comedy night. Tickets are here.
***
This interview has been edited and condensed for length and clarity. It first appeared in Broadview's April/May 2023 issue with the title "Intimate conversations."
Sadiya Ansari is a writer in Berlin.
---
We hope you found this Broadview article engaging. 
Our team is working hard to bring you more independent, award-winning journalism. But Broadview is a nonprofit and these are tough times for magazines. Please consider supporting our work. There are a number of ways to do so:
Subscribe to our magazine and you'll receive intelligent, timely stories and perspectives delivered to your home 8 times a year. 
Donate to our Friends Fund.
Give the gift of Broadview to someone special in your life and make a difference!
Thank you for being such wonderful readers.
Jocelyn Bell
Editor/Publisher