Late in 2021, I had the honour of meeting Rev. John Perigoe, a retired United Church minister. He and his wife, Rev. Lillian Perigoe, are longtime Broadview readers, and he told me they wanted to make a financial donation.
As we discussed what that might look like, I learned a lot about the Perigoes. John visits Lillian daily at Ina Grafton Gage Home in Toronto, where she is living with dementia. He sings to her, helps her eat and updates her on the goings-on in his life. To see John with Lillian is to bear witness to how profoundly one person can love another.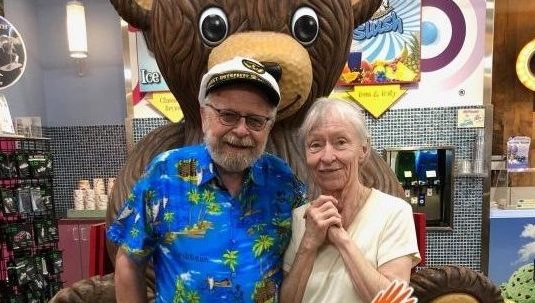 They also gifted me a hard-bound copy of Lillian's doctoral thesis, focused on feminist theology and the teaching ministry. Although published 30 years ago, it reads like contemporary gender theory. And this gave the Broadview staff an idea: what if we used some of their contribution to fund a podcast inspired by Lillian's thesis? John and Lillian were delighted by this plan, so we got to work.
The podcast is called And Also Some Women, a title drawn from Luke 8:2. This passage reminds readers that while they may think Jesus and his disciples were just 13 men walking from village to village, there were also some women in the group and they were pretty important. As our podcast reveals, church leaders have a long history of making the Bible less women-centred than it is.
In five 30-minute episodes, the podcast highlights fascinating biblical women, including Eve, through a feminist lens. Interviews with theologians like Diana Butler Bass offer surprising new takes on these familiar characters.
---
Want to read more from Broadview? Consider subscribing to one of our newsletters.
---
Our podcast host is Rev. Junia Joplin. A native of North Carolina, Joplin is a popular associate pastor at Metropolitan Community Church of Toronto. In 2021, she was recognized as one of the Top 25 Women of Influence for her work in sharing messages of love and affirmation for anyone reconciling their faith and identity, especially transgender youth.
Anne Thériault of Kingston, Ont., is the podcast's researcher, writer and on-air reporter. She is a longtime contributor to Broadview and wrote our most popular story of 2020, "Unravelling the Myth of Mary Magdalene," making her the perfect fit for this podcast.
---
More on Broadview:
---
Working behind the scenes are Michael Brown of Messenger Bag Media (sound design), Broadview staffer Kristy Woudstra (editor) and me (executive editor). And Also Some Women will be released this spring on all major podcasting platforms, including Spotify, Apple Podcasts and Overcast.
Last December, after a year of meeting and talking with John Perigoe, I finally met Lillian. Though she spoke only a word or two at a time, her smile grew wide when I told her about the podcast, and radiated warmth and grace when she received my thanks for their generous gift. She was every bit as brilliant and beautiful as John had described.
The Perigoes' gift to Broadview is a gift to us all. I do hope you'll tune in to the new podcast, and share in my gratitude for this unique storytelling opportunity.
***
Jocelyn Bell is the editor/publisher of Broadview.
 This story first appeared in Broadview's April/May 2023 issue with the title "Our first podcast."
---
We hope you found this Broadview article engaging. 
Our team is working hard to bring you more independent, award-winning journalism. But Broadview is a nonprofit and these are tough times for magazines. Please consider supporting our work. There are a number of ways to do so:
Subscribe to our magazine and you'll receive intelligent, timely stories and perspectives delivered to your home 8 times a year. 
Donate to our Friends Fund.
Give the gift of Broadview to someone special in your life and make a difference!
Thank you for being such wonderful readers.
Jocelyn Bell
Editor/Publisher