Duncan McCue doesn't like to shy away from telling stories that count. The Toronto investigative journalist has more than 20 years of television and radio reporting under his belt. As an Anishinaabe member of the Chippewas of Georgina Island First Nation in Ontario, he received an Indspire Award for Public Service in 2017.
Last summer, McCue hosted an eight-part podcast series on Penelakut Island, the B.C. location of one of Canada's most notorious residential schools. He currently hosts Helluva Story on CBC Radio One. His latest book, Decolonizing Journalism: A Guide to Reporting in Indigenous Communities, teaches casual readers and aspiring journalists alike how to engage with Indigenous news.
RY: When did you realize you wanted to be a journalist?
DM: When I was an undergrad at the University of King's College in Halifax, the student newspaper was looking for writers. The first article I wrote was this column — a rant, really — about why there weren't more visible minority and Indigenous students [enrolled at the university]. The headline was "King's Whitewash."
The next day, there were students sitting on the steps of the school talking about it. A group approached me and said, "We want to begin a petition to take to the president saying that there's racism — and we want King's to acknowledge it." The next thing I know, I'm sitting in front of the president's office saying, "There's racism here. What are you going to do about it?" I realized then the power of journalism.
RY: What led you to write Decolonizing Journalism?
DM: It came out of an online guide I put together over a decade ago that was aimed at helping journalists work through some practical solutions. 
To my surprise, the biggest users of the guide were journalism students and professors; there was just no content out there for them to be discussing these issues. The next generation is way more conscious of this than people were in my day.
---
Want to read more from Broadview? Consider subscribing to one of our newsletters.
---
RY: How can we begin this decolonization process in Canada?
DM: First, we need journalism students to be aware that there's a problem: how Indigenous people have been portrayed in the news. Some of the tropes that have existed in literature and movies also exist in our news coverage. When you examine the coverage of Indigenous people, you see these stereotypes popping up, whether it's the "pitiful Indians" or the "angry Indians." What I hope they will learn is that they can adapt their journalism practices in ways that will make their subjects more comfortable and help them tell better stories.
RY: What tools does your book provide for journalists so that they're prepared to work with Indigenous communities?
DM: There are a lot, but I often say it all boils down to respect. The way we conduct ourselves when it comes to gathering people's stories — we often treat them as products rather than people. The news business is unrelenting, but we can't lose sight of the fact that these are real people's stories. We need to respect and listen to them, and not see them through our own lens of what makes news.
RY: In your lectures, you point out that journalists often feel nervous interviewing First Nations sources. Why is this a widespread sentiment?
DM: I don't blame journalists who feel uncomfortable when they go from being the majority in a space to the minority. But then again, we ask police officers who are going into racialized communities to understand more about who they're serving, because there's a very real risk that a cultural misunderstanding can lead to something tragic. I think we need to be asking the same thing about journalists. When we're out reporting, we can do a great deal of harm with our stories through the way a particular community is represented to the rest of the country.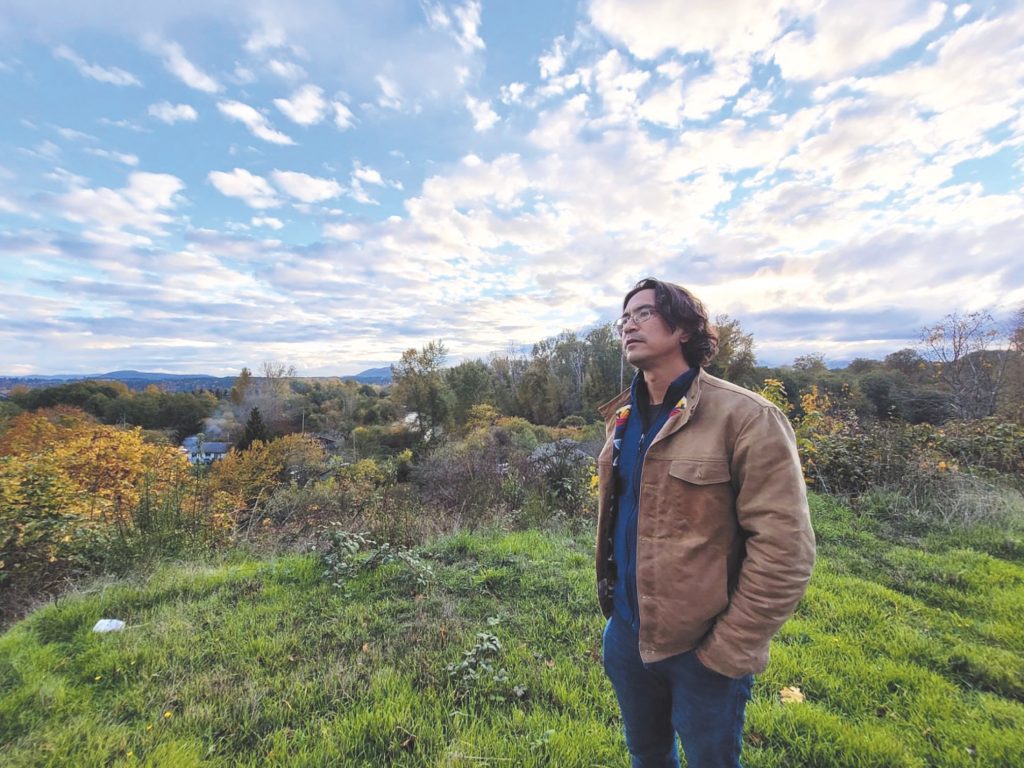 RY: Do you find that Indigenous people are generally trusting or wary of the media?
DM: People in general are wary of journalists. Me being Indigenous may provide a level of comfort to another Indigenous person for a few minutes, but when they realize I'm a journalist, that relationship shifts. Most Indigenous people are distrustful of journalism because journalism has often represented status and authority — in particular, white authority. This has to do with the idea of journalists being "story-takers," which is perceived by many Indigenous people as being the same kind of theft that has occurred in so many other contexts. That is a bridge that needs to be built by this new generation of journalists.
RY: Let's move on to Kuper Island, your podcast series. The island's residential school has been referred to as the "Alcatraz of Canada." How did you process these horrific events, knowing your role as a journalist demands emotional composure?
DM: One of the things I learned early on in my reporting career is that when I was visiting Indigenous communities for news stories, I was often recounting trauma — because Indigenous people have experienced more trauma than most Canadians. I had very wise Elders and friends who told me, "You are a storyteller, but you can't carry this. It's important that people know the stories you're sharing, but you need to let that go or you're going to get sick."
Those were important lessons. If journalists want to keep telling these stories — if they want to delve into and present social justice — then they need to take care of themselves. Talking about residential schools as an Indigenous person, I knew that was going to be difficult. The job was demanding at times, but we needed to make sure that we took care of ourselves so that we could honour the stories we were hearing.
---
More on Broadview:
---
RY: You've said mainstream news presented Canadians with a sanitized version of the unmarked Indigenous children's graves found in 2021. Why?
DM: When you realize the project this country was engaged in, then it is shocking, because Canadians knew it wasn't hidden. It was out in the open. 
And the project not only kept going, but grew and expanded. There were Canadians who were telling the federal government that the system was broken, that children were dying, that there were problems — and it was never fixed. It ran for over 100 years. It still troubles me when I sit with survivors and realize the trauma that was visited upon them. Canadians knew this was happening.
RY: How do you think reporting on racialized stories has changed?
DM: I think the killing of George Floyd brought around new recognition. It's not the first recognition — I'd been writing about systemic racism for the better part of 30 years but falling on deaf ears for a long time. It's not the first time that newsrooms have said we need to do better. Do we have a long way to go still? Yes, we do. And in speaking with my Black colleagues and East Asian colleagues and South Asian colleagues, there's work to be done in other racial estimates. But I have seen some significant changes both in terms of hiring and in terms of doing a better job tracking racialized communities, how we're representing them on air. I think those are really positive changes. 
RY: Canadian religious institutions are finally coming to terms with what they did to Indigenous people in this country. How does this bode for reconciliation?
DM: The churches have been somewhat ahead of most Canadians in terms of understanding the responsibilities of reconciliation because they have a great deal to atone for. Churches were carrying out some of the worst assimilative practices the Canadian state is responsible for. The churches have recognized this, not out of the goodness of their hearts, but because they were dragged kicking and screaming into court and saw the future of their organizations put at risk. 
But because of those legal claims, churches — the United Church in particular — have been at the forefront of reconciliation discussions. They have made honest attempts to understand what it's going to take to repair the relationship in ways that perhaps non-churchgoing Canadians have not. 
***
This interview has been edited and condensed for length and clarity. It first appeared in Broadview's April/May 2023 issue with the title "Uncovering the truth."
Rawan Youssef is a former Broadview intern. She lives in Ottawa.
---
We hope you found this Broadview article engaging. 
Our team is working hard to bring you more independent, award-winning journalism. But Broadview is a nonprofit and these are tough times for magazines. Please consider supporting our work. There are a number of ways to do so:
Subscribe to our magazine and you'll receive intelligent, timely stories and perspectives delivered to your home 8 times a year.
Donate to our Friends Fund.
Give the gift of Broadview to someone special in your life and make a difference!
Thank you for being such wonderful readers.
Jocelyn Bell
Editor/Publisher