Since the Taliban retook Afghanistan 10 months ago, thousands of Afghans have looked to Canada for help. Our country positions itself as an international leader for refugee assistance, and the federal government promised to resettle 40,000 Afghan migrants.
As of press time in mid-May, Canada had settled over 13,000 Afghan applicants. Whether they don't quite fit the criteria, they can't get to another country because of risk or lack of documents, or they went to the first place they could and are now unable to move on, many are stuck on the margins.
Three Afghans in Canada, Europe and Afghanistan say they're still holding out hope to bring their families here.
---
Hasti Yadgar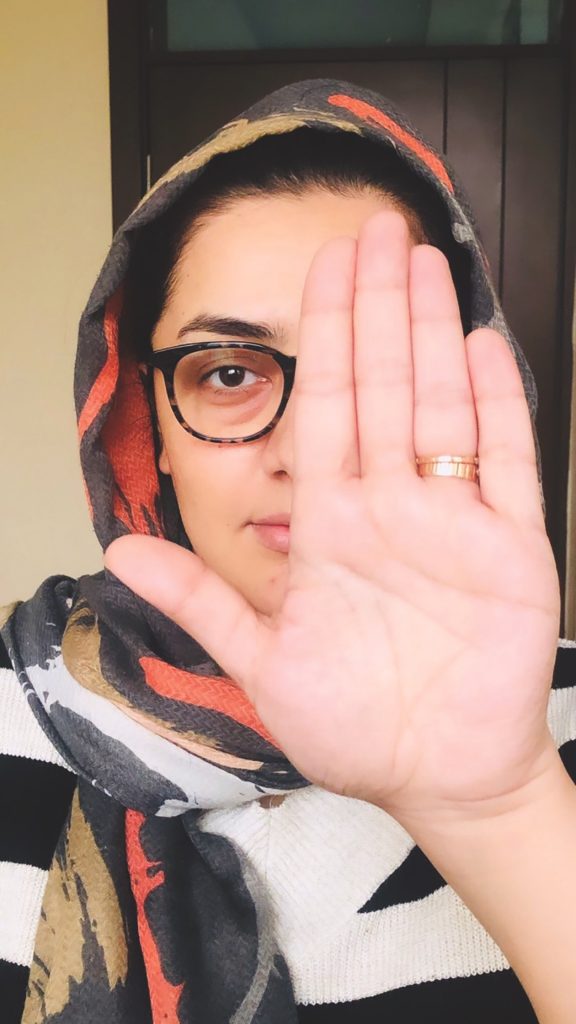 Hasti Yadgar (not her real name) has been holed up with 17 family members in a 1,600-square-foot two-bedroom apartment in Kabul since mid-summer 2021. Yadgar, a 33-year-old journalist and schoolteacher, was three months into her fourth pregnancy when she fled south to Kabul with her family, leaving behind her home in Puli Khumri, the capital of Baghlan province.
At the time, she'd set her hopes on bringing the family to Canada. She had three of the four criteria for the government's special humanitarian program: her nationality, her employment as a journalist and her lack of a durable solution in another country. But the fourth one, getting outside Afghanistan, couldn't happen. She didn't have passports for her daughters. Without those, the family couldn't leave and the application couldn't be opened.
Yadgar, who uses Google Translate to communicate through messages over Signal, says she doesn't remember the exact night she fled the family home last year, but everything else stays with her. "My body trembles every time I remember," she says. "Baghlan had been burning in the fire of war for years. We were almost used to it. We did not want to go out, but the war was getting too intense."
---
Interested in more stories like this? Subscribe to Broadview's weekly newsletter.
---
Yadgar says her home was struck by stray gunfire the day her family left. "The war was going on five kilometres from our house. Light and heavy weapons on both sides had damaged all the houses there. We could only take some essential clothes with us."
The family piled into three cars. The drive, which Yadgar says normally takes about four hours, instead took 14 hours due to traffic and routine stops at Taliban checkpoints. When they arrived in Kabul around 2 a.m., the city was completely dark. A power station had been damaged. "Everyone's mobile phones were off. We could not even eat because we were so worried," she says. "Our decision was that the war would last a few days, and we would return to our homes." The Taliban seized Puli Khumri on Aug. 10. Five days later, they took Kabul.
Since then, Yadgar's days have been confined to an indoor routine. Morning to night, it's mostly looking after the children. "Sometimes I read books, eat and sleep; sometimes I watch TV. We only go to the market to buy essentials."
It's a far cry from the life she used to lead, writing fearless op-eds on the importance of women's rights in Afghan society and filing reports on rape as one of the Taliban's weapons of war. A Sunni Muslim, Yadgar decries the Taliban swaddling themselves in the trappings of religion. "They are abusing religion. They want to train a generation of terrorists," she says. "Islam gives women the right to education and work, but extremist Muslims like the Taliban have taken away that right."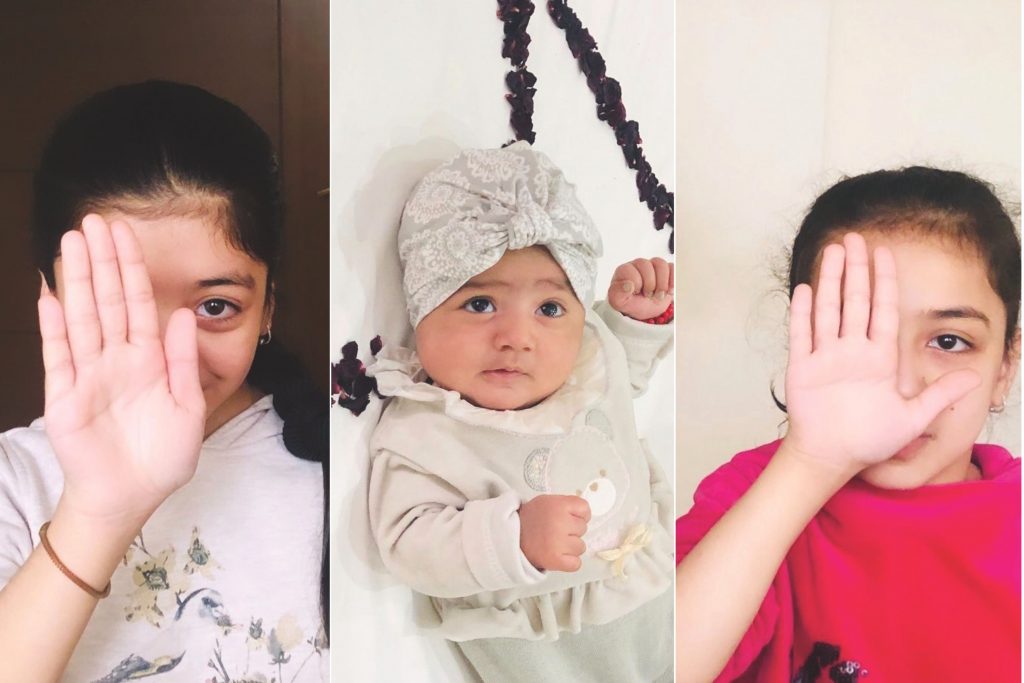 It's no surprise Yadgar's frightened for her children. The mother of four welcomed her youngest daughter at the end of December, while still in hiding. "They will not have a future because the schools are supposed to be completely religious," Yadgar says. "I am never willing for my children to grow up with Taliban ideas."
Yadgar continues her tireless search for a way out of the country. "Sometimes I get very frustrated, but I do not stop," she says.
Her husband had worked for ChildFund, a U.S.-based international children's charity, so they opened a special immigration visa claim with the United States. She also reached out to media advocacy organizations for help. "Only Reporters Without Borders asked me for my ID card and passport, and there was no more news about it," Yadgar says. "I received only automatic replies from the other addresses."
All the while, she watched with growing disappointment as friends and colleagues made it out. Two other female friends submitted their documents to the same organizations Yadgar did. One woman, a doctor, was an old family friend. The other was a reporter from the same news agency as Yadgar. Last fall, both of Yadgar's friends received a phone call to travel to Mazar-e Sharif in northern Afghanistan. The women and their families boarded a flight together. Two days later, they were in Albania. But those women, unlike Yadgar, had all their family passports in order.
The Taliban was slow to open the passport offices. When they did, Yadgar was terrified of going but finally found the courage to apply for her daughters' passports late last year. As she awaited the passports in Kabul, Yadgar considered returning to Baghlan to work. "I need a job to survive, and I'm still a teacher. The Taliban in the area told our neighbours that we should return home and promised that they would not harm us. But I still can't trust it, and I'm not sure if I'll come back or not. If I do not go, I will lose my job," she says. "I really do not know what to do."
That fear is a recurring theme. In February, she went to the dentist for a toothache, bringing her daughter with her, and was accosted by Taliban militia for being an unaccompanied woman. "They told me that this is the last time you will go out without a man, and if not, the punishment will be heavy," she says. "The taxi driver said that he was my relative, then they let us move.…I was very scared and did not know what to say. I could hardly say that my teeth hurt a lot, and no one was home and I had to go to the doctor."
She's afraid the world's moved on. The day after the Taliban stopped her on the way to the dentist, Russia invaded Ukraine. "I think the Russia-Ukraine war will make the world forget about us forever," Yadgar says.
Even though her family tells her otherwise, she says fear is spreading through them too. When she asks if they're afraid, "they say no, but those who prefer to stay home and do not leave the house even for a moment, I know how they feel."
Her daughters' passports arrived last winter, but even with the documents in hand, Yadgar isn't certain she can leave. Still living in Kabul, she sends me photos of olive-green pickup trucks with armed men parked outside the building across the street. She says the Taliban is doing house-to-house searches in Kabul, looking for weapons and ex-soldiers.
"If the Taliban does not kill us," she says, "the stress and fear of the Taliban will."
---
Mohammad Haidar Naikpai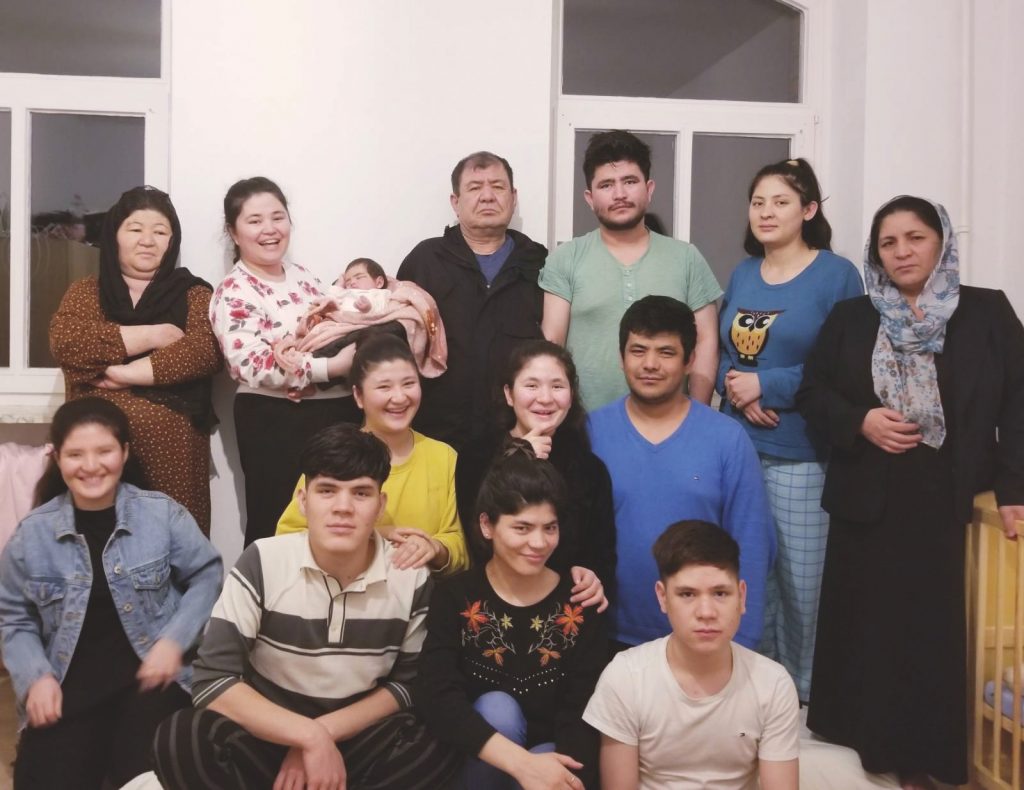 Maj.-Gen. Mohammad Haidar Naikpai and 14 of his family members are in a two-room apartment in Germany, awaiting deportation to Poland. The former Afghan National Army officer knows that European Union law means he and his family can't avoid going back to Poland, where his refugee claim was first opened. But he's hoping Canada will be his permanent home.
Naikpai and his family are Hazara, an ethnic minority in Afghanistan. They're also Nizari Ismailis, followers of imam and philanthropist Aga Khan IV. As both ethnic and religious minorities in Afghanistan, Naikpai's family are contenders for Canada's special humanitarian program for Afghan nationals, which provides a priority pathway for immigration. The catch is that once they're offered a "durable" solution in another country, the Canadian option dries up. If Poland gets too far into Naikpai's application process before another country can take him, those routes will close forever. And he doesn't want to go back to Poland.
Naikpai's voice is soft and gentle. But the 59-year-old grandfather was once the deputy commander of Afghanistan's Special Operations Corps.
Naikpai fled Afghanistan on Aug. 20, 2021, taking 13 family members with him: two wives (polygamy is legal in Afghanistan), 10 children and a pregnant daughter-in-law. The Taliban was hunting down civilian and military members of the rapidly collapsing Islamic Republic government.
On Aug. 15, 2021, when the Taliban seized Kabul, Naikpai was visiting Bismillah Khan, the minister of defence. A phone call to Khan — Naikpai says he doesn't know who it was — sounded a warning that military staff should flee. Days before, he had received another call from a voice he did recognize: Mullah Rouhani, a Taliban commander whom Naikpai's forces had faced in battle. "I'm coming as soon as possible. I know your address," Naikpai says Rouhani told him.
Naikpai left Khan immediately to be with his family. He'd clashed with Taliban goons before, but the call to the minister showed him the Taliban had managed to turn the tide back after two decades. "It was unbelievable. I was shocked," Naikpai says. By nighttime, his family had packed and was en route to Kabul.
Two of Naikpai's sons were in Poland, studying at military school. On Aug. 18, a Polish military translator who knew the sons called Naikpai and asked if he wanted to come to Poland. "After 12 hours, the translator called me and told me to go for the airport," he says.
With nothing but clothes, their passports and ID cards, Naikpai and his family arrived at Abbey Gate at Hamid Karzai International Airport. Pictures of the airport from that time show it packed with people, shoulder to shoulder, trying to flee. The interior of the airport was still controlled by western forces, but the outside was controlled by the Taliban.
The narrow exterior checkpoints were squeezed between the airport walls and a canal, with shipping containers to funnel the people through. Naikpai says he and his family spent three days there, waiting to make it inside. "It was very bad conditions. There was no meals, nothing. The Taliban was hitting people, firing, using different kinds of gases," he says. "Those will be one of the blackest days of my life and also of my family's," Naikpai adds, his voice cracking.
On Aug. 20, the family made it inside the airport and onto a military flight to Uzbekistan that night. From there, they took a civilian flight to Poland, touching down in Warsaw the next day. Six days after he left, the Islamic State terror group set off a suicide bomb at Abbey Gate, killing at least 183 people and injuring hundreds more.
Polish authorities recorded the family's fingerprints when they deplaned, Naikpai says. He didn't understand the far-reaching impact that would have. "They didn't tell us nothing," he says. They just put the family on a bus to a camp near the border with Belarus.
The conditions in the Polish camp were bad, Naikpai says. There was no education system set up for children, and meals were provided only twice a day. If a family wanted more food, it was a 10-kilometre hike to the nearest shop. "My smallest son says, 'We come from one war to the next war,'" Naikpai says. "The children's future was unknown. No high school. No learning the language."
The tipping point came when another Afghan family, unknown to Naikpai, attempted to bulk up the twice-daily rations by foraging mushrooms from a nearby forest. "The mushroom was poisonous," Naikpai says. "Two children of that family died."
Last November, Naikpai tried the Canadian embassy in Warsaw because he'd worked alongside the Canadian military in Afghanistan. When he couldn't enter the embassy because COVID-19 protocols required advance appointments, he tried the American embassy, whose military he'd also worked beside. Again, he got nowhere.
Naikpai saw his options narrow and bought train tickets to Germany for the family. "When we arrived in Berlin, we went to the police and told them we are immigrants from Afghanistan." Naikpai says the police transferred him to a camp near Brunswick. "The conditions for living here were better than Poland," he says. They were fed and clothed, and the kids started school and began learning German.
"We were 40 days at the camp, and then they gave us an interview," Naikpai says. That's when he first discovered European Union immigration law. "They told us, 'Dublin law applies — you will be sent back to Poland.'" The Dublin Regulation says that whatever European Union country first opens the asylum claim must process that claim; an asylum claimant entering another EU state and opening a new claim will be sent back to the country that first received them. Part of its purpose is to prevent migrants from filing multiple claims across member states. Because Naikpai opened his family's asylum claim when they were fingerprinted in Poland, Germany had no choice but to send him back.
All the while, Naikpai continued to ask Canada for help. He struggled through the English-language online forms, highlighting his work with Canada's military. When he completed the form, the site immediately rejected it, giving him an error. He tried again. It gave him the same error.
Naikpai appealed the German ruling but received a deportation order from the German court on Feb. 22. It prohibits him and his family from being employed in Germany and compels them to stay at their current address until deported. When we spoke in late February, Naikpai felt like he was in a race against time, trying to get an offer outside the EU before Polish authorities shut those avenues down.
His desire to be as far from violence as possible was made clear in a recent message he sent me: "Our wish is to transfer to Canada."
---
Jawad Ashur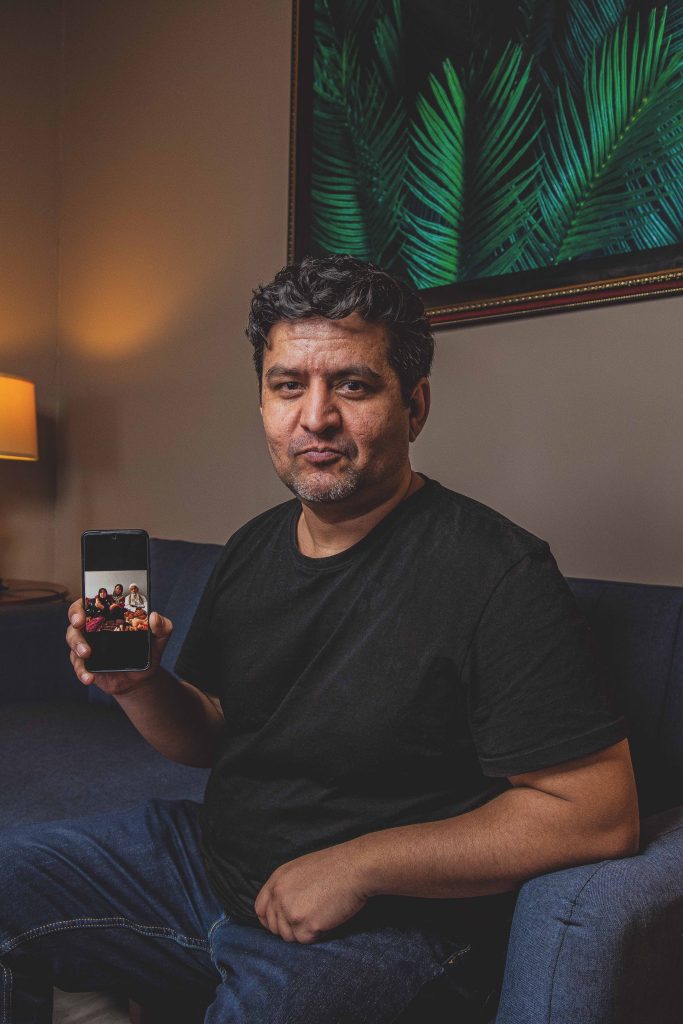 Jawad Ashur remembers fearing his mother, Najiba, would lose her vision to glaucoma. "I was extremely worried; we all were," Ashur says. "Every day, she would cry that she's going to lose her sight."
After the Taliban took over, the septuagenarian woman was stuck in Kabul, along with her husband, Muhammad, himself in his early 80s. Most of their 10 children had fled the country — to Canada, Germany, Tajikistan, Pakistan or Turkey — but Ashur's parents still had two daughters, their husbands and each couple's sons with them in Afghanistan.
Ashur was able to help his mother and father get to Pakistan — Najiba had her first eye surgery in early December — but they're still waiting to join him in Canada.
Ashur knows the process. He's been through it. Now a naturalized citizen living in Halifax, he moved to Canada in 2005 as a refugee himself. His second-eldest sister and her husband brought him to Tajikistan in February 1997, when he was 12. When the "Taliban 1.0," as he calls them, advanced on his hometown later that year, the rest of his family fled to Iran. In 2014, Ashur returned to Afghanistan as a military interpreter.
It should have been easy for Ashur to get his parents here. Last December, Canada expanded family reunification for interpreters to include parents, grandparents, grandchildren and siblings. Prior to then, it only applied to spouses, partners and children.
But there's a hitch. Ashur hadn't served as an interpreter for the Canadian Armed Forces. He worked for the U.S. army. That's part of what shut down his options, he says. But the real insult to Ashur is that any Afghan national who worked as an interpreter, including for the United States under an August 2021 agreement, had priority pathways to bring their family here. A Canadian citizen has no such luck.
Ashur can't sponsor his parents, either. He's already sponsoring one of his sisters, now in Tajikistan, as part of a group of five — a collective sponsorship where five or more citizens or permanent residents band together to support refugees financially and socially. Now Ashur's assets are stretched too thin to sponsor more refugee family members.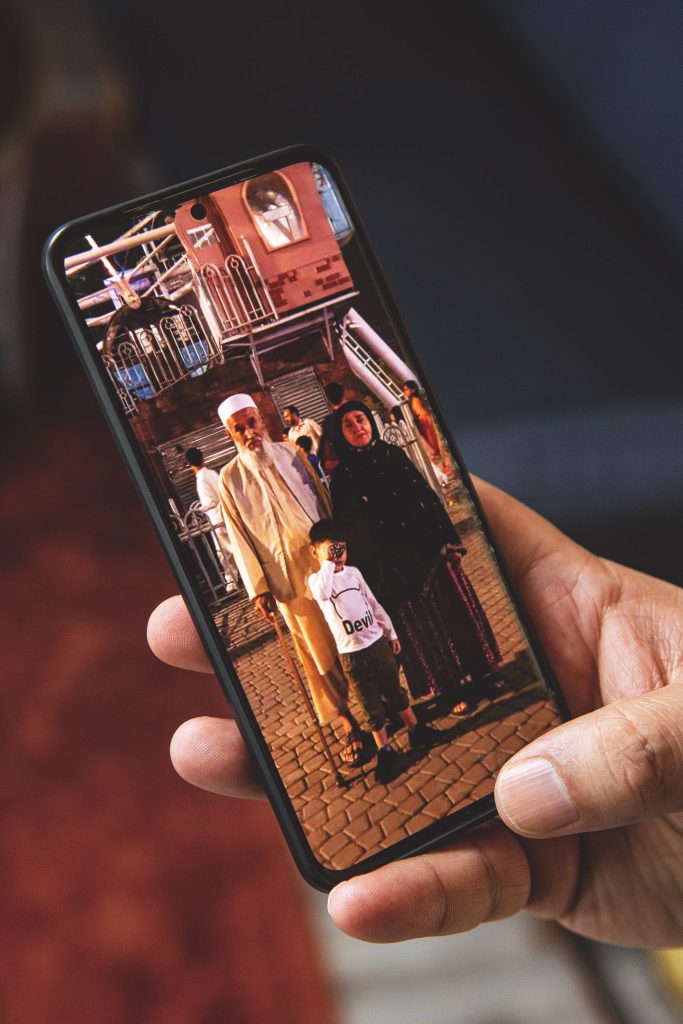 In August 2021, with Canada bracing for another election, he contacted the office of his local member of Parliament, Darren Fisher. He says staff told him they couldn't do anything for him and to contact Immigration, Refugees and Citizenship Canada (IRCC).
Ashur tried IRCC, calling almost daily from mid-August to mid-September. "I'd call them and plead for some kind of assistance. I'd get canned, generic responses each time."
Finally, he tried contacting Liberal MP Marco Mendicino, then federal minister for immigration, refugees and citizenship. At the time, Mendicino was in full election swing, campaigning on his portfolio and posting photos on his Twitter account showing him welcoming Afghan refugees to Canada.
Ashur says he received no help from Mendicino. "It doesn't feel good. I come from a country that doesn't generally have trust for the government and the representatives," Ashur says. "For Canada, I generally have much more trust. But that kind of gave me a reminder that it's just all photo ops."
All the while, Ashur, a financial analyst, was supporting his parents and sisters. He helped his parents apply for a medical visa to Pakistan in late October. His mother was approved but his father, who needed to accompany her due to her failing eyesight, wasn't. He started a second application for his father, and by mid-November, the application was approved. His parents travelled to Islamabad.
They relied on money from Ashur and the kindness of strangers. "The guesthouse they stayed in, we found out it was popular among Afghans who'd come for their medical issues in Islamabad," Ashur says. The son of another family staying there "would always take my parents to any of their appointments, do translation for them, was extremely, extremely nice."
A month later, Najiba had her eye surgery. As she recovered, Najiba and Muhammad tried to kickstart the refugee process from Islamabad. On New Year's Eve, they had an interview with a partner agency of the United Nations High Commissioner for Refugees (UNHCR), who told them to go to the High Commission of Canada in Pakistan. But when they went there, they were informed they needed an application number from IRCC, Ashur says, describing a bureaucratic catch-22.
To get an application number from IRCC, they need to be recognized as refugees by UNHCR. Yet "every time they try to contact UNHCR, they're going to say, 'We can't do anything. You can only be referred to us by the High Commission of Canada [in Pakistan],'" Ashur says. "It's literally a full circle."
"It's just too much for me to handle, to be honest. It does affect my work performance, my health and everything," Ashur says. "It's very frustrating, especially with the schemes that the government has announced that I felt I was one of the eligible ones. I feel like I'm in limbo."
The longer his parents waited, the more Ashur's funds dried up. By mid-January, he could no longer financially support them. "I told them, 'You need to go back to Afghanistan because I cannot help you anymore.' And then they cried. And they said they don't want to go, they won't go back at all, they would just rather die."
Thankfully, one of Ashur's sisters in Afghanistan made it to Islamabad, along with her husband. "They are now living with my parents, which I'm actually extremely grateful for," he says. "[My parents] were literally out in the open without any sort of support."
***
Matthew Best is a journalist in Toronto.
This story first appeared in Broadview's July/August 2022 issue with the title "Forgotten refugees."
---
We hope you found this Broadview article engaging.
Our team is working hard to bring you more independent, award-winning journalism. But Broadview is a nonprofit and these are tough times for magazines. Please consider supporting our work. There are a number of ways to do so:
Subscribe to our magazine and you'll receive intelligent, timely stories and perspectives delivered to your home 8 times a year.
Give the gift of Broadview to someone special in your life and make a difference!
Thank you for being such wonderful readers.
Jocelyn Bell
Editor/Publisher