West Hill United may be an unconventional United church in that its minister is openly atheist, but demographically, it's pretty typical.
"It's white, professional for the most part, and now, the average age is 70," says the minister, Rev. Gretta Vosper. 
But a new initiative means the church building will soon better reflect the racial diversity of the part of east Scarborough, on Toronto's eastern edge, where it's located. 
Church members including Vosper are working with others in the community to form a new charitable organization that would facilitate the building's use as a performance space for Scarborough artists, who currently have a dearth of venues to share their work with the public. Those involved hope that programming will start running early next year, or whenever it is safe to gather again due to COVID-19.
More is changing for West Hill than just its involvement in this new project. Last week, the deal closed on the sale of their building to the Boys and Girls Club of East Scarborough, with the caveat that the church can continue to use it for a set number of hours per week and days per year. The church also has the option to buy back part of the property to develop social housing.
West Hill had been looking to sell since 2017, Vosper says, but the presbytery had decided that the space was strategic and wanted to keep it. 
Last fall, during an event at West Hill featuring Black community leaders in Scarborough, spoken word artist Dwayne Morgan played a video from the Barenaked Ladies, in which the Canadian band maintained that Scarborough desperately needed a performing arts centre.
Congregants loved the idea of using their space to support that, Vosper says, and plans to sell were shelved. Then, before Christmas, the Boys and Girls Club of East Scarborough approached West Hill with an offer to buy the building, which the church accepted. Plans to set up the arts organization began late last year and access to performance space was part of the church's negotiations with the Boys and Girls Club. The children's charity's plans to renovate the church will also support its use as an arts venue, Vosper says. 
She says the overall situation is a win-win for the church and neighbourhood. 
"It was a surprise to me, because it just never occurred to me that we could find a way to survive in the building and undertake a new initiative at the same time," she says.
Watch one of Dwayne Morgan's recent spoken word pieces below
Morgan, who will be one of the directors of the new corporation, is looking forward to not trekking across the city to share his work.
"I very rarely ever perform in Scarborough because there's very few places there to perform," he says.
A number of artists, from actors to musicians, hail from Scarborough, including The Weeknd, Kardinal Offishall, Deborah Cox, the Barenaked Ladies and Lilly Singh. 
Morgan thinks historic neglect of the former city, which has a high immigrant population, has driven creativity.
"I think that Scarborough has for so long gone without so many things that I think part of that creates this environment where you have people who are just really creative and have a lot that they want to express," he says.
Web developer and consultant Dennis Augustine was brought on recently to help with business and organizational direction. He will also be a director of the corporation. A former Pentecostal minister, he knows Vosper through The Clergy Project, a U.S. non-profit organization that brings together current and former faith leaders who no longer believe. 
Although he's no longer religious, he likes to use the language of his former church. The new organization is still untitled, but Augustine likes the name "Revival," though he says that they would have to compete with a west-end Toronto nightclub for the moniker.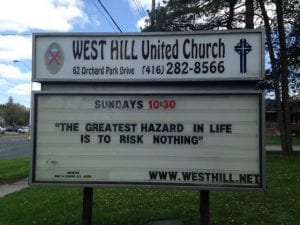 "Pentecostal church builders know how to have a good party, so we're going to have a good party at West Hill," he says. 
"To me, I can see no better way to bring folks together than through the arts and through stuff that's more human and less ideological," he says, "so that we can have some more human connections."
He says the corporation's full advisory board will meet for the first time on Saturday, a meeting that he hopes will generate some concrete next steps. 
Vosper hopes that long term, the initiative changes the racial makeup of the congregation and possibly its leadership, once people are engaged in the arts programming and the Boys and Girls Club settles into its new home. She plans to retire in a few years and hopes that her replacement will better represent Scarborough's demographics.
"That's what I hope will happen, and that's going to take some concerted effort, but we've already built some really important relationships on the road to that," she says.
CORRECTION: A previous version of this story stated that West Hill had bought back part of its property from The Boys and Girls Club of East Scarborough. That has not yet happened. This version has been corrected.
Emma Prestwich is Broadview's digital editor.
---
I hope you found this Broadview article engaging. The magazine and its forerunners have been publishing continuously since 1829. We face a crisis today like no other in our 191-year history and we need your help. Would you consider a one-time gift to see us through this emergency?
We're working hard to keep producing the print and digital versions of Broadview. We've adjusted our editorial plans to focus on coverage of the social, ethical and spiritual elements of the pandemic. But we can only deliver Broadview's award-winning journalism if we can pay our bills. A single tax-receiptable gift right now is literally a lifeline.
Things will get better — we've overcome adversity before. But until then, we really need your help. No matter how large or small, I'm extremely grateful for your support.
Jocelyn Bell
Editor/Publisher