How can you be an Anglican priest and trans? I've been asked that question by people in the LGBTQ2S+ community and by people in the church. My answer is always the same: there have been many times in my life when God and the church have been there for me.
I realized I was transgender while studying at the University of Winnipeg to become an Anglican priest, and I began coming out shortly after, in 2016. I was in my mid-30s and doing a lot of self-reflection at that time. My partner had already seen this in me, and she was encouraging me to open my mind to the gender variety that's out there. Being trans makes sense to me, and I am relieved that my body now feels the way it should have my whole life. But five years ago, I was filled with panic and fear.
I knew I had to tell the bishop, and that terrified me even more than telling my mom. My mom and I have had our differences, but at the end of the day, she loves me and I'm her child. I didn't think she would reject me. However, I went into my meeting with the bishop expecting to be told that I was done with the church. Instead, he looked at me and said, "Okay, now what?"
---
More on Broadview:
---
I was so relieved — and ecstatic, knowing that I could continue with the priesthood. I soon realized I could be a voice for trans people in the church. When I was ordained in January 2020, I felt proud to become the first openly trans Anglican priest in my diocese, and one of the first in Canada. The bishop knows that if I'm going to be placed in a church, we'll avoid ones that aren't accepting of the LGBTQ2S+ community. Still, every time I go to a new parish I have to make the decision: how much am I going to tell them? So far, I've decided to be fully open. And if I think a job interview is going well, I'll tell them, "This is who my family is. I need to know they're safe." And if they can't support us, then I'm not going to stay.
While I've had an easier time than others, the internal battles still rage. I have conversations with people about how one can be gay and Christian, or trans and Christian. In fact, part of why I wanted to become a priest was to have those conversations with people who are questioning their relationship with the church like I did. I might give off the impression that it's been easy to be trans in the church and that I am more confident about it than I really am. I still feel fear sometimes, but I also feel this call to try to be a beacon of light.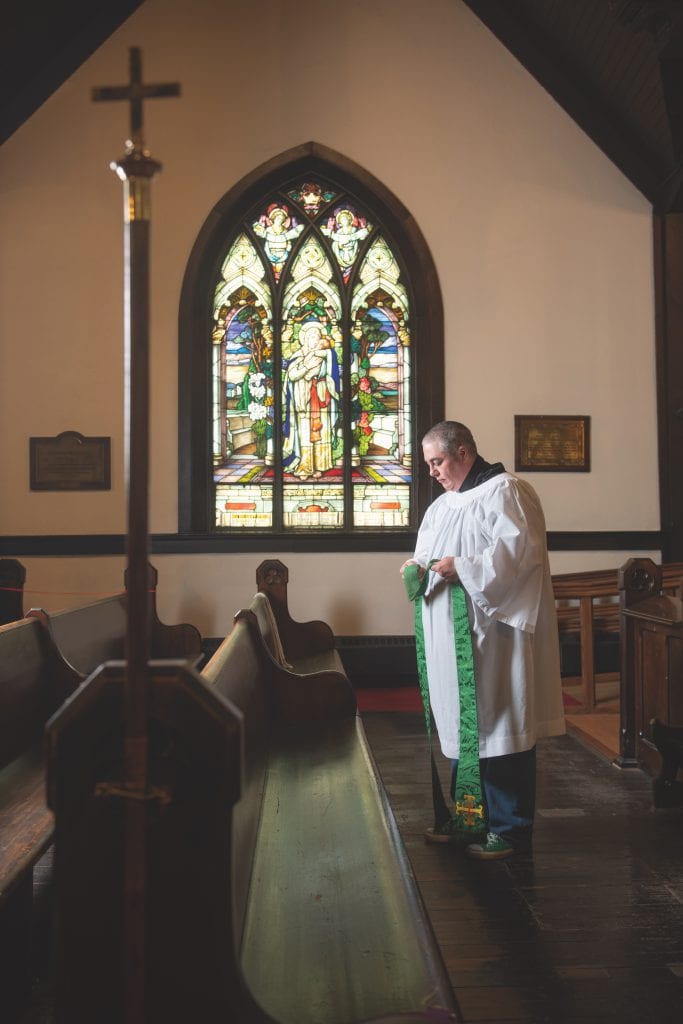 ---
My earliest memories of religion are of going to mass with my grandma. It was very stuffy. These old guys were talking, and it was boring. I remember napping in the pews. We went to a Roman Catholic church, but the majority of my family members aren't religious at all. They're all very scientific. My dad's a pediatrician, and my mom was a nurse until she quit to raise us kids. When I was a child, going to church just meant hanging out with my grandma and going out for lunch afterwards.
I grew up in the 1980s and '90s in Southdale, a wealthier neighbourhood on the outskirts of Winnipeg. I remember looking out the back door and seeing nothing except trains going by. I stayed within my neighbourhood and mostly hung around other white, middle-class families. It was a little bubble.
Eventually, going to church began to mean more to me than just lunch with my grandma. When I walked into the building, a calm and peaceful feeling would wash over me. Even though my parents didn't baptize me as a baby, I chose to get baptized in the Roman Catholic Church when I was eight. The eucharist was always very important to me. As a kid, I probably didn't fully understand it, but I could feel that there was something special about it, no matter how bad it tasted.
I was about 12 or 13 years old when the internal battles started. I was asking myself how I could believe in science and evolution and in God and Creation. Some of the kids around me would ask why I believed in God, and I tried to convince myself that I didn't.
But as I went through my teenage years, I would continue to feel this urge to go to church. I went to summer camp in Alberta for many years, and every week the leaders would gather campers of different faiths and denominations to go to church and other places of worship. I'd be homesick, and so I would join them. I wanted to experience that peace and calm again. I couldn't tell you what was sung or read or talked about in the sermons, but I do remember needing to go, and then coming out of there feeling like a completely different person.
When I was 18 — probably before that, if I'm being honest — I began realizing that there was something different about me. I preferred hanging around with the guys, I was very tomboyish and I'd always have these odd connections with women. I didn't know about homosexuality, and I didn't know how to label those feelings. So I ignored them and just went on with my life.
It suddenly clicked while I was studying at the University of Manitoba in the late 1990s. It's a bit corny, but when Ellen DeGeneres came out on her sitcom in 1997, I realized I was a lesbian — or I thought I was. Around that time, I was also starting to hear more from people in church or on the news talk about homosexuality being a sin, so I was terrified. I was afraid of rejection and of getting caught with another woman. For years, I wouldn't even hold hands with my girlfriend in public for fear of retribution. My mom only found out after she caught me with a girl.
At that point, I assumed that I had to be done with church. Was it an internal assumption? Absolutely. But how could I not assume that? I didn't personally experience discrimination, but I had heard stories of churches rejecting gay people and of members of the LGBTQ2S+ community getting beat up in the streets. I would see people on TV with signs that said "God didn't make you this way" and "Adam and Eve, not Adam and Steve." When you realize that you're part of this group that people are attacking because they think the Bible says they should, you automatically internalize that fear.
Fast-forward 30 years, and that fear of rejection by the church remains for many people. The Anglican Church has been debating acceptance of the LGBTQ2S+ community for decades. The national church does not explicitly support same-sex marriage, but each of Canada's 29 dioceses can make its own decision.
In 2016, Bishop Donald Phillips of the Diocese of Rupert's Land, which consists of Winnipeg, southeastern Manitoba and northwestern Ontario, including the churches where I work, said it was time to allow same-sex marriages. However, he left it up to each clergy and parish within the diocese to resolve if they're going to be affirming.
This can lead to a lot of confusion. I'm obviously an affirming clergyperson, but the members of my church could say, "We're not an affirming church. We'll accept you as our priest, but you can't do same-sex marriages." The bishop has the fun job of matching up non-affirming clergy with non-affirming churches, because otherwise you can have some conflict. Sometimes bishops are not affirming while their church members are more accepting. I think we have ended up with this disparity because the church leaders have left it for everybody to decide for themselves.
Hearing these debates can also feel like a rejection. Are people actually saying "Theo, you're rejected"? No. But they're attacking people like me. I try not to get involved on Facebook, but every once in a while somebody will make a comment about the Bible saying you can't be gay and Christian, and I have to push back. It can get pretty argumentative, and some people just don't want to change their minds. I have to be careful how I word things. When I argue back, I don't want people to say I'm whining because I'm transgender.
I don't think I've ever acknowledged it before, but there is this persistent, underlying stress that comes with always being on the defensive. It feels like I'm always fighting. That's why we need allies who are willing to fight for us, even if it seems like something small such as coming to the defence of the LGBTQ2S+ community on a Facebook post.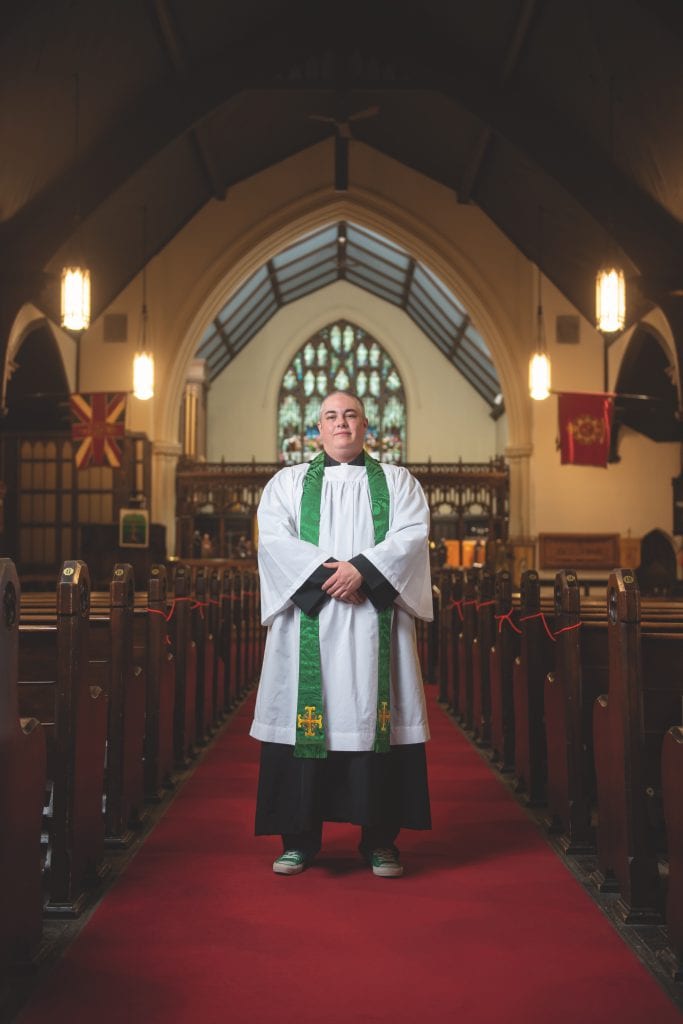 ---
When I was in my 20s, I met a woman and we got married. We decided to have a child and that I would carry. The first time I got pregnant, I had a miscarriage at 10 weeks. It absolutely destroyed me. I turned to drinking; I didn't want to do anything. I was an accountant, and I didn't want to go to work. But for whatever reason, I wanted to go to church.
Even to this day, I wonder why that was my first instinct. I didn't belong to a church then, and neither did most people I knew. At that moment, I would have said that I did not believe in God. But my mother-in-law did go to a Baptist church in the Transcona neighbourhood of Winnipeg, so that's where we went.
It was a Black Baptist church, which had amazing music, all the hallelujahs and the amens. It was great. It renewed my spirit, being with people who were that excited about what they believed in.
After that experience, I started to think more about why I had the pull to go to church whenever I reached my lowest points. And why would I throw miscellaneous prayers out there if I didn't even believe in the deity I was praying to? I decided that I'd look into this a little more, and I happened to meet an Anglican priest.
Remember, I grew up Roman Catholic, with old men being priests. Now, this priest was a woman, she rode a motorcycle and she swore like a sailor. She had a church in Transcona, which I started attending. I didn't think I deserved to sit in the pew or receive communion because I hadn't been a believer for a long time. And as a lesbian, I thought I was breaking one of the rules.
I started out with baby steps. At that church, they had two different services: one on Sunday that was traditional and another on Monday that was contemplative, more low-key, with really beautiful music. I decided to start with the Monday services.
When my wife and I did have our daughter in 2008, I wanted her to be baptized. And that's when I got pulled back in fully. The church accepted my family hands down. They knew who we were. They loved my daughter like she was one of their kids. And even through divorce and a new partnership and a stepdaughter, that church family has been more of a family than my blood relatives sometimes.
It took a lot of conversations to get to a point where I felt comfortable going to church. I told the priest about the complicated relationship I had with religion and my fear of being rejected. In return, she talked with me about Anglican theology, the church's perspective on subjects like homosexuality and her beliefs. It was around that time that I started some serious self-reflection about my faith and my place in the church.
When I finally allowed myself to experience the liturgy, I would venture in on Sundays. For me, going to church was a mental and spiritual reset. I would listen to the music and the words, and I'd ask myself questions: Why is this meaningful to me? What is calling to me in these words? Something made me keep coming back, and it was time to figure out what that was.
As I was doing all this self-reflection, a friend of mine was taking the diaconate — the process of becoming an Anglican deacon — and she told me about her classes and the work she was doing. I love to learn, and I wanted to gain that biblical knowledge, too. I also wanted to be a connection between the people and the church. In particular, I thought I could help people who had battled with their faith or who were worried they had done something to make God angry.
I told the priest I was interested in taking the diaconate, but she encouraged me to go through the priesthood instead. One difference between priests and deacons is that priests are able to perform baptisms and the eucharist. She asked me whether I could see myself not performing those sacraments, and I realized it was important for me to be in that role.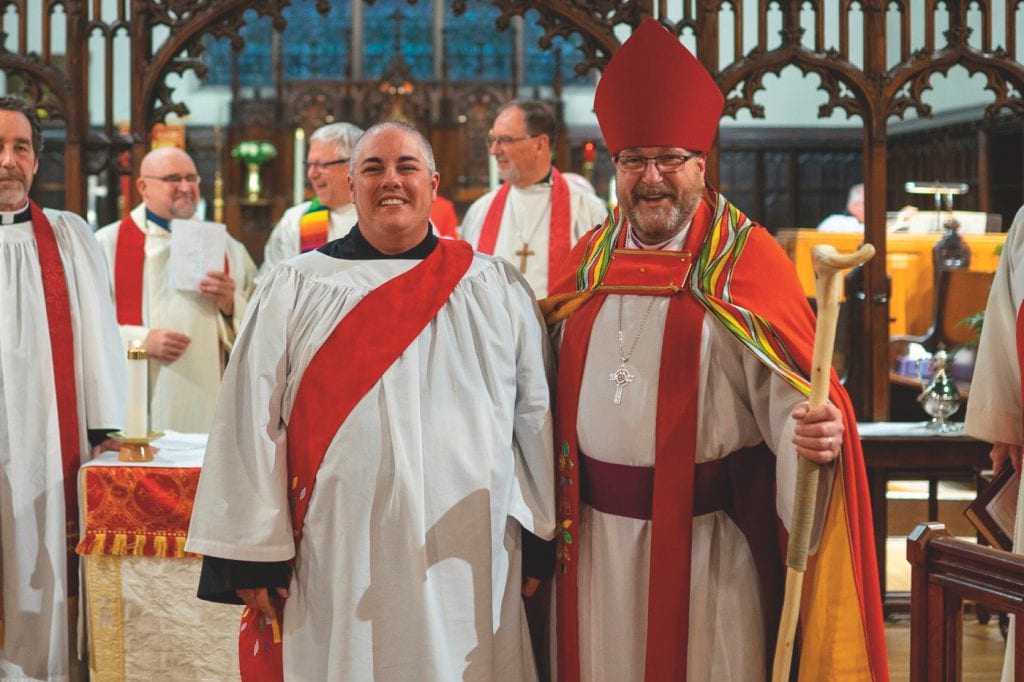 ---
It's been almost two years since I was assigned to my first parish. I've been lucky that I've never been turned away for who I am, and I haven't had to walk away because it didn't feel safe. That's not to say that things have been easy for me. It's hard to reveal who I am to others, and I have lost some friends along the way.
I just want being gay or being trans to seem normal now. You shouldn't have to come out; you shouldn't have to be afraid to be who you are. Even if we decide to change our bodies, we are in no way mutilating God's Creation or going against God's will. I hope that I can be one of those people who helps everyone see that we're just normal human beings.
Many people have been so hurt they don't want anything to do with the church. But there are also people who come to me and are searching for God. I'm not going to try to convert them, but I ask what they believe in. Do they believe in God? Do they have a higher being that they pray to, that they lean on, that they talk to in their down times or in their good times?
I make it clear that religion and church are two very different things. If they've come to me and they have questions, there's a part of their faith that they haven't let go of completely. Do I care if they ever set foot in a building that does liturgy? No. You don't have to go to church to pray to God. You don't have to listen to a sermon to know that you love Jesus.
Once they start separating those two things, people who have been hurt by the church can accept that they believe in Christianity. And hopefully the congregation can realize that the building is not what makes the church. I think I've been making progress in my circles in helping others to understand that distinction, and honestly, this pandemic has actually helped. Thanks to virtual services, people are joining our church community because they don't have to set foot in a building that may represent hurt or rejection.
I understand why some people don't believe in the institution anymore. It's absolute crap sometimes. But rather than wanting to be rid of it altogether, why don't we change it? That's why I stick with it, because I can see the change in people as they get to know me, as they realize that I'm just another person who happens to be transgender. I'm also a person who has a Black child and a white child. I am also a person who was gay a few years ago. But I'm still me. I hope that as more people see that, the prejudice and intolerance will go out the window.
***
Rev. Theo Robinson is an Anglican priest in Winnipeg.
Isaac Würmann is a Canadian journalist based in Berlin.
This story first appeared in Broadview's June 2021 issue with the title "Proud Priest: My Journey as a Transgender Anglican Minister."
---
We hope you found this Broadview article engaging.
Our team is working hard to bring you more independent, award-winning journalism. But Broadview is a nonprofit and these are tough times for magazines. Please consider supporting our work. There are a number of ways to do so:
Subscribe to our magazine and you'll receive intelligent, timely stories and perspectives delivered to your home 8 times a year.
Give the gift of Broadview to someone special in your life and make a difference!
Thank you for being such wonderful readers.
Jocelyn Bell
Editor/Publisher