VATICAN CITY (RNS) — In a new book, "Love Tenderly: Sacred Stories of Lesbian and Queer Religious," Catholic vowed sisters share their experiences of identifying as LGBTQ, while making it clear they "are not going away."
The anthology, published by the LGBTQ outreach program New Ways Ministry, tells the stories of 23 lesbian and queer religious sisters from different backgrounds, communities, age groups and ministries. Sister Grace Surdovel, of the Sisters, Servants of the Immaculate Heart of Mary, compiled the testimonies. She shares her own experience in a chapter called "Authenticity."
"We asked folks to share their stories and they started coming in! I was amazed," said Surdovel during a Zoom call with Religion News Service on Saturday (Jan. 23).
The stories in the book are full of challenges and bumps in the road, she added, "but we're still here, we found the support we needed and by God we are going to stay in this church and continue to wrestle with it."
The idea for the anthology emerged from the Womanjourney Weavings program, created by New Ways Ministry to provide an opportunity for dialogue and conversation for LGBTQ religious sisters. For 20 years, the group has been offering events, conferences and retreats to promote dialogue on this topic within the Catholic Church.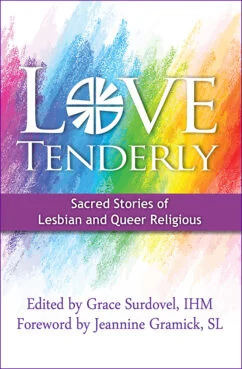 According to Catholic teaching, sexual acts must be open to the possibility of generating life, hence exclusively between a man and a woman. For this reason, homosexual acts are considered a sin and people with homosexual tendencies are deemed "intrinsically disordered."
"It honestly is hard to be in a structure that names me and people like me as innately disordered," said Sister of Mercy of the Americas, Mary Kay Dobrovolny, a vocation minister who also shares her experience in the book, speaking to RNS.
"I've had to do serious work to integrate who I am and find a path to stay Catholic," she added.
Dobrovolny said that throughout her novitiate, she feared the consequences her sexual identity would have on her ministry and community.
Sister Mary Kay Hunyady, of the Religious of the Sacred Heart of Jesus, told RNS she also struggled with the Catholic Church's position on homosexuality, especially as she worked on a dissertation on LGBTQ religious sisters.
"Ultimately, I'm one of the good lesbians, according to the Roman Catholic Church, because I'm celibate," said Hunyady, who also wrote her experiences in the book, adding that as a psychologist she finds it "bizarre to think that God puts us on this earth and a full blossoming of a part of ourselves is supposed to be denied."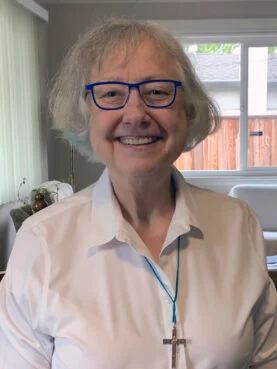 The sisters pushed back against the notion that just because of their sexual orientation they are not capable of living a full, chaste and faithful life. As a Catholic convert, Sister Alice told RNS, celibacy was an important aspect that drew her to religious life and among the reasons why she chose to stay.
"I like celibate chastity, I like how it orders my life, I like the quality of relationships that I have as a celibate woman religious and I think there will always be people who are called to that," said Sister Alice, one of the 12 authors in the book who chose to write under a pseudonym.
In recent years, the Catholic Church has shown signs of opening toward the LGBTQ community, partly because of strong advocates for inclusion and welcoming among clergy, such as the Rev. James Martin, a Jesuit priest, but also because of Pope Francis' openness on the topic.
From the pope's controversial 2013 quote "who am I to judge?" on the subject of homosexual priests, to his public acts and words of charity toward the LGBTQ community, Francis is attempting to "crack open that door and let the light in," the sisters said.
Hunyady said since she joined her congregation in the '70s, there has been a significant change in the way LGBTQ issues are addressed in the Catholic Church, which makes it "wonderful and timely that this book is being published now."
"Love Tenderly" is not the first book documenting the reality of LGBTQ women in Catholic religious congregations. Several books were written on the topic in the '80s, such as the highly controversial international bestseller "Lesbian Nuns: Breaking Silence," which included the personal experiences of 50 religious sisters, many of whom eventually left their congregations and the Catholic Church.
---
More on Broadview…
---
"There is so much anger and angst in the book, because they felt so isolated and unable really to be who they were as persons," said Sister of Mercy Jeanne Christensen, adding this new book "is an important response for that."
Christensen watched many LGBTQ members of her congregation leave through the years because they didn't feel accepted or heard. "We made a very clear choice of loving and staying in our community," she said.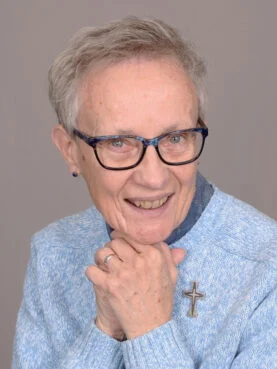 The anthology, she added, "puts us in a position of becoming mentors." She credits the Sisters of Mercy of the Americas for providing a community that allows its members to come forward and express themselves authentically.
"There is a different level of acceptance locally than in the broader church," she said. "Women in general aren't really accepted, let alone women who are lesbian or trans identity or queer identity."
Sister Mary Janet Rozzano, who is also a Sister of Mercy and came out as lesbian long before the topic became less taboo, describes herself as a far cry from being an activist or militant personality.
"Yet, I've done things I never dreamed I would be able to do," she said, adding her sexual orientation is "a gift and a grace and it's clear to me that, in some way or another, each of us have to share it."
Hunyady said she hopes the anthology will be of encouragement for women discerning a religious life and their sexual identity and offer them a model of life in a community that can be fulfilling and edifying.
"Us coming together as a community, where we felt the call of God to stay in our orders with our feet firmly planted on the ground, that's something that's changed," she said.
For Sister of Mercy Julie Brown, who also shared her experience as an LGBTQ nun, this book has been a "game changer" and an opportunity to show that religious communities can be "a safe place for you to come and be as you are."
"There were many sisters who came out and left, and I didn't want to be one of those," she said. "I may not like the institutional Catholic Church, but by golly, I'm in love with my community!"