CBC's new original series The Porter tells the fascinating story of how Canadian train porters helped organize North America's first Black labour union. When the preventable on-site death of a porter fails to spark remorse from the train company, the porters decide to take matters into their own hands. Set primarily in early 1920s Montreal and inspired by real events, the eight-part series follows Junior Massey, Zeke Garett, Marlene Massey and an array of friends, neighbours and colleagues as they navigate class and colour divides to make a better life for the Black community. 
While Junior Massey (Aml Ameen) uses his porter connections to smuggle liquor and earn more money for his family, Garett (Ronnie Rowe Jr.) chooses to organize, appealing to white-only unions for power. Off the railway tracks, Marlene Massey (Mouna Traoré), Junior's wife, is a committed Black Cross Nurse, tending to neighbours' wounds and raising money through the Universal Negro Improvement Association, which seeks to unify Black people against racial inequality. 
"At its heart, it is a show about the formation of a Black union and really a struggle for respect and autonomy and equality on the rails," says Annmarie Morais, The Porter's showrunner along with Marsha Greene. "But we wanted to broaden the lens of that story because the community itself has a character."
The Porter presents myriad Black experiences. People try to make ends meet. Families care for children on the spectrum. Colourism determines who gets promotions and who gets fewer shifts. Women are critical players in both crime and health. There is Black love, interracial love and queer love. Members of the Black community mourn death, polish their smuggling ruses, study medicine, sabotage co-workers, and hone their strategies to mobilize toward liberation — even if it is at the expense of their friends.
"Race becomes a useful lens, but it is not the singularly most important lens for understanding the lived experience of Black people," says historian and academic Prof. Sarah-Jane (Saje) Mathieu. "We might just find out that Black people are human in all the good and bad ways." 
---
Interested in more stories like this? Subscribe to Broadview's weekly newsletter.
---
Mathieu is the author of North of the Color Line: Migration and Black Resistance in Canada, 1870-1955, the 2010 book that inspired Arnold Pinnock to create The Porter together with Bruce Ramsay. 
The series was filmed in Winnipeg, where Canadian Pacific Railway porters John Arthur Robinson, J.W. Barber, B.F. Jones and P. White formed the Order of Sleeping Car Porters (OSCP) union in 1917. "You could feel the spirit sort of shift in the air," says Morais, reflecting on recreating scenes on the ground where history was made. "That atmosphere of what it meant to be [filming] in this place at the time was palpable."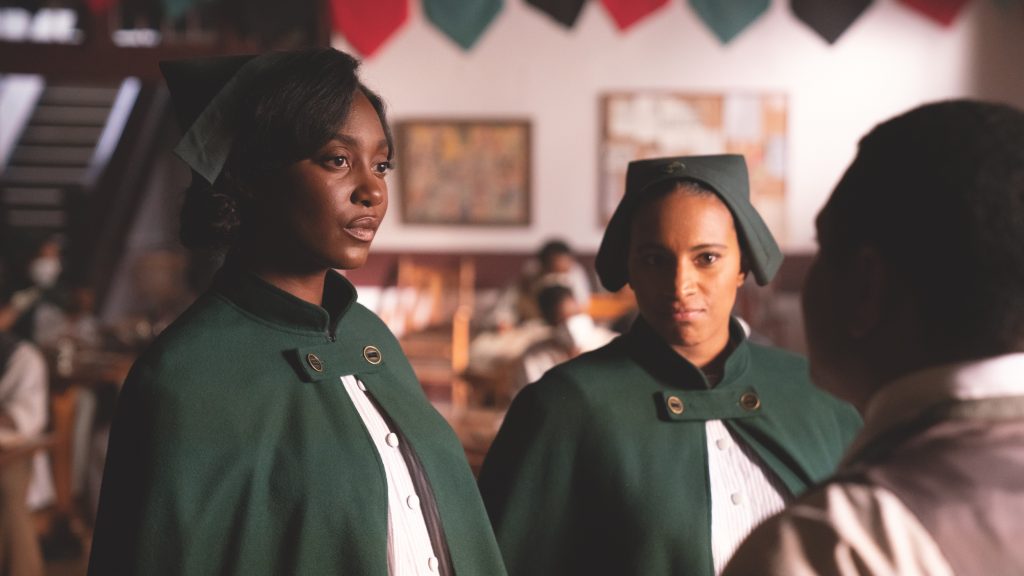 Mathieu was consulted during the show's development and filming. She says the creative team tried "really diligently" to be historically accurate, using the interviews of surviving train porters she collected when she hitchhiked across Canada and the northern United States to research her book. The Porter characters, though fictional, are an amalgamation of Black union forerunners. 
According to the Canadian Museum for Human Rights, porters' shifts were typically 72 hours long, but the porters did not have designated sleeping quarters to recharge. They instead made do with one folding seat and a mattress in the smoking room. The OSCP organized until the Canadian Brotherhood of Railway Employees agreed to remove the whites-only clause from its constitution in 1919, and the OSCP joined the larger union to fight for better wages and working conditions. 
---
More on Broadview:
---
While the railway company the porters work for in the series is fictional, the show's story arc merges the real-life unionization journeys of porters in Canada and the United States, including challenges they experienced across railway companies. "We definitely wanted to feel the hand of big business that would move brown bodies because they are cheap, and exploit other bodies because they are expendable, and pit one against the other for their own benefits," says Morais, who is also a writer on the show. 
Morais says she hopes The Porter inspires people to "take on the giants of their lives," in the same way the characters are fighting for seemingly impossible dreams. "Regardless of your race, your background, your culture — we all know what it's like to look at something that seems unattainable," she says.  
Her other wish is for the series to resonate especially with viewers who are Black. "I would love for Black Canadians to know that they have a place in our history. They have a right to insist that history be told to all children," says Morais. "They have a right to be acknowledged as foundational cornerstones of this nation."
The Porter airs Mondays at 9 p.m. (9:30 p.m. in Newfoundland) on CBC TV and is available to stream on CBC Gem.   
***
This story will appear in Broadview's April/May 2022 issue with the title "Respect on the rails."
Sherlyn Assam (she/her) is a freelance writer from Brampton, Ont.
---
We hope you found this Broadview article engaging. 
Our team is working hard to bring you more independent, award-winning journalism. But Broadview is a nonprofit and these are tough times for magazines. Please consider supporting our work. There are a number of ways to do so:
Subscribe to our magazine and you'll receive intelligent, timely stories and perspectives delivered to your home 8 times a year. 
Donate to our Friends Fund.
Give the gift of Broadview to someone special in your life and make a difference!
Thank you for being such wonderful readers.
Jocelyn Bell
Editor/Publisher