Netflix's The Politician is completely over-the-top in its attempts to grip Generation Z audiences. The show, about a young man with presidential aspirations, features a cast of mostly young actors playing conventionally attractive teens (with some high-profile exceptions, including Bette Midler and Gwyneth Paltrow), and the colour palette is eye-popping in all its candy-coloured glory. Nearly every character is sexually fluid, and the writers take great pains to tackle topics considered prescient for young audiences: diversity, climate change, progressive politics and the seemingly unbridgeable gap between young people and baby boomers.
Yet for all the show's appeals to Gen Z, its title sequence is scored by a surprisingly anachronistic tune: Chicago by early-aughts indie god Sufjan Stevens. The centrepiece of his 2005 album Illinois, the song tells the story of Stevens and a friend shirking their responsibilities for an impromptu road trip to the Windy City, set against a sublime rush of sweeping strings and eu­phoric horns. Chicago is Wagnerian in its ambition, Springsteenian in its storytelling and McCartneyan in its pop sensibility — its soaring chords could easily go toe to toe with Hey Jude.
The song is 15 years old and a far cry from the bouncy hip hop and escapist pop that's domin­ating the charts right now. But the producers of The Politician are clearly in on a secret young people have been harbouring for years: 45-year-old Sufjan Stevens, two decades into his career, is having a moment. And that moment seems poised to continue with the release of his latest album, The Ascension, in late September. The title, a reference to Jesus' rise into heaven, points to another open secret about Stevens: faith has always been central to his music. The Ascension's lead single, America, is a biting indictment of Stevens' home country packed with biblical allusions.
---
More on Broadview:
---
Stevens' renaissance can be traced back to the release of his 2015 album, Carrie & Lowell, a dark reflection on the singer's tenuous relationship with his mother and his complicated feelings about her untimely death. The production is decidedly stripped back — hypnotizing guitar arpeggios take the place of the orchestral glory found on Chicago, and Stevens' profound lyricism commands centre stage. "I love you more than the world can contain / In its lonely and ramshackle head," he coos on the standout track John My Beloved. "There's only a shadow of me; in a matter of speaking, I'm dead."
Carrie & Lowell was met with overwhelming critical fanfare and set a spark that would lead two years later to the film Call Me by Your Name. Directed by Luca Guadagnino and starring Timothée Chalamet and Armie Hammer, the movie follows 17-year-old Elio and 24-year-old Oliver as they fall into — and fall out of — an illicit, dreamy affair in 1980s rural Italy. When coming up with the soundtrack for the feature, Guadagnino insisted that Stevens contribute. "I believe Sufjan is one of the greatest American artists," the director told Pitchfork in 2018. "The more I delved into his canon, the more I detected the greatness of his lyrics, the complexity of his body of work."
Stevens composed a number of songs for the film, among them Visions of Gideon and Mystery of Love. The former is a hauntingly sombre hymn of a song and is employed masterfully in the film: it plays as Elio gazes at a fireplace, silently lamenting the loss of Oliver and contemplating the bleakness of his life. The latter swirls biblical imagery with classical heroes, culminating in a declaration of romantic desire that can only be described as religious: "Blessed be the mystery of love."
Call Me by Your Name was a critical and commercial hit and introduced a legion of young fans to Stevens, who earned an Oscar nod for Mystery of Love along the way. Tegwyn Hughes says she fell for his music after watching and rewatching the film. The 22-year-old Ottawa resident uses Stevens as a balm for her emotions — a sonic blanket for the end of a hard day. "His music is just melancholy and reflective, and it's sad but in a hopeful way," she says. "It all just combines into music that you want to cry along to."
The subject of Stevens' musical sorrow is often intentionally vague — his solemn, tear-stained lyrics can be variously inter­preted as confessions about God, friendship or family. But perhaps the greatest subject of debate has been over his sexuality. The Call Me by Your Name soundtrack only served to exacerbate fan speculation over Stevens' sexual orientation, and his 2019 single Love Yourself, dropped during Pride Month, added to the rumours. A Facebook page called "Is this Sufjan Stevens song gay or just about God?" has accrued 45,000 likes and often pokes fun at the ambiguity that's evident in much of his music.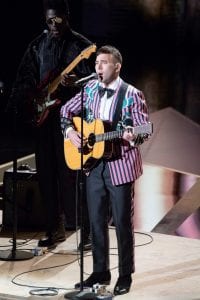 Faith and sexual desire repeatedly crash into each other in Stevens' songs. In Carrie & Lowell's John My Beloved, for example, the titular John seems to represent Stevens' male lover or Jesus Christ's beloved disciple. For 23-year-old Carleton University student Colin Mylrea, who nearly wrote his master's thesis on Stevens' lyricism, the rampant specu­lation is missing the point. "I don't think it has to be an either/or," says Mylrea. "I think it can be a both/and."
Mylrea argues Stevens is usually focused, at least to a certain extent, on conveying his love for God. His early works, most notably his 2004 album, Seven Swans, deal explicitly with his Christian faith. Stevens comes from a "hodgepodge" Christian background, which colours most of his music, according to Mylrea. "In Christianity, you have texts that show that your devotion to God can be a very erotic devotion or a very romantic devotion. At the bottom of that relationship is an ability to touch the divine."
Stevens, ever the master of his own narrative, is publicly averse to the fixation on his religious identity. "I think it's a little disconcerting," he told A.V. Club in 2005. "I think sometimes these terms bring up all sorts of prejudices and misunderstandings and misconceptions. And I feel a little frustrated and guilty about being a part of that banter."
Despite this wariness about labels, Stevens continues to infuse his music with religious themes and references. His latest effort is no exception. While one listener described the lead single America as "Sufjan's breakup song with God," his real target seems to be the United States. He casts America as a Christ-like figure ("I have worshipped, I have cried / I have put my hands in the wounds on your side") and confesses, "I'm ashamed to admit I no longer believe." Stevens has elsewhere expressed his disillusionment with his country's direction in recent years. "You cannot pledge allegiance to a nation state and its flag in the name of God, for God has no political boundary," he wrote in a 2017 online post. "God is love, period."
This devotion to God makes the indie superstar something of an outlier in the music world, but it's key to understanding his artistic imagination. Stevens is keeping his faith at the core of his work — no matter how young and secular his demographic might skew.
This essay first appeared in Broadview's October 2020 issue with the title "Gen Z's unlikely prophet."
***
KC Hoard is a freelance journalist living in Toronto.
---
I hope you found this article from Broadview engaging. The magazine and its forerunners have been publishing continuously since 1829. We face a crisis today like no other in our 191-year history and we need your help. Would you consider a one-time gift to see us through this emergency?
We're working hard to keep producing the print and digital versions of Broadview. We've adjusted our editorial plans to focus on coverage of the social, ethical and spiritual elements of the pandemic. But we can only deliver Broadview's award-winning journalism if we can pay our bills. A single tax-receiptable gift right now is literally a lifeline.
Things will get better — we've overcome adversity before. But until then, we really need your help. No matter how large or small, I'm extremely grateful for your support.
Jocelyn Bell
Editor/Publisher