Tyffanie Morgan stands onstage in a dimly lit craft brewery in downtown Kingston, Ont. Sporting a blue wig and a flowing cream-coloured Grecian dress, the drag queen asks, "How are we doing tonight, Kingston?" Most of the 60 or so people in the room yell back: "F*** you, b****!"
Some new attendees of the event, held in August 2022, look around bewildered. Others giggle and whisper to their friends. This response is a regional quirk, and while seemingly crass, it represents an important piece of the city's drag history. It started when Jas Morgan, Tyffanie's drag mother (the loving term given to older queens who mentor the next generation), was performing in the 1990s. After she asked a packed bar how everyone was doing, a friend cheekily shouted these words.
Jas immediately took to the playful heckle and turned it into a tradition to empower the drag community in this city of 132,000. She recognized that the salty phrase was rooted in friendship, support and trust, and her witty resilience was one of the many things she passed on to her protegé, Tyffanie. Jas had no idea at the time, but the phrase would sustain Tyff through some tough years.
In the early 2000s, before RuPaul's Drag Race would help turn a queer community staple into a pop culture phenomenon, Tyffanie, who is 43, was virtually the only queen in Kingston. For nearly two decades, few bars would host her shows since most didn't want to be known as a gay bar; if they did, they often wouldn't pay her, though sometimes Tyffanie would charge a cover fee.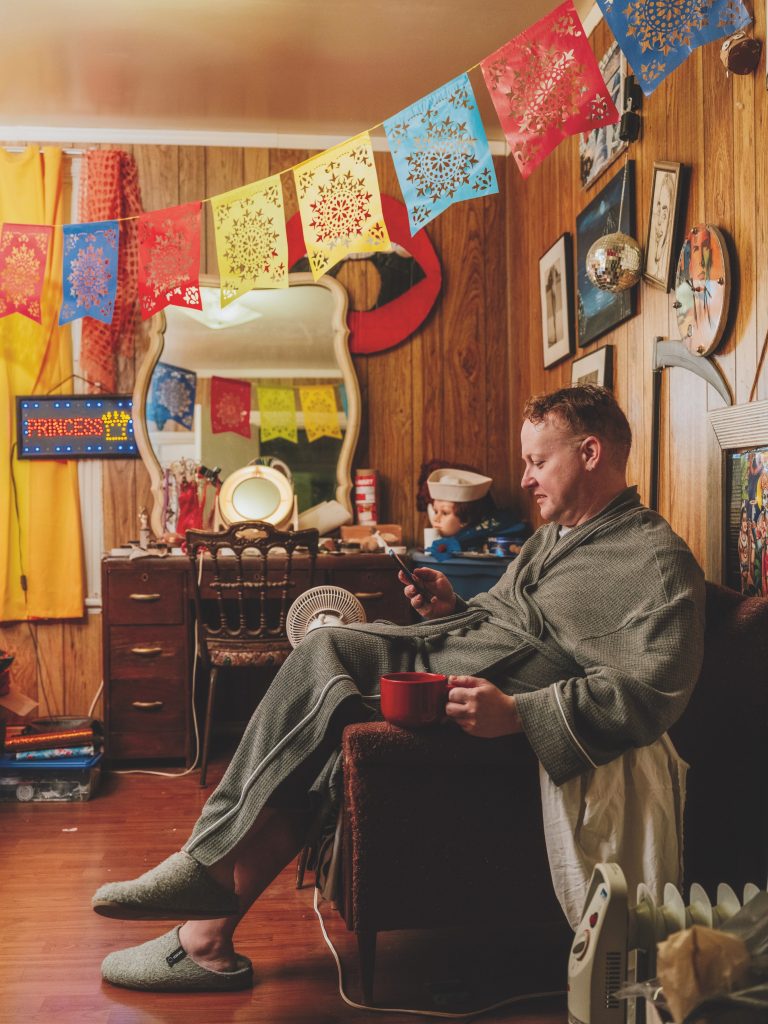 Many drag artists who start off in smaller centres across Canada opt to move to bigger, more supportive markets with established queer scenes, such as Toronto, Montreal and Vancouver. Ryan Young, who performs in drag as China White, moved from Saskatoon to New York City in the early 2000s. He eventually returned, but he'll never forget why he left: "Living in Saskatchewan, our government doesn't like us here. Most of the people don't really appreciate us."
But Tyff didn't leave. She stayed home to fight for her spot centre stage. Incredibly, her dedication paid off, and Kingston's drag scene has grown to be well known and supportive. A cast of regular performers appear multiple times a month alongside a growing set of newcomer queens, kings and non-binary artists. Young performers and organizers get paid by both venues and fans, who come with cash to tip. "Things have changed in the world of drag," says Tyff.
Other small Canadian centres are experiencing a drag resurgence, too. Performances can be found across the country, from Yellowknife to Thunder Bay, Ont., to Trois-Riviéres, Que. Young queer people living outside of major cities have a space to express themselves and practise their art, but it wouldn't have been possible without the path-beating generation of queens who refused to let drag disappear and who continue to keep the community grounded in its roots.
---
In its most basic terms, drag consists of dressing and performing as a character of a gender different from one's own outside of drag, and it's a tradition that dates back centuries in the performing arts. By the 1920s, drag had become a significant part of queer culture: a playful, fun, joyous, subversive performance style. But it wasn't long before governments and mainstream heteronormative culture came to see both drag and its practitioners as a threat to their status quo.
Decades of criminalization and repression in the 1900s chased drag and queer culture underground in North America. Canada's Criminal Code labelled homosexual people as "dangerous sexual offenders" and lumped them in with "criminal sexual psychopaths." It was illegal to be gay until 1969. After that, the police continued to use "indecency laws" to charge gay men and women. From the 1950s to the '90s, the federal government investigated and fired queer people in public service jobs.
---
Want to read more from Broadview? Consider subscribing to one of our newsletters.
---
But the fear of persecution didn't extinguish drag. Jas says that during the HIV/AIDS crisis, which, by 1995, had killed 10 percent of gay American men aged 25 to 44, drag queens were often leading the charge to organize fundraisers for AIDS research and people affected by the disease. "It was kind of then when the popularity and acceptance of drag became more mainstream within the gay community," she says.
It was during this time, in 1999, that Tyff, named Jim Puckalo outside of drag, moved south from her hometown of Timmins, Ont., to Kingston to study computer science at Queen's University. She witnessed her first drag show at Club 477, one of the city's few former gay bars. The experience excited her at 19. "If you're a wallflower or someone who's shy or whatever, and then see someone who just comes out and owns the room and has everyone eating out of their hands…you're like, 'Wow, how are they able to do that? I want to be able to do that! I want to be the centre of attention!'"
In March 2000, she dressed in drag for the first time at a friend's apartment before they went out dancing. This was long before the days of YouTube and TikTok tutorials, so a drag queen acquaintance helped with her makeup. When local queens saw her, they encouraged her to keep pursuing the art form. It wasn't long before Tyff was welcomed into Kingston's small but mighty drag community, where she met her drag mother.
Jas Morgan, a born-and-raised Kingston queen, taught Tyff everything she knew, even passing on her "family name." This was the era of drag family resemblances: Tyffanie learned to apply makeup from Jas, so she looked like her, too. Tyff decided early on that her look wasn't going to be "gender illusionist," or trying to appear like a cisgender woman. It was going to be drag art. "That's why I wear a blue wig," she says. "I want to be more on the fun, entertainment-type side and enjoy myself."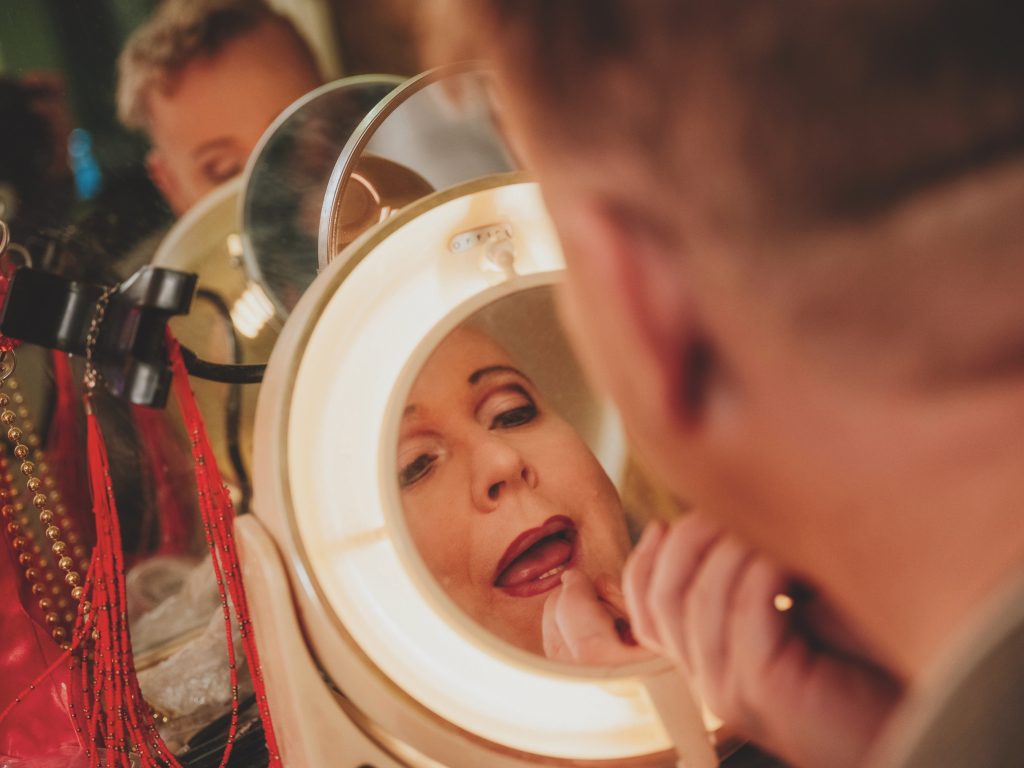 Jas and her partner, Greg Loftus, who performed in drag as Naomi Woods and later as Crystal Cage, were Tyff's heroes in the local queer scene. Central to their shows was fundraising for organizations that provided services and information for queer folks living with HIV/AIDS. "Drag was more than just an entertainment form back in the day," says Tyffanie. "It's something fun to do, and you connect as a community, but ultimately it's to do good."
Between Jas, Naomi and other artists like Claudette Demeaner and Elexis Mann, Kingston's drag scene flourished through the 1980s and '90s thanks to drag's heightened profile in the media and the fight against AIDS. This kinetic era was captured in James Fowler's 1995 documentary Kingston Is Burning, which features interviews with the local queens between clips of them performing to raise money for the Kingston AIDS Project.
The situation in Kingston changed after Loftus died from HIV-related illness in 1997, says Matt Salton, the executive director of Kingston's queer film festival Reelout. Grieving and unsure what to do next, most local queens retired or moved away for a new start. In 2005, Jas moved to Toronto, with its more established queer community, to continue her transition to living as a trans woman. "There was this preservationist feeling," says Salton. "There wasn't much energy for lifting each other up."
During this period, Kingston's queer bars also began to shutter. One by one, Club 477, Shay Foo Foo's and Wally's all disappeared. Some closed their doors because of lack of revenue, while others, like Club 477, called it quits at least in part due to hate-based harassment and assaults of its patrons. Without these venues, the spotlight on Tyff, who was one of the only queens left, went out. "What the hell do we do?" Tyff remembers thinking.
At times like these, plenty of people would pack it in and move somewhere with a more supportive community. It definitely crossed Tyffanie's mind. Instead, she went back to the resiliency she learned when she first started drag, from her drag mama, Jas, and her cheeky show-opening call-and-response. "Suddenly, I got it into myself that I needed to maintain drag in Kingston, because it had such a history before me," she explains.
What followed were years of scraping together performances in Kingston and the surrounding towns. Usually, Tyffanie made no money on the shows (her government day job covered her living expenses). On at least one occasion, she was made to pay the entrance fee to the bar where she was performing. Her changerooms ranged from hockey dressing rooms to ducking between opened car doors in a parking lot. She chuckles at the memories, not begrudging a second of it. Those times made her the queen she is today.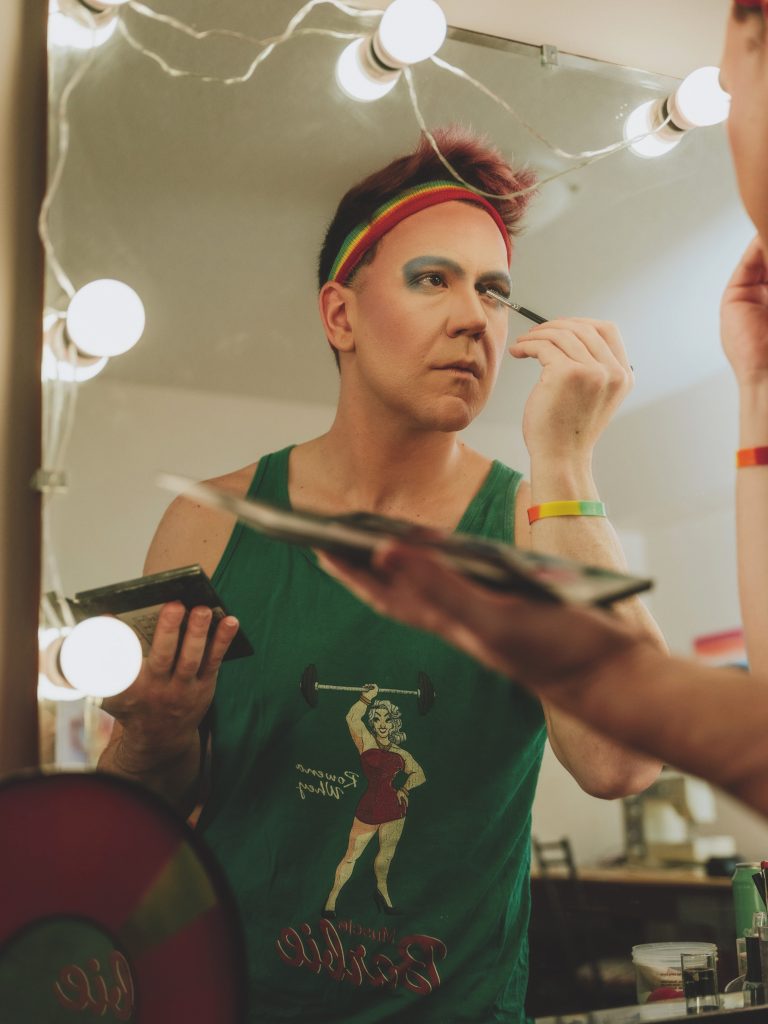 In other communities across Canada, drag performers also recall a dry spell before the Drag Race craze created public appetite for the art. In Kelowna, B.C., drag queens Ella Lamoureux and Sasha Zamolodchikova have spent 10 years fighting to keep drag alive in the Okanagan Valley city. "This is what I call home," says Zamolodchikova, "so I'm not going to let people say I can't be myself in my own home."
Kelowna, which is similar in population to Kingston, had a small but mighty drag scene in the 1980s that died off in the early 2000s and remained dormant until Lamoureux and Zamolodchikova revived the art in 2012. "When we first started doing drag in Kelowna, the whole community was like, 'There's nothing here for you. There's no community,'" says Lamoureux, who is Two-Spirit and originally from the Yukon. "Sasha and I were like, 'B****, we are the community.'"
Without any gay venues in Kelowna, the two paid out of pocket to rent stages and equipment so they could put on their own gigs at pubs and nightclubs around town. They'd team up with the local burlesque community to bring in larger crowds; at the end of the night, they usually had $20 to give to each performer.
Safety was also a concern in the predominantly conservative interior community. When Zamolodchikova's dad heard she would be performing in drag, he warned her to be careful. On one occasion, Zamolodchikova was sucker-punched in public while in drag. On another, a man sexually assaulted her. "I'm like a giant six-foot-four drag queen…but there have definitely been times where I've been afraid," she says.
Even Kelowna's small queer community was unsupportive at first. "In Canada, a lot of gays even looked down on drag queens [as] being disgusting," says Zamolodchikova. "They were all so busy trying to act straight and be masculine, and as soon as they saw drag queens acting out their inner fantasies, they got really mad and bitter."
---
More on Broadview:
---
As Pride Month celebrations became more popular, institutional and local business support for drag lent stability to the craft. The acclaim for Drag Race certainly helped, too. Now, Lamoureux and Zamolodchikova each put on their own shows in Kelowna. "We created this scene for new, young performers, and they come up having the ability to perform where they want, which is fantastic," says Lamoureux. "But I don't think they realize the struggle that Sasha and I put in to create this."
In Kingston, it wasn't until 2017, when Drag Race really took off beyond queer circles, that other local artists began to turn up. Over the next five years, armed with Tyffanie's organizational know-how and production equipment, and bolstered by crowds of Drag Race fans hungry for local shows, these performers ushered in a new drag era in the city.
Tyffanie booked rising star Rowena Whey for her very first show in Kingston when the artist moved from Edmonton back to her hometown in 2017. Whey, 32, says Kingston still struggles to have a visible, permanent queer community with spaces to call its own, but with some inspiration from Tyffanie, she is determined to build it. "All drag performers have some sort of drag family," says Whey. "Here in Kingston, I feel like that's even stronger, because there aren't very many of us, and we really do have to support each other in order to provide opportunities to share our art."
It's not just queens, either. Dare de LaFemme is part of a crew of young drag kings, a set that the city hasn't seen in years. Drag kings are performers who dress as men and present as masculine, and traditionally, drag queens haven't welcomed them into the fold. As well as organizing variety shows in the area, de LaFemme performs alongside queens all around Kingston, which he notes is unusual.
"There's never been this competitiveness of what kind of drag you bring to the stage or this feeling that a certain type of drag isn't valid, which is something that I hear from other cities," says de LaFemme. He credits that feeling to Rowena —and to Tyffanie. "[Tyffanie has] really created this community where you can go out and try something, and Tyffanie would never view that as taking something away from her.…She just has love and support to give."
Even though Tyffanie nurtured this welcoming scene, the Drag Race era, with all its buzz and newfound stardom for performers, can be alienating, too. It's created certain expectations for fans that can be hard for performers to fulfil. Queens have always wanted to look beautiful, but now it's almost a prerequisite to present perfectly costumed works of art, and the standard is so much higher because viewers see the best of the best on TV — and compare local queens to these small-screen stars.
Some queens also lament the performance of a toxic version of teasing and meanness, which usually occurs backstage on the show, rather than presenting a healthier picture of the relationships and trust central to drag communities. Others worry that Drag Race has given the world too singular a view of the performances: one of lip syncing, dancing and high-fashion looks. Local drag will often showcase alternative acts, such as standup comedy and warped burlesque.
Through this particular lens, a drag performer's value is measured in material success: skyrocketing social followings, sold-out shows, branding deals, expensive clothes, big pay cheques. High-profile queens from Canada's Drag Race — like winners Gisèle Lullaby, Icesis Couture and Priyanka — have all established themselves in major Canadian cities. For some contestants from smaller towns — like Newfoundland's Irma Gerd or Saskatchewan's Chelazon Leroux — the show has brought more prospects in the form of performance opportunities thanks to broader cultural acceptance, but it's tough to tell if that will be sustained. With drag, like any art form, there are those who ask: Why keep doing it if it's not making you money?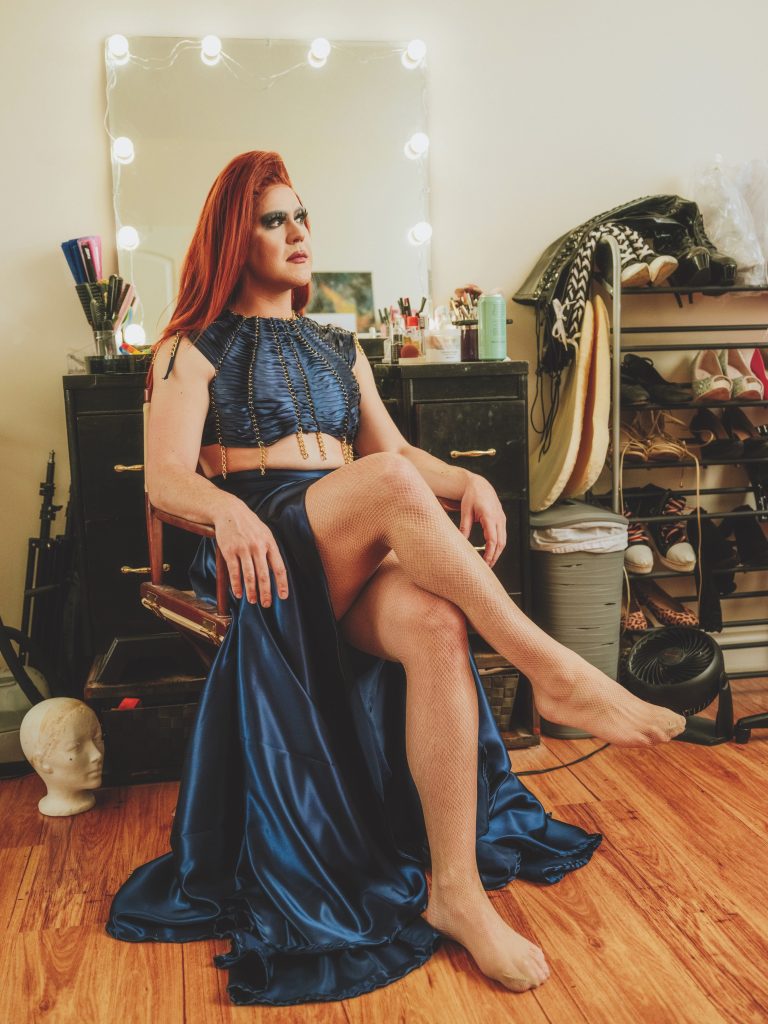 For Tyff, it's never been about the pay or the fame, and she's been doing drag longer than "followers" have existed. For her, there's only one consideration, and it's her happiness. "That's the marker," she says. "If I'm not enjoying it anymore, we need to move on. It's always the hardest question, too, because it's like, what is joy?"
It's a difficult question to consider. Everyone from Plato to Tolstoy to rapper Kid Cudi has tried to nail it down. But a key to spiritual health and artistic fulfilment seems to lie in community: where new queens learn the ropes of advocacy from older queens; where people show up for each other; where everyone is supported and celebrated for their art.
Over the decades, through boom, bust and eventually another boom, Tyffanie stuck to her roots. She continued Jas and Loftus's fundraising traditions, hosting annual Christmas shows for Rainbow Railroad, a non-profit that helps LGBTQ+ people escape persecution in their home countries. She also held Halloween dances for Trellis HIV and Community Care, a local organization. Now, Kingston drag artists like Whey are carrying the torch. Whey's cartoon likeness has been spread across Ontario on cans of beer from a local brewery, and she's donating part of the proceeds to the Canadian Centre for Gender and Sexual Diversity.
Even though she lives in Toronto, Jas Morgan is a proud drag mama and attends Kingston shows when she's in town. "It was drag queens who fought in Stonewall, who continuously fought for the rights of the gay community, who did the most amount of work when it came to the AIDS crisis," she says. "It's important to keep that going, and Tyffanie and all the queens here are doing an amazing job."
---
When the weather is warm, Tyffanie spends her free time working in her backyard garden. It's a love she's carried with her since she was a child, when her great-grandmother gave young Jim a corner of her vegetable garden to grow some strawberry cuttings. When we sit on her deck on a chilly spring evening, surrounded by new growth just beginning to rear its head, she ponders whether to bring some of the plants inside in case there's a late frost overnight.
Tyffanie posts garden updates on Instagram throughout the year, and by July, her yard is bursting with colour and life. Her "granny pink" dahlias are the first to bloom, followed by orange hedychium, daylilies and marigold. Tomato plants bear prize-worthy fruit (in her opinion) by mid-July. She admits that gardening is her first passion, and lately she's fashioned herself as "the drag queen gardener," merging her two labours of love. "When you've been doing drag for 20 years and then you can find something that excites you with drag? That's a really great thing," she says.
Just like drag, nurturing her plants takes a lot of time, care and work every year. But it's always worth it. And now, thanks to her perseverance, Tyffanie can enjoy the beauty of a flourishing garden.
***
Luke Ottenhof is a writer in Kingston, Ont.
This story first appeared in Broadview's March 2023 issue with the title "Small town queens."
---
We hope you found this Broadview article engaging.
Our team is working hard to bring you more independent, award-winning journalism. But Broadview is a nonprofit and these are tough times for magazines. Please consider supporting our work. There are a number of ways to do so:
Subscribe to our magazine and you'll receive intelligent, timely stories and perspectives delivered to your home 8 times a year.
Give the gift of Broadview to someone special in your life and make a difference!
Thank you for being such wonderful readers.
Jocelyn Bell
Editor/Publisher