In the summer of 1990, a trip from Victoria, B.C. to Arad, Romania changed the lives of both Ingrid and Aly White forever. 
It was only six months after the execution of Romanian dictator Nicolae Ceaușescu, who was killed by his own people during the Romanian Revolution. His 24-year regime had crumbled. Ingrid White, a pastor at Victoria's Emmanuel Baptist Church since 1983, travelled to Romania with two members of her congregation. Ingrid had known for years that she wanted to adopt a child, and now, thousands of abandoned and orphaned Romanian children needed loving homes. That June, they arrived in Arad, a city of similar size to Victoria.
"I remember the people were not used to having foreigners in the country at that time, because it had been so closed for so long," recalls Ingrid. "There were line-ups for food. It felt like Arad was still in shock, recovering from the revolution."  
Ingrid will always remember the orphanage where she first met her daughter, Aly. Sixty children, all in cribs, were divided between three small, stuffy rooms. The rooms were filled with toddlers, yet each was silent.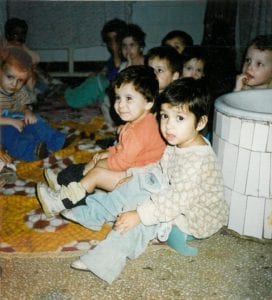 In these state-run institutions, children had no toys to call their own. Ingrid recalls the children being allowed to hold a toy for only a few minutes before it was passed to the next child, and the next, before it was locked away in a cupboard. She thinks the children were hit and malnourished, their skin thin and fragile. They were deprived of touch; children rocked themselves back and forth to self-soothe. Left alone in cribs for most of the day, without stimulation, attention or encouragement, they didn't learn to walk or talk. 
These packed orphanages were a byproduct of Ceaușescu's dictatorial rule. His regime outlawed contraception and abortion in an effort to regrow the population after the Second World War; many children were abandoned to these orphanages. Exact numbers aren't known, but it's estimated that at least 100,000 Romanian children were institutionalized in government-run orphanages at the time of Ceaușescu's assassination. 
In 1990, three-year-old Aly spoke three words in Romanian. She was tiny, her under-developed muscles meant she could only crawl, and loud noises and sudden movements easily startled her. But what Ingrid remembers most from that first meeting was Aly's big, chocolate-chip eyes and how much she thrived from the attention Ingrid gave her. 
Their connection was immediate. And on Thanksgiving weekend in 1990, the same weekend as the church's 100th anniversary, Aly came home. 
"We were having a major celebration that weekend as a church. The congregation knew that I'd been waiting for Aly — I'd left Romania in August, and then she arrived in Canada about seven weeks later. During the children's message that day, we introduced Aly to the children in the congregation," says Ingrid.
---
More on Broadview:
---
In 1990, 1,013 Romanian children were adopted to Canada, the single largest influx of intercountry adoptions in Canadian history. But adoption into loving homes didn't erase the traumas experienced by children who lived in these orphanages. 
Lucy LeMare is a professor in the faculty of education at Simon Fraser University and researches the effects of early social and emotional deprivation on a child's development. She is also leading an ongoing longitudinal study, started in 1990 by Elinor Ames, into the long-term effects of early deprivation on adoptees from Romania. 
LeMare says that the study found social and emotional deprivation in early childhood have the longest-lasting effects. "We did studies on physical health, and yes, these kids were in poor physical health and had stunted growth when they were adopted," says LeMare. "But by the time that they were in middle childhood, their physical health was as good as your average Canadian kid's physical health. Where they didn't all catch up was in social and emotional [development]." LeMare adds that 40 percent of adoptees in her study were diagnosed with at least one mental health disorder by adolescence.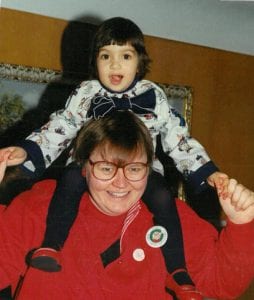 Aly's experience in the orphanage means she lives with a mild developmental disability. She also lives with anxiety, attention deficit hyperactivity disorder, post-traumatic stress disorder and reactive-attachment disorder (RAD). RAD is a psychological condition that develops from social neglect during early development. Growing up in the church provided her with a safe, supportive community. 
"Through the church, Aly has had extra aunts and uncles — special people who have cared for her as an individual," says Ingrid. She adds that the church also gave Aly the opportunity to volunteer at the church's lunches for seniors, get involved in the children's programs and learn employable skills.
"Now she's employed with the church daycare on a regular basis," says Ingrid. "I think it's very cool that a person with special needs herself is now a support worker for children with special needs."  
"But I don't see them as children with special needs," adds Aly, now 33. "They're just people like everybody else." 
On the 30th anniversary of her arrival in Canada, Aly and Ingrid reflect on the last three decades. Coming to Canada allowed Aly to discover her talent for working with children. She's a decorated Special Olympian and an accomplished ocean swimmer. And as well as having a loving mother, Aly has found an extended family in the congregation and a second home in the church. 
Karin Olafson is a freelance writer in Vancouver.
---
We hope you found this Broadview article engaging. 
Our team is working hard to bring you more independent, award-winning journalism. But Broadview is a nonprofit and these are tough times for magazines. Please consider supporting our work. There are a number of ways to do so:
Subscribe to our magazine and you'll receive intelligent, timely stories and perspectives delivered to your home 10 times a year. 
Donate to our Friends Fund.
Give the gift of Broadview to someone special in your life and make a difference!
Thank you for being such wonderful readers.
Jocelyn Bell
Editor/Publisher