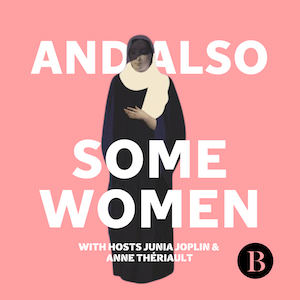 In our debut episode of And Also Some Women, hosts Junia Joplin and Anne Thériault delve into Mary Magdalene, a figure who has been depicted in many different ways: as a sex worker, as the apostle to the apostles, even as Jesus' wife. In this episode they'll try to figure out what, if any, of those characterizations are accurate.
This episode's guests are Diana Butler Bass, Elizabeth Schrader Polczer and Nikole Mitchell.
Bass is an award-winning author, a speaker, preacher and historian of Christianity. She has a Ph.D. in religious studies from Duke University and lives in Alexandria, Va.
Polczer is a biblical scholar whose studies focus on textual criticism, Mary Magdalene and the Gospel of John.
Mitchell is a life coach and sex worker who previously worked as a pastor.
Listen here
Watch a video of the sermon Diana Butler Bass delivered at the Wild Goose Festival

Are you talking about this episode in a group? Here are some discussion questions you may find helpful:
Sources for this episode:
"All the Marys" viral sermon transcript
Pope Gregory I pronounces Mary Magdalene a "sinful woman" in the year 591
Pope Francis honours St. Mary Magdalene as an apostle
Complete Idiot's Guide to Mary Magdalene
Full interviews for this episode:
Nikole Mitchell Interview – And Also Some Women
Diana Butler Bass Interview – And Also Some Women
Elizabeth Schrader Polczer Interview – And Also Some Women
To get more episodes of And Also Some Women, subscribe to our podcast on your favourite podcast platform:
Apple Podcasts                   

Spotify

Stitcher

Google Podcasts

Pocket Casts