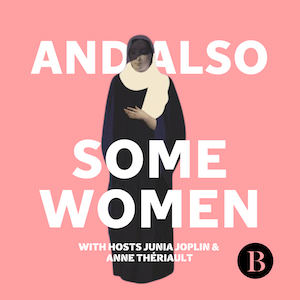 In this week's episode of And Also Some Women, hosts Junia Joplin and Anne Thériault take it back to the very beginning with the mother of all things: Eve. They are joined by Reuven Kimelman and River Needham to discuss how much we really know about the first woman to roam the Earth.
Reuven Kimelman is a professor of classical Judaica at Brandeis University and a rabbi of a congregation in Brookline, Massachusetts.
River Needham is a doctoral student at the Lutheran School of Theology at Chicago.
Listen here
Are you talking about this episode in a group? Here are some discussion questions you may find helpful:
Sources for this episode:
The Seduction of Eve and Feminist Readings of the Garden of Eden by Reuven Kimelman 
The Rhetoric of the Jewish Liturgy: A Historical and Literary Commentary on the Daily Prayer Book by Reuven Kimelman
Full interviews for this episode:
Reuven Kimelman Interview – And Also Some Women
River Needham Interview – And Also Some Women
To get more episodes of And Also Some Women, subscribe to our podcast on your favourite podcast platform:
Apple Podcasts                   

Spotify

Stitcher

Google Podcasts

Pocket Casts