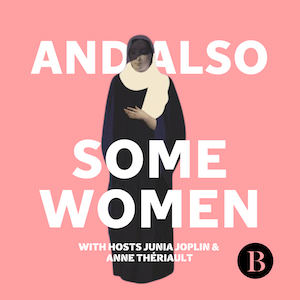 In this episode, host Junia Joplin and reporter Anne Thériault take a walk with three powerful Old Testament women who have largely been overlooked by Christianity: Miriam, Deborah and Esther. It's especially odd they don't get more attention when you consider their stories read like movie plots. Escape! Murder! Sabotage!
Join this week's guests, Susan Ackerman, Austen Hartke and Marion Taylor, to learn about their dynamic stories. 
Susan Ackerman is a Darmouth College professor in the religion and women, gender and sexuality studies departments.
Austen Hartke is the author of Transforming: The Bible and the Live of Transgender Christians and the executive director of Transmission Ministry Collective.
Marion Taylor is a professor at University of Toronto, where she teaches the Old Testament at Wycliffe College.
Listen here
Are you talking about this episode in a group? Here are some discussion questions you may find helpful:
Sources for this episode:
Gods, Goddesses, and the Women Who Serve Them by Susan Ackerman
Transforming: The Bible And The Lives Of Transgender Christians by Austen Hartke
Ruth, Esther by Marion Taylor
Full interviews for this episode:
Susan Ackerman Interview – And Also Some Women
Austen Hartke Interview – And Also Some Women
Marion Taylor Interview – And Also Some Women
To get more episodes of And Also Some Women, subscribe to our podcast on your favourite podcast platform:
Apple Podcasts                   

Spotify

Stitcher

Google Podcasts

Pocket Casts