Plastic pollution was a huge problem before the pandemic, and it hasn't improved. So this year, I convinced my family to have a plastic-free Christmas. 
My husband, although fully on board, pointed out a serious wrinkle in my plan. 
"I hate to break it to you," he said, "but you probably won't be getting cocoa butter in your stocking this year." 
This was grave news indeed. Lotions and lip balms are a stocking staple in my house, and my husband couldn't find any that weren't packaged in plastic. But I wasn't surprised. Visit a pharmacy or a beauty boutique and try to find a plastic-free skincare product — you'll probably leave empty-handed. 
Just thinking about all that single-use plastic that piles up in landfills and litters the environment almost turned me into Scrooge. Instead, I started to research. 
After scouring the internet and asking for recommendations from the zero-waste community, I found an impressive number of products that are made in Canada without plastic packaging. All are cruelty free, free of synthetics and handmade in small batches. Order them soon if you want to put them in your stockings!
All product photos courtesy of retailers
Body butters and lotions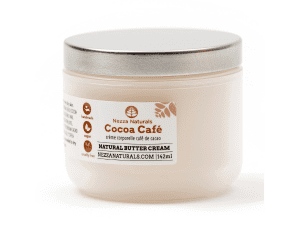 Cocoa Cafe Body Butter Cream, $24.95, Nezza Naturals
Victoria, B.C.
This rich, organic body butter is made with cocoa butter, shea butter, cherry kernel oil and cranberry seed oil. A blend of cocoa absolute and coffee extract gives it a divine mocha scent. Nezza Naturals also makes body butters in coconut, lavender, rich rose, ultimate (citrus, vanilla and floral) and unscented.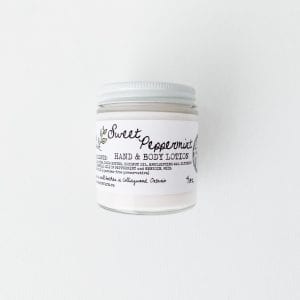 Sweet Peppermint Hand & Body Lotion by Two Acre Farm, $16, Kinsfolk Shop
Collingwood, Ont.
This energizing hand and body lotion will have you smelling like a candy cane. It's made in small batches with cocoa butter, honey and coconut oil. Two Acre Farm makes lotions in several scents: cedar, herb garden, rosewood, winter spice, and sage and coriander.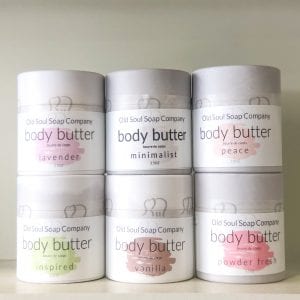 Powder Fresh Body Butter, $14, Old Soul Soap Company
Hanmer, Ont.
If the magical scent of vanilla and rose doesn't hook you, the dreamy, whipped consistency will. The Old Soul Soap Company makes its body butters with shea butter, mango butter, avocado oil and coconut oil. They also come in lavender, vanilla, peace (lavender, rosemary and peppermint), inspired (lime, lemongrass and litsea) and minimalist (unscented).
Lip balm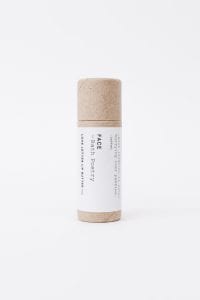 Love Letter XL Lip Butter, $18, Bath Poetry
Lumsden, Sask.
This jumbo lip butter is made with soothing aloe, healing hemp seed oil, and moisturizing shea butter and coconut oil. It has subtle, refreshing flavours of rosemary and grapefruit. For a dash of colour, try the Pink Prose — a slightly tinted version that's also great for cheeks.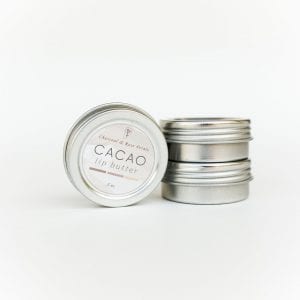 Peppermint Cocoa Lip Butter, $8, Charcoal and Rose Petals
Peterborough, Ont.
This scrumptious lip butter is made with organic cocoa butter, sweet almond oil, organic beeswax, vitamin E and essential oils. If you'd rather skip the peppermint, it also comes in pure cocoa. You can save and reuse the one-ounce tin.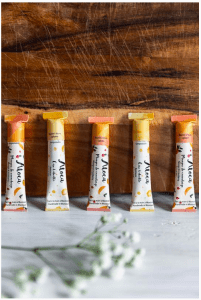 Compostable Lip Balm Duo, $14, Atoca 
Montreal, Que.
These lip balms are made with organic beeswax and come in mango cranberry or plain, in 100-percent-compostable tubes. 
Bath bombs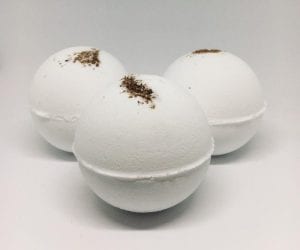 Cedar Bath Bomb, $7, Sisters Sage
Vancouver, B.C.
Made by Indigenous sisters Lynn-Marie and Melissa-Rae Angus, this bath bomb features cedar — a traditional Indigenous plant that's often referred to as the "tree of life." Its fresh, earthy aroma will leave you feeling cleansed and refreshed. 
Calendula Oat Bath Bomb, $7, Bloom Body Co. 
Calgary, Alta.
This bomb contains calendula-infused grapeseed oil and colloidal oatmeal, which soothe and moisturize skin. With essential oils of orange and tangerine, it has an uplifting scent.
Winter Spiced Pear Bath Bomb, $9.99, Adora Boutique
Whitbourne, Nfld.
With the scent of mulled pear and spices, this bath bomb will get you in the holiday spirit. It's made with seaweed powder and French green clay, then topped with cocoa butter drizzle and herbal bath tea.
Soap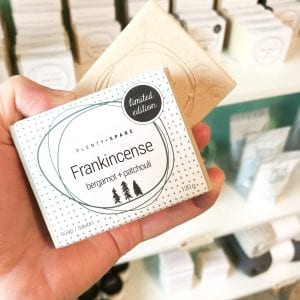 Frankincense Limited Edition Soap, $9, Plenty + Spare
Vancouver, B.C.
Plenty + Spare makes a variety of natural soaps that have a creamy, moisturizing lather and are gentle on the most sensitive skin. This winter edition is perfect for Christmas, with its earthy blend of frankincense, patchouli, bergamot and benzoin.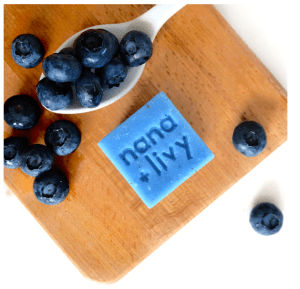 Blueberry Soap Block, $6, nana + livy
Vancouver, B.C.
This blueberry soap block is one of the nine food-based soap cubes made by nana + livy. It contains actual blueberry fibre to exfoliate skin. You can mix and match it with other soaps in the collection to make a mini gift set.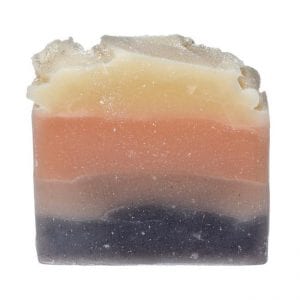 Soap Bar, $8.50, Buck Naked Soap Company
Cambridge, Ont.
This all-natural vegan soap moisturizes and cleanses all skin types. Using natural oils, essential oils, botanicals and herbs, it leaves skin feeling clean, soft and hydrated. These bars are also huge, giving you more bang for your buck.
Shampoo and conditioner
Island Tropics Shampoo Bar, $17.95, jack59
Edmonton, Alta.
With a tropical coconut smell, this shampoo bar will make you smell like you're on a beach vacation. Jack59 makes a range of shampoo bars for every hair type. They are all sulfate-free and pH-balanced so they don't dry out your hair. They offer lots of lather, and they last for 80 or more washes. Check out their conditioner bars, too.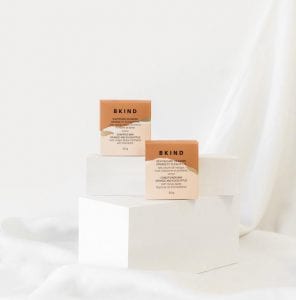 Duo Hair Care Bars, $38, BKIND
Montreal, Que.
This hair-care duo includes a shampoo bar and conditioner bar that are designed to work for all hair types, leaving your hair soft, shiny and moisturized. Made with orange and eucalyptus essential oils, they have a fresh, fruity scent.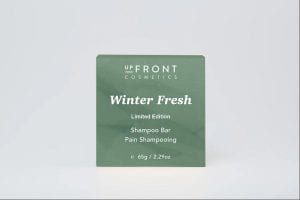 Winter Fresh Shampoo Bar, $13.95, Upfront Cosmetics
Fredericton, N.B.
This shampoo bar is infused with uplifting, fresh notes of wintergreen and cinnamon. It creates an abundant lather that is pH-balanced to be gentle, non-irritating and safe for colour-treated hair.
***
Brett Tryon is a freelance writer with a passion for nature and sustainability. Her work has been published in Chatelaine, Toronto Life, Today's Parent, and others. She lives in Toronto with her husband and two daughters. 
---
We hope you found this Broadview article engaging. 
Our team is working hard to bring you more independent, award-winning journalism. But Broadview is a nonprofit and these are tough times for magazines. Please consider supporting our work. There are a number of ways to do so:
Subscribe to our magazine and you'll receive intelligent, timely stories and perspectives delivered to your home 10 times a year. 
Donate to our Friends Fund.
Give the gift of Broadview to someone special in your life and make a difference!
Thank you for being such wonderful readers.
Jocelyn Bell
Editor/Publisher