On a June night last year, Arlene and Paul McDonald, their two sons and their dog, Tehya, waited out a rain shower in their car at a Tim Hortons parking lot near Winnipeg. They were about to meet their new pet, Griz, a mastiff just like sweet and gentle Tehya.
Arlene thought Griz would be the perfect addition to the family after seeing his profile on the Facebook page of Homeless and Injured Animal Rescue of Canada (HIARC), a local pet rescue. Apparently, he was five years old and had been underfed and often crated by his former family, who had a young child. Arlene believed Griz just needed some love and attention.
By the time Griz showed up, the rain had stopped. He looked thin. When he first saw Tehya, he lunged toward her, but the dogs soon settled, and he cheerfully licked the boys. Arlene filled out the final paperwork and paid the $400 adoption fee while Paul chatted with the volunteer who had arrived with Griz. The woman speculated that Griz was likely a pit bull mix and not a mastiff (neither dog is banned where the McDonalds live). They also learned that he had been driven over the border from the United States.
The McDonalds were confused, as they thought HIARC had him in a local foster home. The information about Griz wasn't quite lining up, but the McDonalds put him in the car anyway. "I had signed the adoption paperwork, so we both felt like we were obligated," recalls Arlene.
The dog seemed fine: he curled up on Arlene's lap and snoozed for the nearly two-hour drive to their home in Carberry, Man., and then slept in the couple's bed that night. However, Arlene and Paul still planned to keep Griz on a leash, away from their two cats and the kids who attended Arlene's home daycare, at least to start.
The next morning, the youngest McDonald boy said farewell to the new dog and petted him as he headed out to school. "Bye, Griz!" his 11-year-old brother echoed, reaching out to pet the dog, too. Arlene says that's when Griz suddenly lunged at the older boy's neck, knocking him down half a flight of stairs. Arlene pulled the dog back with the leash as he strained against her. "The dog was still trying to go after him," she says.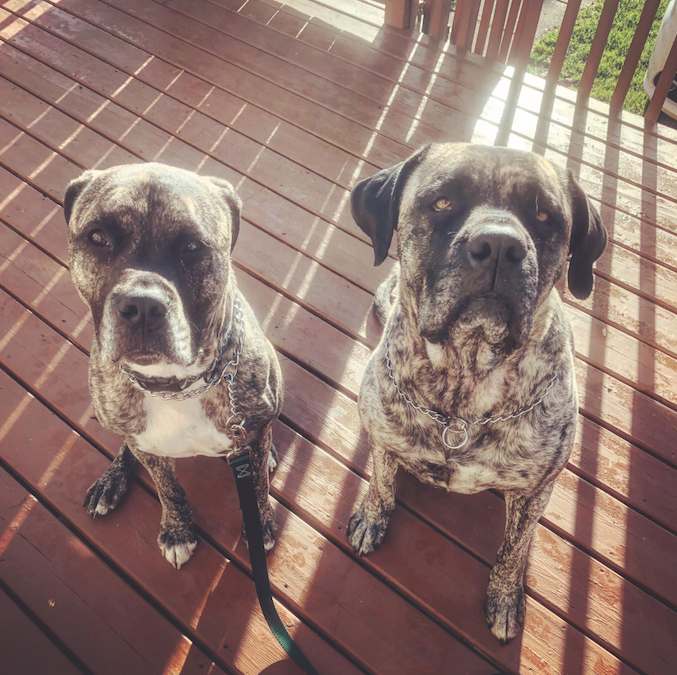 The boy had multiple cuts on his neck, which were bleeding but not dangerously deep. The daycare children were arriving, so Paul rushed home from his job as a mechanic and took their son to the hospital. Then he brought Griz to the vet, where the dog growled and was muzzled before staff could examine him.
According to Paul, the vet speculated that the dog would likely bite again and was clearly suffering mentally. So the two agreed Griz should be put down right away. "It broke my heart," recalls Paul, who cried during the procedure.
The vet noticed Griz had damage to his teeth, a sign he might have been used as a bait dog in fights. "This would have been a red flag for me," Paul says the vet told him.
Back at home, Arlene tracked down the dog's vaccination record and found contact information for Griz's American vet. Through that office, they were able to get the dog's vet records and contact Griz's former family, who had a very different story than what the rescue had told the McDonalds. The dog had a history of aggression and was so anxious he needed Prozac. At one point, he bit his way through a metal cage.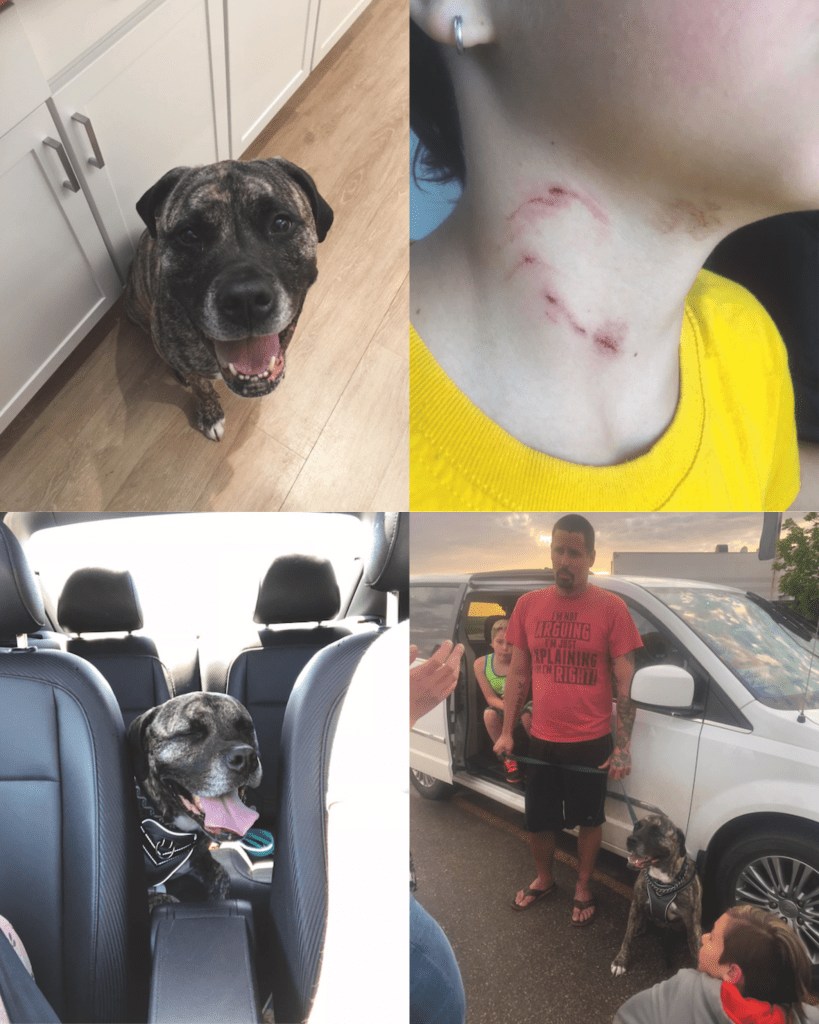 After the McDonalds told HIARC about the bite — before telling them that Griz had been euthanized — HIARC re­posted Griz's profile online, saying he was good with teenagers and ready to be fostered or adopted. "They were lying to other people again," says Paul.
Diane Duclos, president of HIARC, disputes many of the McDonalds' claims. She says Griz was "a very lovely boy" without any pit bull in his breeding, and he had been rescued on behalf of HIARC by a trusted volunteer who had fostered him for about two weeks. Duclos says her volunteers reported that Tehya was the one who was rough with Griz when they first met. "I had a hard time believing that," she says of the accusation that Griz bit a child. She suspects it was Tehya that attacked the boy out of jealousy. She also maintains that the McDonalds should not have euthanized the dog, which was in breach of their contract with HIARC.
Resolving situations like what happened with Griz is next to impossible in Canada. That's because regulations for the animal rescue industry don't exist. Anyone can start an animal rescue out of their own home or with a network of volunteer fosters. In fact, no provincial animal welfare laws even mention these groups despite their growing popu­larity. Instead, rescues only have voluntary best practices available, such as guides put out by the Humane Society of the United States and the Association of Shelter Veterinarians. Other than that, some rescues do what they want, or what they can afford, when it comes to vet care and assessing adoptive families.
"Lack of regulation in rescue work has created a lot of problems," says Kathy Powelson, executive director of Paws for Hope Animal Foundation, an animal-welfare advocacy group based in British Columbia. "There's no way to hold these organizations accountable." With little data, it's difficult to assess how widespread the issues are. Powelson and other experts think that, while many rescues do good work, rules are needed to protect ani­mals and pet adopters and to support the rescue organizations themselves. Until that happens, it's pet owner beware.
_________________________________________________________________________

Many rescues are entirely run by volunteers who saw a need and stepped up. There are at least 200 million stray dogs worldwide, according to the National Animal Interest Alliance. Across Canada, Air Angels, an animal advocacy network, estimates two million canines are homeless. "As we have more information around the welfare of companion animals across the world, it's created a movement of people who are trying to respond to this perceived crisis. And I only say 'perceived' because it's not new; we're just aware of it now," says Powelson.
Rescue operators receive animals from friends and commun­ity members or shelters that have overflow, and some take in pets from other countries. They might keep animals in their homes or in foster homes, and they often promote adoptable pets via their websites and social media or on adoption sites such as Petfinder. They charge fees of a few hundred dollars, but by and large, it's an industry with slim margins, thanks to high vet and food bills.
Some register as charitable organizations, but without a regulatory body, no one knows exactly how many independent rescues there are in Canada. Toronto-­based Speaking of Dogs Rescue creates an an­nual directory for Ontario and lists over 150 groups in its 2020 edition. Other organizations estimate there are about 170 in British Columbia and 100 in Manitoba. The Humane Society of the United States says about 10,000 rescues and ani­mal sanctuaries cur­rently exist across North America. And people in the industry say their numbers are increasing along with the demand.
Sure, people still turn to shelters to find pets, but they like the personal touch of a passion-project rescue. Many of these groups have dynamic backstories of how they got started and describe pets looking for homes in online-dating-style posts. "Meet our puppy pal ONYX! From Manitoba, this total goofball just wants to be your bestest bud ever," reads one online description from a Toronto rescue. Some rescues will even doll up their kitties and pups with colourful bow ties and other accessories — who can resist?
Social media has also helped boost rescue adoptions. Just search the hashtag #adoptdontshop on Instagram — more than 32 million posts pop up, including those from celebrities. Pop star Miley Cyrus has many rescue dogs, and Meghan Markle has owned some since before becoming a royal. Other possible evidence of rescue popularity includes Humane Canada's 2017 survey, which found a decline in how many pets show up in humane societies and SPCAs.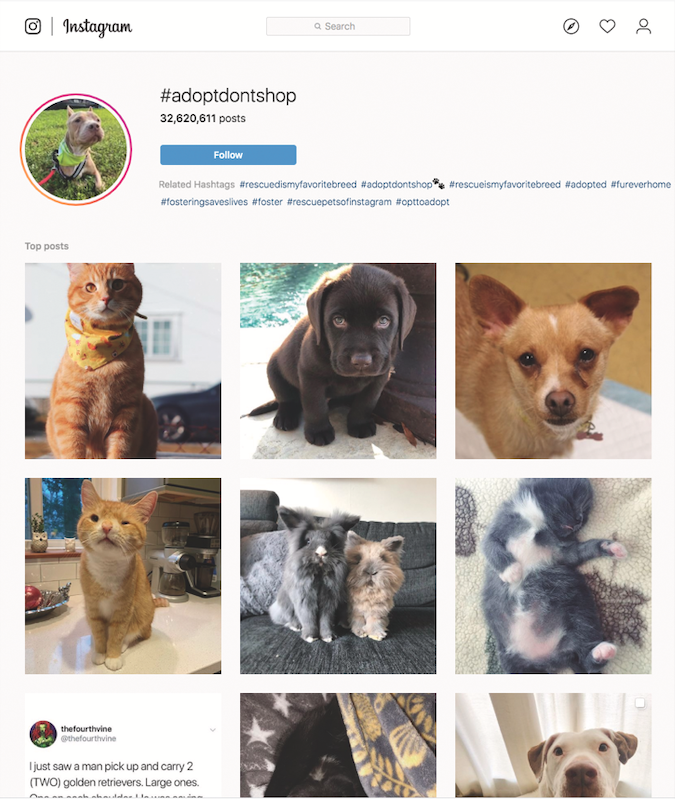 Despite the rescue boom, there is no oversight on the part of the government. While humane societies and SPCAs answer to their boards, and municipal animal services are overseen by city officials, small rescues fly under the regulatory radar. Eyal Lichtmann, CEO of the Regional Animal Protection Society (RAPS) in Richmond, B.C., sees the contrast. His organization runs the City of Richmond Animal Shelter, which must follow a range of city bylaws and operating procedures and is scrutinized by the city at monthly meetings. RAPS also runs a cat sanctuary with 500 animals. RAPS looks to national standards when it comes to making choices around food and vet care at the sanctuary, but "no one is overseeing what we do," says Lichtmann.
"Some [rescues] are doing really good work," he says. "Some of them are not because they don't follow through with the commitments they make to adopters.…There's no one governing them."
This lack of oversight can be especially problematic when rescues move dogs over borders. Other countries have different pet illnesses, and this has led to worries about spreading diseases. At the border, dogs are in­spected and their paperwork is checked, but officials can't fully screen for diseases. In fall 2018, for example, a woman in British Columbia contracted the bacterial infection brucellosis from a dog she brought north from Mexico on behalf of a rescue.
Not all rescues do thorough vet care, either. "People adopt these animals not knowing [they have a disease], being told they have a clean bill of health," says Lichtmann. He says RAPS works with rescues that do proper health screening when they take pets over the border, but he's run into a few that skimp on vet care.
Without regulations, rescues can also euthanize animals without recourse. For instance, the privately owned shelter Berger Blanc in Montreal was jointly investigated by Radio-­Canada and the Society for the Protection of Animals Canada in 2011. It was found to be performing some euthanizations without sedation and by someone who was not a vet. The shelter was euthanizing as many as 200 animals a day. Since the society has no legal authority, it launched a media campaign to encourage cities in Quebec to establish their own shelters and not rely on private, unregulated groups with no accountability to the public.
Some rescues may also prop up questionable breeders. The Colorado-based National Mill Dog Rescue claims to save animals from puppy mills, but a HuffPost investigation found they were adopting out dogs that mills can't sell, supporting the mills' business model and sometimes even paying them for dogs.
Adopting out pets — creating a contract, screening families, assessing pets and brokering a match — is a complex endeavour. Without standards, some rescues might not screen people enough, while others could veer the other way and ask potential adoptees a wide range of personal questions, including income or other criteria that could be considered discriminatory. The same extremes can happen after the adoption — some rescues don't follow up at all, while others may get very involved.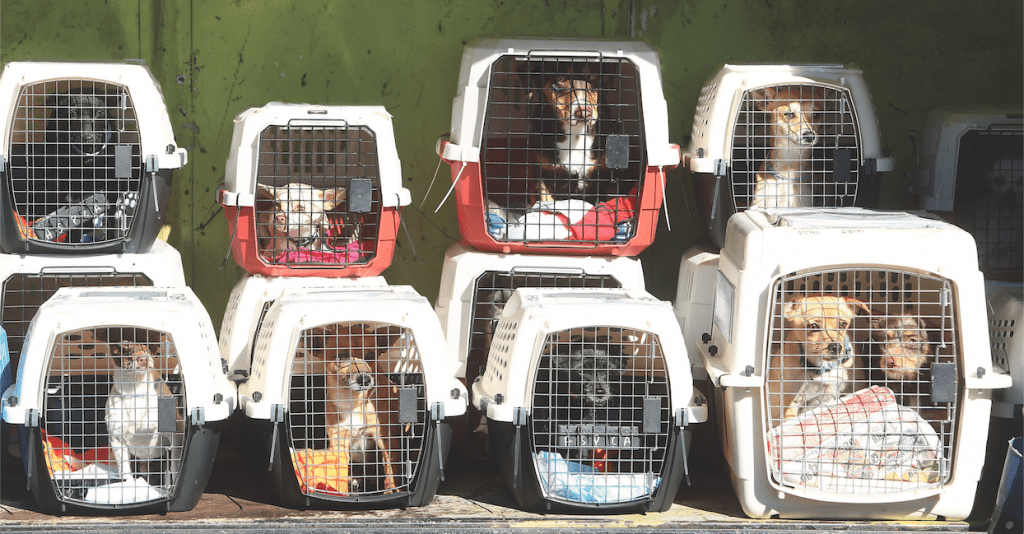 Jane Matthews (not her real name) and her boyfriend adopted a chihuahua mix last fall from Toronto's Redemption Paws. They paid $475 plus tax for Gulliver, who had come from Texas. Once in their care, the dog was having accidents around the clock and soon began barking at every sound in the hallway outside their apartment. "We weren't sure this was in the range of normal; we needed some help," says Matthews, noting that neither she nor her boyfriend had ever owned a dog before.
Along with getting vet and trainer advice, they reached out to the rescue. Matthews reports that Redemption Paws volunteers offered her house-training tips that echoed what they were already doing. Then a volunteer called her and took her by surprise by saying, "Okay, so let's arrange a pickup."
Not wanting to give up on Gulliver, Matthews exchanged a flurry of emails with the rescue over a two-day period. Around this time, the couple's vet called to say that Gulliver had giardia, a parasite that can cause digestive problems, and a lawyer friend told them that the Redemption Paws contract permitted the rescue organization to always be in the dog's life. Stressed and angry, the couple decided to return the dog to the rescue.
According to Redemption Paws founder Nicole Simone, Matthews kept repeating that the couple didn't think the dog was a good fit. She notes that Gulliver had been dewormed both in Texas and in Canada, and that parasites are difficult to treat. "We were nothing but courteous, and my volunteers were nothing but cordial," she says.
_________________________________________________________________________

The lack of transparency, consistency and safeguards in the pet rescue industry threatens the reputations and futures of the groups that, overall, just want to help animals find homes. In 2013, Kim Tamminen could have found guidelines useful when she started her own outfit out of her Thunder Bay, Ont., home after volunteering with another rescue. The Paws for Love Dog Rescue Facebook page got noticed, and she began developing relationships with people on reserves in northern Ontario who needed someone to co-ordinate vet care and find homes for stray dogs. Soon enough, she found herself with a dozen dogs living in all corners of her home.
"It started to get a bit unmanageable for one or two people," says Nikki Burns, who began helping Tamminen six months in. A dog got loose. The organization was being accused of making money from the animals ­— which happens when you charge a few hundred for an adoption but no one sees your transportation, vet and kibble bills. The rescue began the process of becoming a non-profit and a registered charity to boost its credibility and accountability.
It also became more organized. The rescue established a bigger network of foster homes, keeping only a minimum of dogs in Tamminen's house, and developed a solid adoption application. Burns says it would have been a lot easier if there were guidance and a support system for rescues.
Karen Machin, an associate professor of veterinary biomedical sciences at the University of Saskatchewan and co-founder of Saskatoon's New Hope Dog Rescue, recognizes the need for standards for rescues. So she is part of a committee that's drafting a certification program with the Saskatchewan SPCA. Machin and other members are looking to a best-practices document created for rescues in Michigan, which covers standards for animal care, record keeping, volunteer training and adoption events. These voluntary rules are out for consultation, and if the group can get funding to pay a staffperson to administer the program, it should be available a year or so after. "We're starting in Saskatch­ewan, but we're hoping that it will spread across the country," she says.
For adopters, these standards would reassure them that their pets have been screened for health issues and safety around kids and other animals. They'd also have some recourse if things go wrong.
The McDonalds got $350 back from HIARC for their adoption of Griz, but that doesn't help with the longer-term impact on their family. After being attacked, their son was anxious and somewhat depressed for a few months. He was also extra shy and careful around new dogs. "My son was more upset that we put Griz down than he was about being bit," says Arlene. "He was all about saving this dog, giving him a good home."
The family may still adopt, but Arlene and her husband want a younger dog, reasoning there'd be less chance of it having bad habits or anxiety. Now that she knows rescues aren't regulated, Arlene is cautious. "It puts animals and people at risk," she says.
This story first appeared in Broadview's May 2020 issue with the title "Rescue dog racket."
Broadview is an award-winning progressive Christian magazine, featuring stories about spirituality, justice and ethical living. For more of our content, subscribe to the magazine today.