UPDATE Nov. 10/20: Veterans Affairs Minister Lawrence MacAulay has announced the creation of a $20-million dollar Veterans Organizations Emergency Support Fund, $14 million of which will go to The Royal Canadian Legion to keep branches open.  
Almost every village and town once had a local Royal Canadian Legion. They were opened as sanctuary space for veterans after one million Canadians came home from WWII. At its peak, the organization had more than 600,000 members. More than just a place to gather and talk, the Legion was instrumental in pushing the government to create the Veterans Charter, which gave veterans vocational and university training, land grants, housing and disability benefits.
Today, Legion membership is down to 260,000, despite being opened up to veterans' families and community volunteers. 
Over the past few decades, a number of quiet rifts have opened up, both locally and organizationally, that have contributed to the Legion's decline. Membership was originally open only to veterans of the First and Second World Wars, and these veterans had a difficult time sharing space with other vets. Furthermore, Veterans Affairs Canada has increasingly taken over most of the support services available to returning veterans, leaving local Legions to provide pamphlets for these services and host local Remembrance Day events. 
---
More on Broadview:
---
In June, Legion Dominion President Thomas Irvine wrote his second open letter to Prime Minister Justin Trudeau requesting urgent federal intervention to save Canada's 1,380 local Legions from financial insolvency. "I am angered to see that businesses whose sole purpose is to provide entertainment are getting [COVID] relief," wrote Irvine, "while our Legion branches – which are literally helping to save lives and improve communities – are struggling with the fear of closure, with no government help in sight."
"If this nation's hundreds of Legion branches are forgotten," Irvine said, "some of them will close permanently, resulting in a huge ripple effect across the country." 
This year so far, 20 Legions have permanently closed, and CTV News reported that COVID-19 shutdowns have put 124 at risk of permanent closure. Another 357 are in dire financial straits: 35-40 percent of Canada's Legions may not survive through 2021. 
"Everything stopped with COVID," says Dan Pitman, vice-president of the Haliburton, Ont. Legion. "The wedding receptions, Wednesday night bingo, the monthly auxiliary breakfasts, the church's pancake breakfasts, the fitness classes, the parole board hearings — all of it, just stopped."
In my hometown of Bancroft, Ont., I cross a parking lot and look up at the fading mural of soldiers and pipers in kilts – everything we have come to associate with the older generation of Canadian soldiers.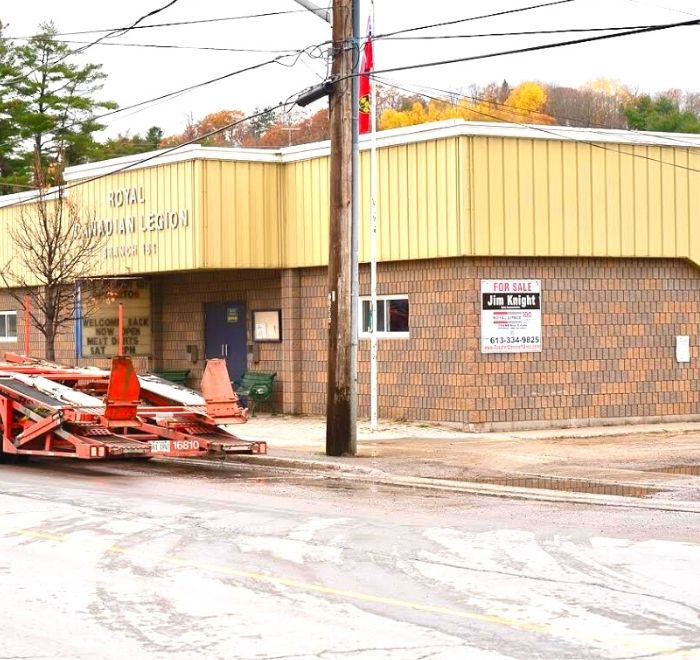 I sit in the clubhouse with some of the executives and a few members over beers. On the big screen, the Blue Jays are losing to Tampa in the first round of the baseball playoffs. The entire east wall is covered in dart boards, and a sign reminds me that this Saturday is the "meat draw" dart tournament. 
"The reception hall has been closed since COVID," President Larry Shatraw tells me. "That's hurt a lot. We were already having problems paying the rent. We just have to move the Legion to a smaller space. We have no choice."   
Lynn Watson, our town's United Church minister and Legion Padre, runs through a long list of community support the Legion provides. "Few people know we provide the track and field and public speaking awards for the [elementary] school," Watson says. "We support cadets, the hospice, the high school band, the fish hatchery, the fire department." Watson says the Legion bought a new mechanical bed for the seniors' manor and puts on funeral lunches. "Legion members don't like to talk about what they contribute," she says. "They're not in it for the attention, so no one knows."
Across the country, Legion members continuously reminded me that their branches are community hubs: they host Christmas markets, wedding receptions, community dinners, parole board hearings, karaoke nights, euchre tournaments, youth nights, veteran birthday parties, and, of course ,Remembrance events. COVID has cancelled it all. 
"Ten years ago, we were almost done," recalls Katherine Feiel, general manager of the Freeport, N.S., Legion. "The building was on the verge of being condemned. We only have 750 people in Freeport. The province stepped in with some matching grants, and they allowed us to run "Chase the Ace" raffle draws, which helped a lot." 
I ask Feiel how she expects their Legion to survive. "We realized that we needed to be more inclusive, that we needed to tweak what the Legion could be for Freeport," she says. "We couldn't be the same Legion that existed 30-40 years ago." Feiel says they couldn't just be a bar. That meant they needed a succession plan that involved more young people. 
The same concern is voiced by Fort McMurray President Pat Duggan. "Ten years ago, we were $250,000 in debt and command came up to close us down," says Duggan. "But we got a reprieve and began to reinvent ourselves. Which is tough. There is a generational divide between the older and younger vets. We have to end this attitude. A veteran is a veteran." 
"We put together a business plan that involved local vendors, focused on veteran needs, and worked more with the community," says Duggan. "In that 10 years, we have now donated about $1.5 million back into our community." Yet last year's forest fire came within a block of the Fort McMurray Legion, and a flood in May destroyed the kitchen. The membership voted unanimously to move out of the flood path, and at the time of writing working with the city and the province to relocate.
In June, all 625 Legions east of British Columbia filed a $20-million class action lawsuit against Aviva, the common insurance carrier for Legions outside of B.C.. (B.C. Legions each have their own insurance carriers.) Aviva has refused to pay any "loss of business" compensation, saying that the loss of income due to the COVID-19 pandemic is outside of their responsibility.  
There has been no official reply from the prime minister regarding Irvine's second open letter, and Irvine admits it's keeping him up at night. "Veterans Affairs may have a package in the works, but it's only rumours." An announcement by the federal government in October promised $20 million to "veteran organizations," although the details remain unclear. 
I ask him what needs to be in the package. "The only thing that will work is non-repayable grants. The branches can't repay money with money they don't have," says Irvine.
Even so, the future doesn't look very bright. "Quebec went into a second lockdown," Irvine says. "That means the Legions there are closed again. Ontario probably won't be far behind. Without government assistance we could lose half of our Legions. It would be a tremendous loss to smaller communities."
In the end, solving local Legion problems isn't going to be a sprint, observes Watson. "This is a marathon. We have to think of it that way."
Sherwood Hines is a freelance writer who lives in Bancroft, Ont. His grandfather fought in Italy in WWII.
---
We hope you found this Broadview article engaging. 
Our team is working hard to bring you more independent, award-winning journalism. But Broadview is a nonprofit and these are tough times for magazines. Please consider supporting our work. There are a number of ways to do so:
Subscribe to our magazine and you'll receive intelligent, timely stories and perspectives delivered to your home 10 times a year. 
Donate to our Friends Fund.
Give the gift of Broadview to someone special in your life and make a difference!
Thank you for being such wonderful readers.
Jocelyn Bell
Editor/Publisher