We brought you the story of Gladly the bear in our November issue "Retrospect". Here's more about his 28 years (and counting!) at St. David's United in Woodstock, Ont.:
It was a cold Christmas Eve in 1991 with about 15 centimetres of snow on the ground. A mysterious stranger appeared at the door of St. David's United, accompanied by an enormous and friendly-looking teddy bear. "Would you please look after this teddy bear?" asked the stranger. The church secretary, who was just getting ready to shut down the office for Christmas, agreed, assuming that someone would return in a few days to repossess the stuffed animal.
But in the weeks after Christmas, nobody showed up to reclaim the teddy bear and he started to make himself right at home at St. David's. Within a few months he stopped hiding around the church office and became quite a fixture at St. David's as he began to occupy a more prominent position at many church functions. Soon a problem began to arise: nobody knew his name! One of the first ideas was to name him "David" because, after all, he had chosen to appear at St. David's.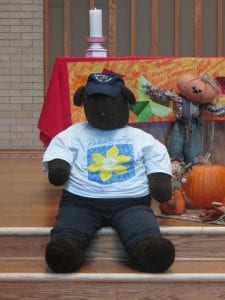 A short time after the bear first appeared, St. David's was starting a congregational newsletter. While trying to find a catchy name for the newsletter, somebody recalled an old Sunday School story that went something like this: 
As five-year-old Susie returned from her very first Sunday School class, her mother asked, "What did you do today in Sunday School?"  Susie replied excitedly, "Oh mummy, we learned all about a cross-eyed bear!"  Not wanting to condemn the United Church Sunday School curriculum without further details, Susie's mother calmly asked "That sounds like fun, tell me more about this bear."  "Well," said Susie, "I think its name is Gladly. We sang a song about it.  The song was called 'Gladly the Cross I'd Bear!'"
So that solved two problems for us at St. David's. It provided us with a snappy name for our new newsletter, The Cross Eyed Bear, and an obvious name for our teddy bear: Gladly.
Gladly has now been a part of life at St. David's for 28 years. He has made many friends and seen some wonderful things happen over that time.  He has loved playing with the children and has seen several of them grow from infants to adults. St. David's has had four different ministers since Gladly first decided to make St. David's his home.  
There are many good people who have taken care of him during his time here. They have dressed him according to the seasons and to the events of the church year. He has worn costumes on Halloween, Santa hats at Christmas, and baseball caps during the summer. Gladly even was there celebrating when the Blue Jays won the World Series! He has heard beautiful music and listened to some terrific sermons. He was especially excited to participate in the St. David's Talent Night for several years. He got to wear Mickey Mouse clothes and dance to the music at the front of the church!  
He has spent much of his time welcoming people from the back of the church, but has also sat in the balcony, in the pews, in the choir loft and even in the pulpit. While aging gracefully, Gladly is often found relaxing on the landing of the stairs leading to the balcony.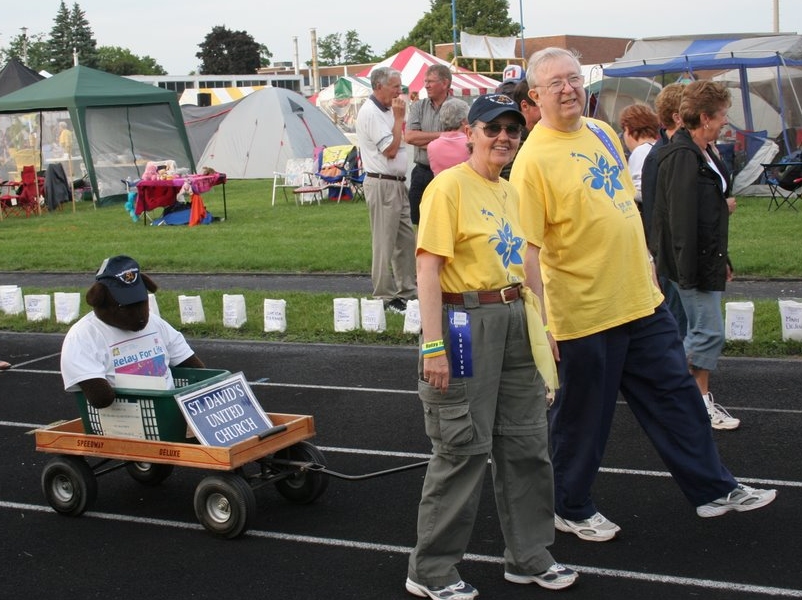 One of Gladly's proudest duties was to be our mascot at the annual "Relay for Life" event in Woodstock, which was part of our fight to eradicate cancer. Gladly would ride in style in a wagon pulled by St. David's folks as he walked lap after lap spreading smiles and good cheer to all the participants.
After 28 years, Gladly's life is a little quieter now. He looks back with fondness on his younger, more exciting years and now spends his time in a more leisurely environment, happy and contented with the time he has spent at St. David's.
Broadview is an award-winning progressive Christian magazine, featuring stories about spirituality, justice and ethical living. For more of our content, subscribe to the magazine today.