An otherwise-empty United Church retreat centre in southern Ontario has found a way to use its space for good — and keep its doors open — during the COVID-19 pandemic.  
Five Oaks in Paris, about 50 kilometres from Hamilton, is currently housing temporary foreign workers who have arrived to work on area farms but need to quarantine for 14 days, the centre said in a press release.
Executive Director Michael Shewburg said that along with supporting local farmers and giving workers a safe place to sleep, the move also improves Five Oaks's financial situation.  
"It's going to generate business and probably make it so that we're not actually going to have to close, which could have been a possibility for us, to be honest, but also, we're contributing directly to literally potatoes being on our plates in October, November, December," he said.
"It's a win-win for a lot of different people."
On Saturday, 40 workers from Mexico arrived at the facility. Five Oaks is also working with two other farms to offer housing into July, Shewburg said.
The retreat centre can normally sleep 160 people, but to abide by public health authorities' social distancing rules, accommodations have been split into 15 zones, with two to six people per zone. Each zone has outdoor space and is roped off with caution tape. 
Five Oaks staff bring workers food every day in sanitized coolers. Guests always have access to coffee and tea in their zones, and were given data cards for their cell phones. Only part of the property has Internet access, but staff will accompany individual workers to an area with good reception if they need it. 
Shewburg said Five Oaks had been set to lose $250,000 if the centre stayed closed from March 15 to Aug. 30. Six staff were laid off late last month and on-call workers were told they wouldn't be needed for the foreseeable future. Other staff also had hours reduced.  
"So that was heartbreaking for us, those of us that had worked really hard to bring Five Oaks back from where it was three years ago," he said.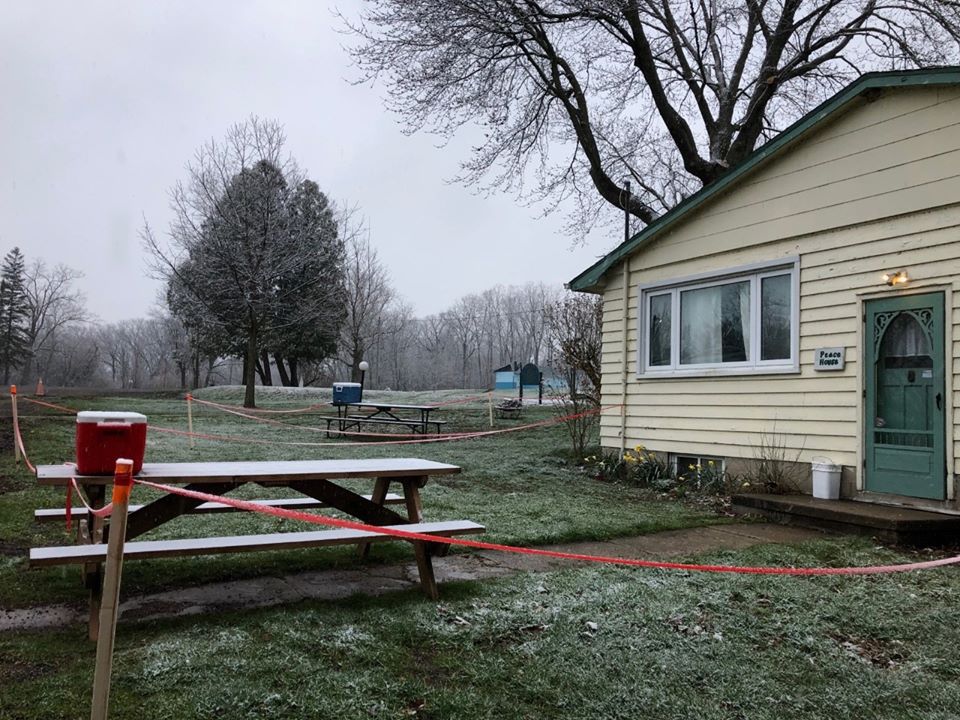 The retreat centre nearly closed in 2016, but a combination of new leadership and a new business plan revitalized it.
Five Oaks been preparing to lay off more staff during the pandemic, including Shewburg, but the partnerships with the farms halted those plans and allowed the centre to rehire some employees. 
Joe Richards, the executive director of Pearce Williams Camp in Fingal, Ont., about a 30-minute drive from London, said he visited Five Oaks on Wednesday to learn more about its arrangement and whether housing temporary foreign workers could be a solution for his camp, which is currently closed.
"If we could get it up and running, this could bring back the income we've lost and potentially generate the income we would lose from summer camp as well," he said.
He said plans are in the works to reach out to local farmers and health authorities.
"As long as we can get the plans in place and the relationships with farmers and provide the service, I think that it will bode well for the long-term viability. Because if we didn't have this option, the other option is just to close everything down," Richards said.
CORRECTION: A previous version of this story incorrectly stated that Five Oaks nearly went bankrupt in 2016. This version has been corrected. 
Broadview is an award-winning progressive Christian magazine, featuring stories about spirituality, justice and ethical living. For more of our content, subscribe to the magazine today.