If you find yourself in Port Rowan, Ont., on Lake Erie, take a moment as you're driving around the streets – or better yet, go for a walk – and note the many birdhouses on the utility poles. If you look carefully, you'll see some new additions to local birdhouse real estate in the form of replicas of the local churches. They are called bird churches and are the creation of Port Rowan local, Eric Harris.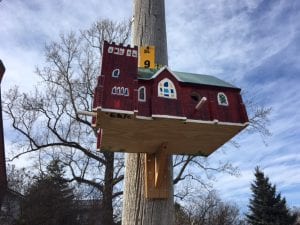 Eric, 21, lives with Down syndrome and uses limited verbal communication. So Eric's mom, Veronica Harris, shares insight into Eric's creative vision. "Eric has always loved everything about churches: being in them, the windows, the music, and all the friends you see there and visit with, the ceremonies and how he feels safe, happy and loved while there," said Veronica. "Oftentimes when we are travelling, he asks to go into churches. There is a draw to them that he senses and we enjoy his excitement if we do happen to be able to enter." Eric is a member at St. John's Anglican Church in Port Rowan and takes part in the services.
---
More on Broadview:
---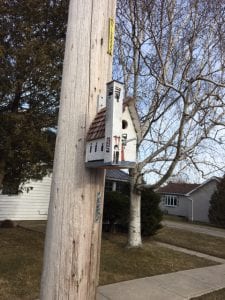 Eric first learned how to build birdhouses when working with next-door neighbour, Pat Scott, a few years ago, said Veronica. One day after, Eric mentioned the phrase 'bird church' when working with his dad in his shop. Soon, the first bird church was finished.
But the entrance for the birds was cut too big and medium-sized starlings moved in. "They renovated the next year and now only sparrows can fit," said Veronica. "Eric said 'perfect!' with the thumbs-up sign."
So far he's created four Port Rowan bird churches, inspired by photos taken by his dad and using those for sketches. Almost immediately, the sparrows moved into each house, and are now flitting in and out, actively building nests in anticipation of this year's new fledglings.
***
Wanda Kelly is a teacher of the gifted by trade, who lives in Port Rowan with her husband and almost-fledged children. She is an active member at Neal Memorial United, and participates in many other aspects of life in this wonderful little town, including contributing to the local volunteer run newspaper. When not otherwise engaged, Wanda can be found trail riding with her mare Wheezie, or coaching figure skating at the local arena.
---
We hope you found this Broadview article engaging. 
Our team is working hard to bring you more independent, award-winning journalism. But Broadview is a nonprofit and these are tough times for magazines. Please consider supporting our work. There are a number of ways to do so:
Subscribe to our magazine and you'll receive intelligent, timely stories and perspectives delivered to your home 8 times a year. 
Donate to our Friends Fund.
Give the gift of Broadview to someone special in your life and make a difference!
Thank you for being such wonderful readers.
Jocelyn Bell
Editor/Publisher