At 9 p.m. on Feb. 5, Mehmet Şahiner called his brother, frantic, after hearing that a devastating 7.8-magnitude earthquake had struck near Elbistan in Kahramanmaraş province in Turkiye — the city where Şahiner's family lived. Şahiner lives thousands of kilometres away in Kitchener, Ont.
On a call, Şahiner spoke to all of his family members, who told him that thousands of locals were in the streets, waiting for approval from local authorities that it was safe to return home. But Şahiner's sister and niece, Esra Sakalli, 54, and Selda, 20, told him they were tired of waiting and returned inside.
"We asked them, begged them actually, to leave the building," Şahiner said. However, Esra and her daughter had already been waiting for eight hours outside after the first earthquake. The temperature was -15 degrees Celsius. 
Then at 1:15 p.m. in Kahramanmaraş, a 7.5-magnitude earthquake swept across southeastern Turkiye and northwestern Syria. Şahiner was talking to his brother in Elbistan when the line went dead. Thousands of buildings collapsed, and Esra and Selda disappeared under the rubble.
"There was nobody to help because all people, rescue teams, were sent to other cities where the first earthquake happened," Şahiner explained.
For three days, Esra and Selda remained missing until a Spanish rescue team arrived and pulled them out. Esra's body had been crushed immediately when the building collapsed. She was still sitting on her sofa, assumed to have been watching TV when the devastation occurred. 
"You can say that [Esra] was my mother, she was my father," Şahiner said, adding that because of their 10-year age gap, Esra had taken care of him in childhood.
Emotionally impacted by the earthquake, Şahiner organized aid with the Turkish Culture & Folklore Society of Canada for victims impacted by the earthquake. But for now, Şahiner finds solace in mourning with other members of the Turkish community. 
---
Want to read more from Broadview? Consider subscribing to one of our newsletters.
---
Like Şahiner, Kitchener resident Fethullah Güneş also spent days in uncertainty after hearing about the earthquake from his relatives back home. 
His aunt's family remained missing under the rubble for three days in Adiyaman. 
"The government could not provide enough support and the help came too late," Güneş said.
When the family was finally found, Güneş's aunt had a broken spine and her 14-year-old daughter was suffering from hypothermia. They were immediately sent to the hospital. But Güneş' uncle, Hasan Murat, 40, and Güneş's aunt and uncle's one-year-old baby, Elif Murat, died.
"It's a very sad situation, but many of our friends from the Turkish community here supported us in the process," Güneş said.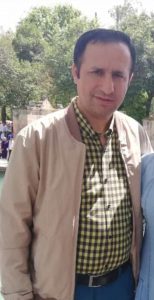 Çumali and Neşe Yilidirim, who also live in Kitchener, learned about the earthquake from Çumali's brother, Taner Yilidirim. Taner had felt the impact of both earthquakes in the city of Adana in Adana province, but he and his family remain unharmed. They quickly relocated to Çumali's walnut farm in the rural region of Adana.
The couple consider themselves lucky that all their family members in Turkiye are safe. 
Neşe shook her head when thinking about what others lost. "Imagine that you are outside but all your family members are under the building…" she said. 
"… And they are talking to you, you are hearing their voices," Çumali said, referring to the victims' cries for help.
Çumali criticizes President Recep Tayyip Erdoğan's government for what he sees as a delayed response to the earthquake. Many people said that it took days before they received governmental help to find their loved ones. 
"Turkish people are asking, 'Why army didn't come to help us at first day?'" 
When visiting families in mourning, Neşe discovered that some families lost as many as 10 or 24 relatives at once and only heard about their loved ones' demise days later through distant phone calls or the news.
Two weeks later, another 6.4-magnitude earthquake hit the Turkish-Syrian border followed by a 5.8 tremor minutes afterwards. Authorities in Turkiye are expecting more earthquakes, but locals are concerned that the government may not have enough supplies or manpower to support families in the aftermath of future disasters.
With crushed buildings, cracked highways and belongings strewn all over the ground, southeastern Turkiye now resembles a war zone.
When asked what it's like to mourn the loss of family members with thousands of kilometres separating Şahiner from his now-displaced parents in Turkiye, he responded, "It's not easy. But we have to. There's no way out."
***
Arfa Rana is a Pakistani-Canadian journalist based in Kitchener-Waterloo, Ont.
---
We hope you found this Broadview article engaging. 
Our team is working hard to bring you more independent, award-winning journalism. But Broadview is a nonprofit and these are tough times for magazines. Please consider supporting our work. There are a number of ways to do so:
Subscribe to our magazine and you'll receive intelligent, timely stories and perspectives delivered to your home 8 times a year. 
Donate to our Friends Fund.
Give the gift of Broadview to someone special in your life and make a difference!
Thank you for being such wonderful readers.
Jocelyn Bell
Editor/Publisher