Protesters are appearing at family-friendly drag events across Canada, but supporters aren't fazed. 
A handful of people showed up to an all-ages, Halloween-themed drag show fundraiser at Trinity United in Gravenhurst, Ont., on Saturday, to oppose what they thought was an inappropriate event for children.
Muskoka Pride put on the Hallow-Queen and Pump-King Spooktacular, which raised money and collected food donations for Gravenhurst Against Poverty. Members of Muskoka Drag Royalty performed a variety of numbers, including some classic Halloween songs, for an audience of about 35 or 40 people.
Rev. Jane Sullivan, a United Church minister whose 22-year-old, Phoenix, performed in the show, said tunes included the "Time Warp" from The Rocky Horror Picture Show and "Day-O" from Beetlejuice. She said it was "almost like a cartoon show for kids."
"And one of the kids was dressed as a banana," Sullivan said. "So it couldn't have been more perfect. And so Phoenix was able to dance up to this little banana and say, 'six foot, seven foot, eight foot bunch,' and then tapped him on the top of the costume. And it was really adorable."
Shawn Forth, who handles public relations for Muskoka Pride and organized the event, said that the five or six protesters who showed up outside the church made themselves known. 
---
Interested in more stories like this? Subscribe to Broadview's weekly newsletter.
---
"Two of them had bullhorns," he said. "They were all very loud with their voices. They were harassing people walking by on the streets, they're directing some extremely negative homophobic, transphobic comments towards the church or anyone approaching the church."
Ontario Provincial Police arrested at least one of the protesters, who livestreamed her arrest along with her presence outside the church. (A warning: You may find some of the language in the linked video upsetting.)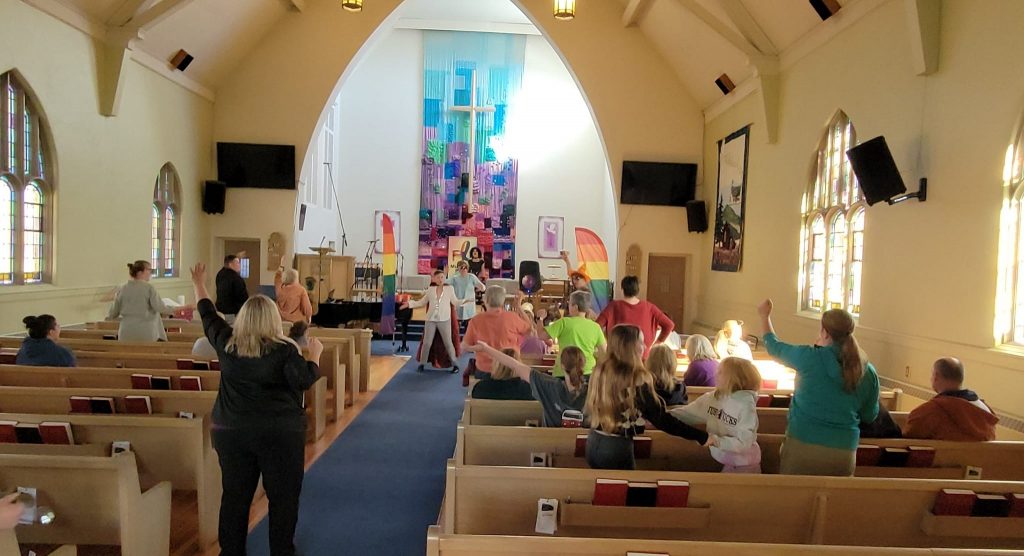 Sullivan said she thinks the protest unnerved some attendees.
"A couple of kids that came in looked actually frightened, like their little faces were just awash with agony," she said. "And another young woman, who I figure is probably in her early 20s, came in. And she was crying because, she said to us, 'I can't believe that these people are in my town of Gravenhurst.'"
About 40 protesters also showed up to a drag queen storytime event at a Winnipeg coffee shop on Saturday, but were outnumbered by nearly 200 others who came to show their support for the event, CBC News reported. The coffee shop's owner had received threatening messages before the event. 
---
More on Broadview:
---
And earlier in October, a large group of people, including some United Church members, came out to Reading With Royalty, a drag queen story hour in Saskatoon, to show support, while a smaller group protested the event, according to CKOM News.
Forth, who is an elementary school teacher, resents the accusation that drag performances geared towards children are predatory.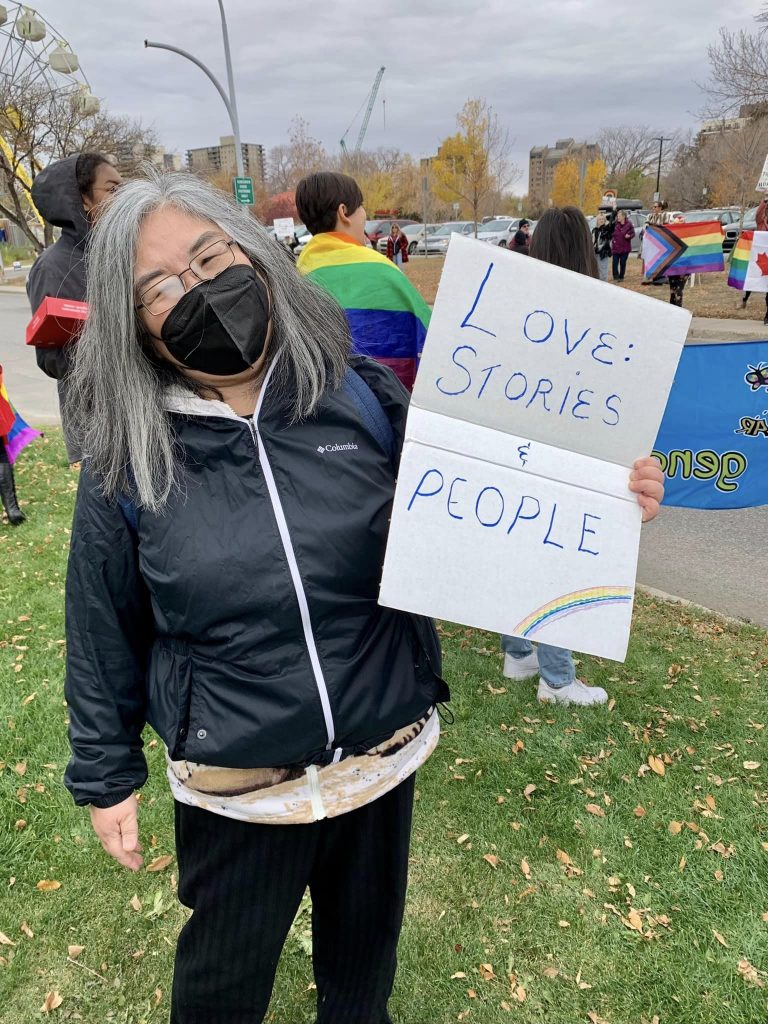 "It bothers me as a professional that grooming behaviours are real things that should not be happening, and it's something that professionals who work with children and volunteers who work with children should be watching for, but these accusations are so unfounded," he said. 
But he noted he was glad to see that when a few negative comments about the event were posted on Facebook, 30 to 40 others responded to call it out.
"So a lot of people [were] saying, 'I want to bring my kids to this.' I think some of them may have been scared off by [the] protest," he said. "So it reminds me that the small minority who are extremely loud really can be drowned out by the larger community."
***
Emma Prestwich is Broadview's digital editor.
---
We hope you found this Broadview article engaging. 
Our team is working hard to bring you more independent, award-winning journalism. But Broadview is a nonprofit and these are tough times for magazines. Please consider supporting our work. There are a number of ways to do so:
Subscribe to our magazine and you'll receive intelligent, timely stories and perspectives delivered to your home 8 times a year. 
Donate to our Friends Fund.
Give the gift of Broadview to someone special in your life and make a difference!
Thank you for being such wonderful readers.
Jocelyn Bell
Editor/Publisher