Vera Maloff remembers a painting from her childhood: men throw guns into a raging bonfire ringed by community members singing prayers. The scene commemorates a day in June 1895 when the Russian Doukhobors burned their weapons, renouncing war and compulsory service in the czar's army. Persecuted by the Russian government for their devout pacifism, over 8,000 Doukhobors migrated from Russia to Canada in 1899, settling in what is now known as Saskatchewan. They hoped Canada would be a safe haven for them; for many, it was not.
It didn't take long for the majority of Doukhobors to lose their land in Saskatchewan. They wanted to live communally, but the Canadian government insisted on individual ownership of homesteads. When it cancelled their land rights in 1907, thousands moved west to British Columbia, and this is where Maloff grew up, on the sunny side of the Kootenay River in Thrums, B.C.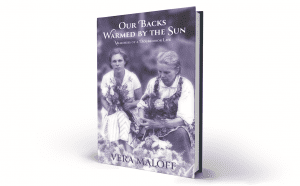 In Our Backs Warmed by the Sun: Memories of a Doukhobor Life, Maloff explores her family's history, focusing especially on her grandfather Peter ("Pete") Maloff, who was active in the peace movement. Through manuscripts, newspaper articles and interviews with loved ones, she retraces her grandfather's life, showing readers what it felt like to stand up for your values when it was the least convenient thing to do.
Pete Maloff fiercely believed that all people were created equal, regardless of race or status. Like many Doukhobors, he protested against funding wars with taxpayers' money, abstained from alcohol and drugs, and was a vegetarian. Doukhobors also embraced the belief that God lives within each one of us, rejecting the institutional church and clergy.
Initially, Pete was sympathetic to the Sons of Freedom, a radical Doukhobor sect known for nude protests. "If you will take everything from us, and do not let us live by our beliefs, then take our clothes also," they argued. (When he later objected to their campaign of bombings and burnings, he became the victim of arson himself.)
In 1929 and again in 1932, Pete was sent to Oakalla Prison near Burnaby, B.C., for leading protests. His wife and her parents were sentenced to three years for public indecency in 1932 and imprisoned in Piers Island, B.C.
---
More on Broadview:
---
Pete's children also faced repercussions. The author's elderly mother, Leeza (a loving Russian nickname for Elizabeth), recalls with poignant details the pain and loneliness she felt at the B.C. Industrial School for Girls in Vancouver in 1932 while her parents were in prison. She was one of 350 Doukhobor children who were displaced in orphanages, institutions and foster homes for a year. (Another wave of family separations happened in the 1950s, when the children of the Sons of Freedom were forced to attend residential school in New Denver, B.C.)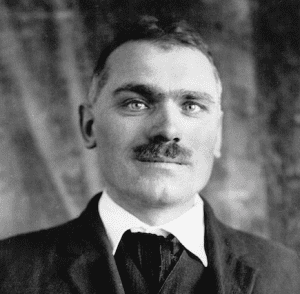 In 1940, Pete Maloff did more jail time for refusing to register for the Second World War. The penalty for non-registration was three months in prison, but he was sentenced to several terms; after a release, he'd be out for a week before police would arrest and jail him again. He was beaten by a warden. Finally, he was sent to Blewett, B.C., on house arrest for three years, far from his family and community.
Despite imprisonment, Pete Maloff never failed to honour his pacifist beliefs. Addressing the Rotary Club in Trail, B.C., during the global volatility of 1968, he asked: "Do we think to overcome this worldwide crisis by using the same old outworn methods: bigger armies, navies, air force, hydrogen bombs, poison gases and all our other confused values? I myself doubt it. I stand for creative intelligence which is distinctly distilled in the unchanging truth of that one cosmic law: 'Thou Shalt Not Kill.'"
Vera Maloff is proud of her grandfather's legacy in Canada. "Perhaps here, as Doukhobor peace seekers, we have contributed toward our communities," she writes. "Pete Maloff strove to make a difference." Her memoir will inspire hope for a world where we can all choose peace.
***
This review first appeared in Broadview's November 2020 issue with the title "Thou shalt not kill."
Albina Retyunskikh is a writer based in Montreal.
---
We hope you found this Broadview article engaging. 
Our team is working hard to bring you more independent, award-winning journalism. But Broadview is a nonprofit and these are tough times for magazines. Please consider supporting our work. There are a number of ways to do so:
Subscribe to our magazine and you'll receive intelligent, timely stories and perspectives delivered to your home 10 times a year. 
Donate to our Friends Fund.
Give the gift of Broadview to someone special in your life and make a difference!
Thank you for being such wonderful readers.
Jocelyn Bell
Editor/Publisher