This story was published by Religion News Service with permission from Religion Unplugged on Aug. 7, 2020.
(Religion Unplugged) — As the clock struck midnight on Aug. 4 of last year, India's disputed autonomous region of Kashmir found itself snapped out of the world: Kashmiris woke up to no phones and no internet. Not even landlines worked. Almost all major leaders across the mainstream-separatist divide — including the three former chief ministers Farooq Abdullah, his son Omar Abdullah and Mehbooba Mufti — had been detained. The arrestees included political activists, youth (among them 956 former "stone-pelters") and even business leaders. Many of them were shifted to major jails across India.
When on the following day, India's home minister, Amit Shah, announced the repeal of Article 370 of the Constitution in parliament and bifurcated J&K into two union territories — J&K and Ladakh — Kashmiris, disconnected from one another, could only react to it in disbelief. Their ability to organize had been broken. There was no leader still active on the scene, no functional political or social organization that could do this. And even if there were, they wouldn't be able to communicate: for example, the militant leaders who would use social media to convey their messages.
A year on, Kashmir remains as anxious and uncertain as last August. Apart from a brief partial relaxation in between, the Kashmir Valley has been under an uninterrupted lockdown — one in the wake of the Aug. 5 decision, followed by the one occasioned by COVID-19. This has wreaked havoc with the economy and education. The valley's economic loss has been estimated at over 500 billion rupees.
On the ground, it has meant a loss of hundreds of thousands of jobs. Sectors like tourism, information technology, transport, horticulture, or even ordinary retailers, have been hit hard. And there is little hope that the situation is going to improve any time soon.
But considering the continuing devastating political fallout of the Aug. 5 move, a moribund economy is the least of the region's worries. Many political and civil society leaders continue to be under detention. All kinds of protests remain strictly barred.
Last November, about two dozen women who tried to hold one such protest a month earlier were hauled off to a lock-up and released only after signing a bond that they wouldn't do so again.
Kashmir still has nothing remotely resembling a working political and social organization — other than a few new ones believed to have been forged by New Delhi — that can either articulate the sentiment of their people or formulate a response to the current crisis. And there is little hope that things will change. New Delhi remains nervous about an organized mass resistance to the revocation of Article 370 and is unlikely to allow normal political and civil society activity any time soon.
In fact, in recent months, the central government has embarked on far-reaching measures that seek to remake Kashmir. On April 1, New Delhi issued new domicile rules for Kashmir that have thrown Kashmir open for settlement by outsiders. According to the rules, anyone who has been a resident of Kashmir for 15 years will get residency rights. For government officials, the period is 10 years, and for students, it is just seven years.
People can apply for these certificates online, and the official charged with granting the document has to do so within a fortnight or else be fined 50,000 rupees (roughly $675 USD). This leaves little space for investigation of the applications.
This has been followed by the Control of Buildings Operations Act and the Development Act, under which any area can be designated as a "strategic area," where the Indian Army will be allowed to carry out unhindered construction and related activities. The army can now acquire land in the former state without a "no objection certificate." This gives the military carte blanche to take over any area.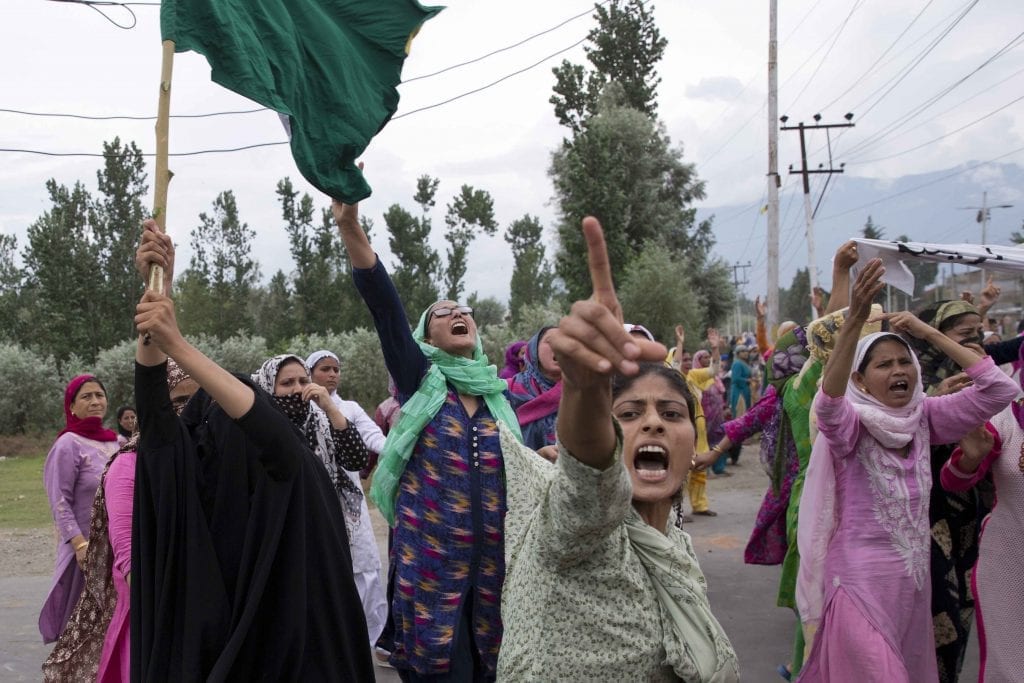 Where does Kashmir go from here? The answer for the near term seems to be nowhere.
Despite bringing to bear all its might on the region, New Delhi seems nowhere near pacifying Kashmir, the alleged grand point of the withdrawal of Article 370. Violence has only spiked. According to South Asia Terrorism Portal, this year so far, 205 people have lost their lives, including 155 militants, 34 security personnel and 17 civilians. Though the public protests and stone pelting have momentarily disappeared, this is due more to the all-encompassing lockdown and the arrests of leaders, activists and potential protesters than to any reconciliation or sense of resignation among the people.
The reality is that since the loss of its autonomy, Kashmir is more alienated from New Delhi than ever. This is why the space for pro-India politics has drastically shrunk; one indicator of it was the massive online backlash to the former J&K Chief Minister Omar Abdullah's recent interview with a national daily, in which he was perceived to be demanding the restoration of statehood, overlooking the loss of the region's autonomy.
Another indicator of this is the endemic support for China's recent incursions in Ladakh, something Kashmiris assume might help dissuade or delay New Delhi's pursuit of its alleged ideological designs in their region.
It's difficult to tell what form this alienation will take as New Delhi goes about easing the lockdown. But it's clear that the issue is no longer about the loss of autonomy in a literal sense; it has now taken on a larger figurative dimension: It is also about betrayal of trust, political disempowerment and a deep sense of humiliation.
(Riyaz Wani, a freelance journalist in Kashmir, is a recipient of the Ramnath Goenka Award in 2015 and received a Certificate of Honor at the 2014 Red Ink Awards in India. This story appears by permission from Religion Unplugged. The views expressed in this commentary do not necessarily reflect those of Religion News Service.)