CAMBRIDGE, Mass. (RNS) — Around the world, Holi is known as Hinduism's festival of colors, a joyful celebration of spring in which people dress in white and take to the streets to shower one another in colourful powders.
But on Thursday evening (March 5) in Harvard Yard, when students arrived at the steps of Memorial Church to mark the festival, they were dressed in black, shouting "Azaadi!" — freedom — while holding slogans such as "No one is illegal," "Boycott NRC," and "Stop genocide in India!"
The event is part of a nationwide campaign called Holi Against Hindutva, held in solidarity with anti-government protesters in India and organized at 21 U.S. university campuses including Yale, Columbia, Cornell, Princeton, Wellesley, Michigan State, Duke and Rutgers.
"The power of Holi is that it is a festival of colours, celebrating unity and diversity," explained Vedant Bahl, who serves as the Harvard co-ordinator for the new national group Students Against Hindutva, which arranged the campaign.
"Unfortunately, it can't retain those elements anymore, at a time when those very notions of unity and diversity have been stripped away by the Indian government's recent actions," Bahl said.
Founded late last year, Students Against Hindutva is led by Shreeya Singh, a junior at Yale University. Last month, the group published an open letter to Congress urging sanctions against Indian government officials, signed by 44 South Asian, Muslim, Sikh and Democratic student groups at a slew of prominent universities.
The campaign is pushing for the repeal of the Citizenship Amendment Act, which would grant fast-tracked citizenship to non-Muslim refugees from neighbouring Muslim-majority countries, and for the end of a planned National Register of Citizens, which would require Indians to provide paperwork to prove their legal citizenship and has left nearly two million people at risk of detention or deportation in the state of Assam.
"We stand in solidarity with those who have faced the brunt of horrific state brutality and police violence, particularly the student protesters at Jamia and Aligarh Muslim University," the letter states. "… as those in the diaspora or those who may be unaffected by the implications of the NRC and CAA, we believe that it is our responsibility to stand behind those who are fighting for secularism and democracy."
The new policies rolled out under Prime Minister Narendra Modi have drawn international condemnation, including from the U.S. Commission on International Religious Freedom, the UN High Commissioner for Human Rights and three U.S. cities, including Cambridge. Critics have accused the country's Hindu nationalist administration of discriminating against and disenfranchising Muslims and other vulnerable minorities.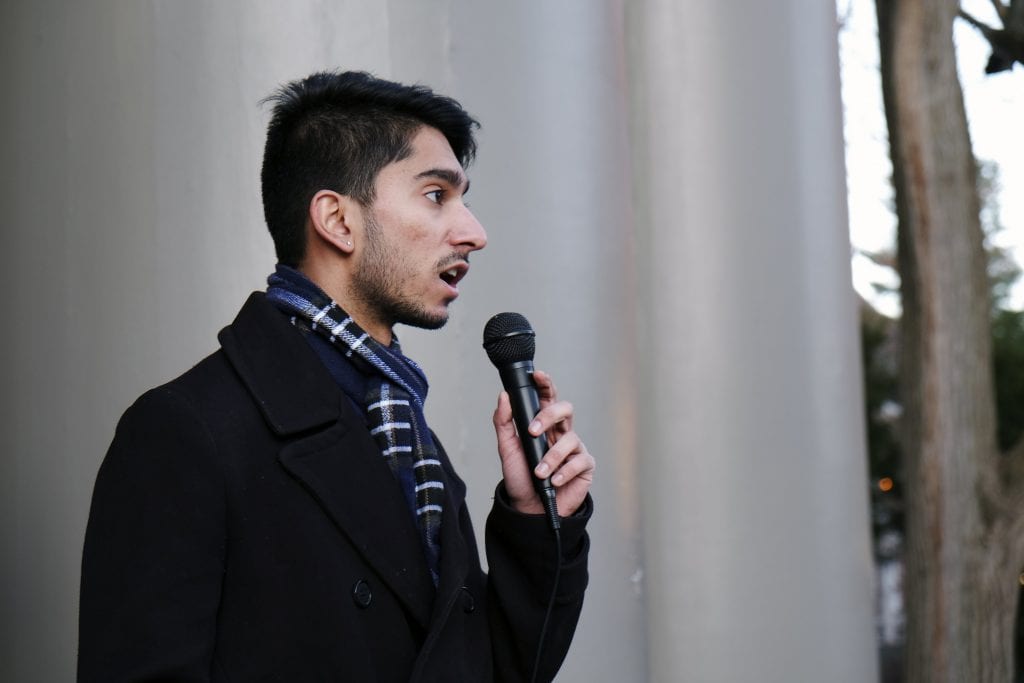 Last week, historic and mostly peaceful protests against the CAA transformed into brutal communal violence in the country's capital of New Delhi, leaving close to 50 people dead and local Muslims' homes and mosques burned.
So if the event at Harvard didn't look or sound like Holi, that's because it doesn't feel like Holi for many Indians, Bahl said.
And, he argued, it's Hindutva — the Hindu nationalist ideology espoused by the governing Bharatiya Janata Party — that is to blame for draining the colours from Holi.
"The celebrations won't be the same in India this year," said Bahl, a senior majoring in economics. "The festival that previously brought together Hindus, Muslims, Christians and people from all castes and backgrounds — or at least was imagined to be such — is not going to be that in these months of communal hatred and open polarization. We are reclaiming Holi from the forces of Hindutva that have broken it down."
When speaker Ajay Singh, a member of the Harvard Ethnic Studies Coalition, first spoke to his family about Hindutva and Modi's policies, his father asked him why he cared.
"He said, 'You go to Harvard, you're in the U.S., and I came to America so you wouldn't have to care about any of this,'" Ajay Singh remembered. "It is our privilege to hear about all this on the news and learn about this in our history classrooms and then walk out and go to lunch … But we cannot take that knowledge and think of it as isolated."
South Asian students at elite American universities have a duty to use their privilege to speak up on behalf of everyone who cannot, he said, and push their own friends and family to understand how damaging nationalist ideology is.
By building a network of organizers among young college students, organizers explained, they hope to rebuild the long legacy of activism among South Asian Americans that they say has become diluted due to increasing upper-class, upper-caste migration.
"We are reclaiming Holi from the forces of Hindutva that have broken it down."
"We are using our unique position as Indian students at these institutions with world-renowned brand names to show that we are not apolitical, and we're waking the world up to the situation in India," Bahl said. "The aim is to use this platform to show to the Modi government that they will not be successful in sanitizing their image and in hiding behind these media portrayals of India as this land of yoga, peace and tranquility."
Students Against Hindutva organizers held their demonstration nearly a week before the actual festival, which will happen March 10, to underscore that they are not protesting Holi but rather the discriminatory policies that Hindu nationalist ideology has produced.
Still, the event has been criticized by some Hindu and Indian groups as "Hindu-phobic" and flouting the sanctity of a Hindu religious festival. The Hindu American Foundation's director, Suhag Shukla, has called the campaign an "anti-Hindu project" that demeans religious traditions by "importing caste wars onto our college campuses."
A coalition of over 50 Hindu student and community organizations countered the events with a Holi for Unity campaign that explicitly denounces "intentional misuse of Holi and its traditions" as "fueling Hinduphobia." The social media hashtag #SpareHinduFestivals filled up with condemnations of the universities whose students joined the Holi Against Hindutva.
But some progressive Hindu groups have come out in support of using Holi to protest Hindutva. New York City's Sadhana said that speaking up against injustice in such a way is part of Hinduism's core teaching and hosted its own Holi satsangh during which they prayed for those who died in Delhi. The U.S.-based organization Hindus for Human Rights applauded the group's "creative use of Holi to subvert the bigoted and anti-Hindu agenda" of Modi's party.