While churches, synagogues and mosques shut their doors in March in response to COVID-19, they still bring support and fun to their communities. Here are 10 examples:
---
Belleville, Ont.
Priests found a way to deliver the sacrament while social distancing: drive-thru confessions. A priest sits at an open rectory window two metres away from parishioners who drive up and confess from their cars. "The church has always been inventive," Rev. Richard Whalen told CTV's Your Morning. "We've been on battlefields and in prisons and in hospitals — everywhere to offer the sacraments."
Vancouver
Rabbi Andrew Rosenblatt hosts daily digital Torah studies through videoconferencing. He also hosts a weekly video session to mark the end of Sabbath.
Beulah United Church
Ayer's Cliff, Que.
The church has opened an outdoor food bank on the front steps, featuring two small fridges and a cabinet for people to leave what they could or take what they needed. In an interview with The Record, congregant Dean Young, who launched the project after his wife, Sue, came up with the idea, said: "People in isolation can't go to the stores, but an outdoor food bank is the ideal thing."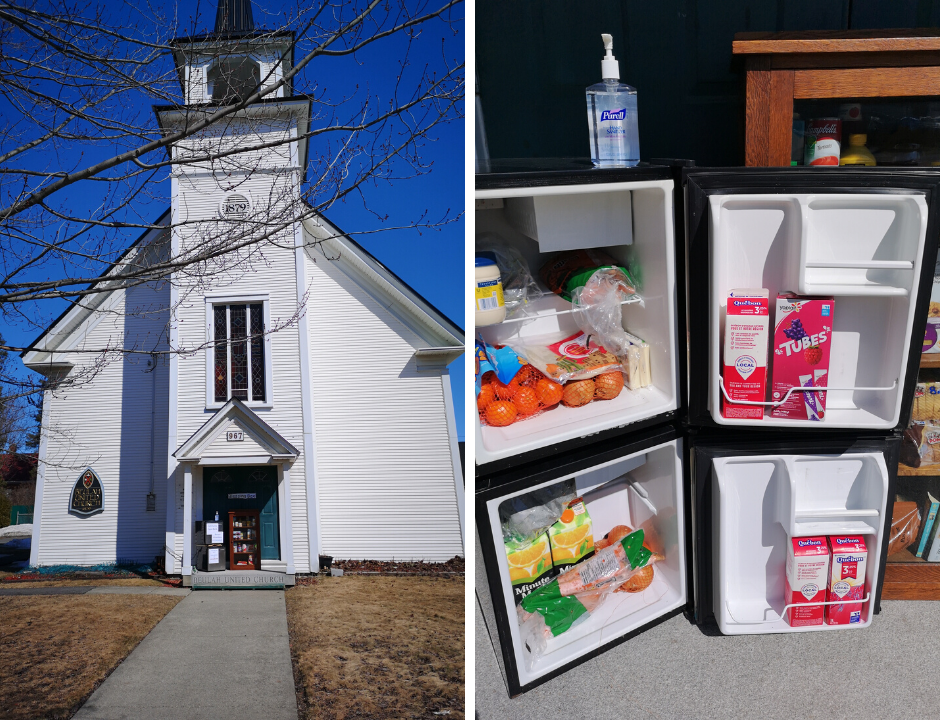 Mississauga, Ont.
The mosque was already digitally streaming live prayers on Fridays before the pandemic hit, so it continues to do so. Respecting physical distancing guidelines, a small group also continues the scheduled daily prayers from the building. "In our tradition, a mosque is called a mosque so long as prayer is held in it," Imam Hamid Slimi told The Canadian Press. "So I'm ensuring, myself and my assistant, that every prayer is prayed."
Calgary
Rev. Anna Greenwood-Lee posts daily two-minute video sermons to Twitter with topics ranging from affordable housing to struggles with belief. She also has guest ministers of all types speaking from their own spaces. She told the Globe and Mail that preaching into a cell phone wasn't easy at first, but she persisted in order to offer comfort.
With so many losing work and income due to COVID today's sermon is about your net worth. St. Laurence (died 257) taught us something about that. pic.twitter.com/zC6yZZuNId

— Anna Greenwood-Lee (@AnnaGreenwoodL1) April 30, 2020
Summerside, P.E.I.
Gwyn Richards, the program co-ordinator for children and youth, started a community-wide heart hunt. People post homemade hearts in their windows and then try to find as many hearts across the city as possible. Richards told the Guardian that this was a way for people to stay connected while social distancing.
Wellington, Ont.
Volunteers created the Wellington Help Line at the church. County residents can call in for help with anything from rides to the grocery store to donations of money or food. "Neighbours are helping neighbours, which is a good thing, so we are here in the event someone doesn't have a neighbour they can turn to," the Help Line's team lead, Barry Davidson, told the Intelligencer.
Multiple churches
Montreal
Church bells across the city rang out for 10 minutes every Sunday at noon leading up to Easter as a symbol of solidarity for those feeling isolated and to applaud frontline workers.
Toronto
The church's youth group launched a virtual kids' camp. Teens host an hour of storytelling, special guests, crafts and games on Zoom. They also hold virtual drop-ins for teens.
Halifax
The church was already posting weekly podcasts to their website, but as health restrictions increased, it made the move to weekly video livestreams. The videos reached over 2,000 people across Canada in a single week. "As a church, we really feel like the motive never changes, but the method can," Pastor Mike Miller told The Canadian Press.
Broadview is an award-winning progressive Christian magazine, featuring stories about spirituality, justice and ethical living. For more of our content, subscribe to the magazine today.