Food is a central part of the holidays for so many of us. So is nostalgia. This is often the time when we pull out our tried-and-true recipes, either dishes we've made many times beforehand or those that our parents or grandparents lovingly prepared for us as kids. 
At Broadview, we wanted to share the Christmas recipes that we and our families have been making for, in some cases, decades. We hope you enjoy them and please share some of your own in the comments.
---
Christmas Crack
The main Christmas food tradition we have in our house is something I don't actually bake! Every year, a lovely friend of ours gifts us a box of my kids' favourite treats… Christmas Crack (it's called crack because you can't stop eating it). I don't have her recipe (it's her gift to us after all), but this Betty Crocker recipe is the closest I can come up with.
— Kristy Woudstra, Features Editor and Digital Strategist
Christmas Crack
40 Ritz crackers

1 cup butter

1 cup sugar

1/2 tsp. salt

1 tsp. vanilla

1 bag milk chocolate chips

Sea salt for sprinkling on top
Directions:
Preheat oven to 350F. Line a bar pan with foil and spray foil with cooking spray.

Place crackers in a single layer at the bottom of the pan.

In a saucepan, combine butter, sugar and salt over medium heat until butter melts. Stir frequently.

Heat to boiling, stirring constantly. 

Boil 7 to 9 minutes, stirring constantly, until light brown in colour. Remove from heat. 

Stir in vanilla. Pour mixture evenly over crackers. Spread to cover.

Bake in preheated oven for 13 to 15 minutes or until bubbly and brown in colour. Remove from oven. 

Sprinkle chocolate chips over cracker mixture. Let stand for 5 minutes. Spread chocolate evenly. 

Sprinkle sparingly with sea salt (or any other topping you like, such as candy sprinkles, toffee bits or nuts). Cool completely (about 2 hours). Break into pieces. 
---
Viennese Crescents
My mother makes a variety of cookies for the holidays, but these delicate, buttery crescents dusted in icing sugar are the family favourite.
— Caley Moore, Managing Editor, Print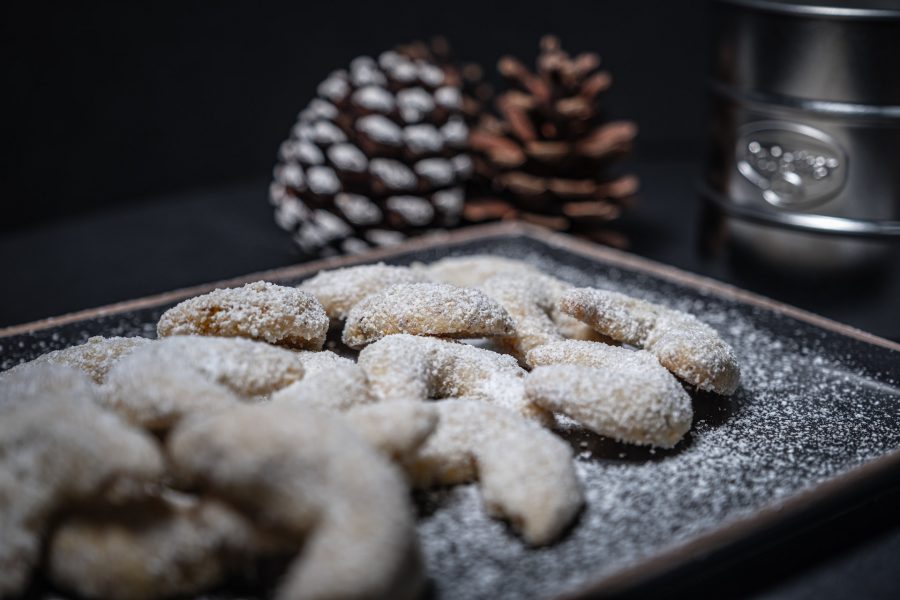 Viennese Crescents
1 cup butter                 

1/4 cup sugar

1 tsp. vanilla  

2 cups flour  

1 cup ground almonds                             

Icing sugar
Directions:
Mix butter and sugar, then add vanilla. Add flour and ground almonds and mix.
Shape dough into crescents. Roll crescents in icing sugar and bake at 325 F for 35 minutes. Cool and roll again in icing sugar.
---
Pea Soup
On Christmas Eve, my family enjoys French-Canadian food: pea soup, tourtiere and buche de noel. This is a way of celebrating our family's French-Canadian heritage.
— Trisha Elliott, Director of Development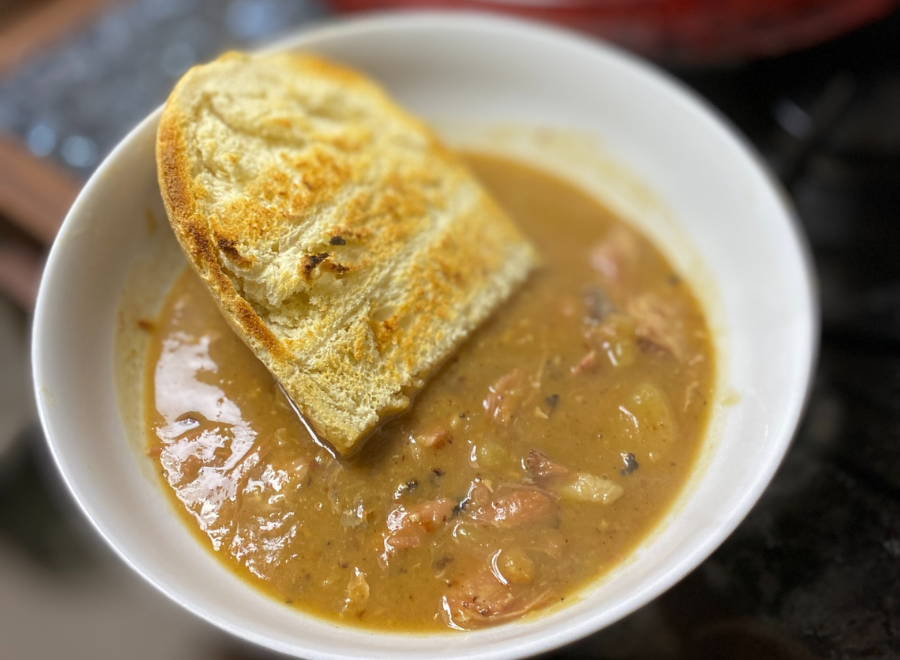 Pea Soup
2 cups of dried yellow peas

8 cups water

1⁄2 pound ham bone

1 onion, chopped

1⁄2 cup celery, chopped

1⁄3 cup carrot, diced finely

1 tsp. dried savory and thyme

Bay leaf

Salt and pepper
Directions:
Wash and sort peas and put them in water, bring the water to a boil and then remove it from the heat and let it sit for an hour.
Add ham, onion, celery, carrots, savory and 1 tsp. salt. Bring to a boil; reduce heat and simmer until peas are soft, about 2 or so hours. Fish out the bay leaf.
Sometimes I puree half the soup to make it more creamy.
Season to taste with salt and pepper.
---
Cinnamon Buns
My Grandpa's cinnamon buns, taken from a recipe from Canadian Living, March 1991.
Every Christmas, my grandfather, Jim Walker, would make these cinnamon buns, which we would enjoy Christmas morning —  with a mimosa when us "kids" became adults. After he died, I took up the challenge, and have been making these buns for my family every Christmas for almost 15 years. My grandmother, his wife, insists mine are better than his, but I don't believe her. I just need a few more years of practice and then maybe mine will come close to how delicious his buns were.
— Chloe Tejada, Digital Marketing and Social Media Editor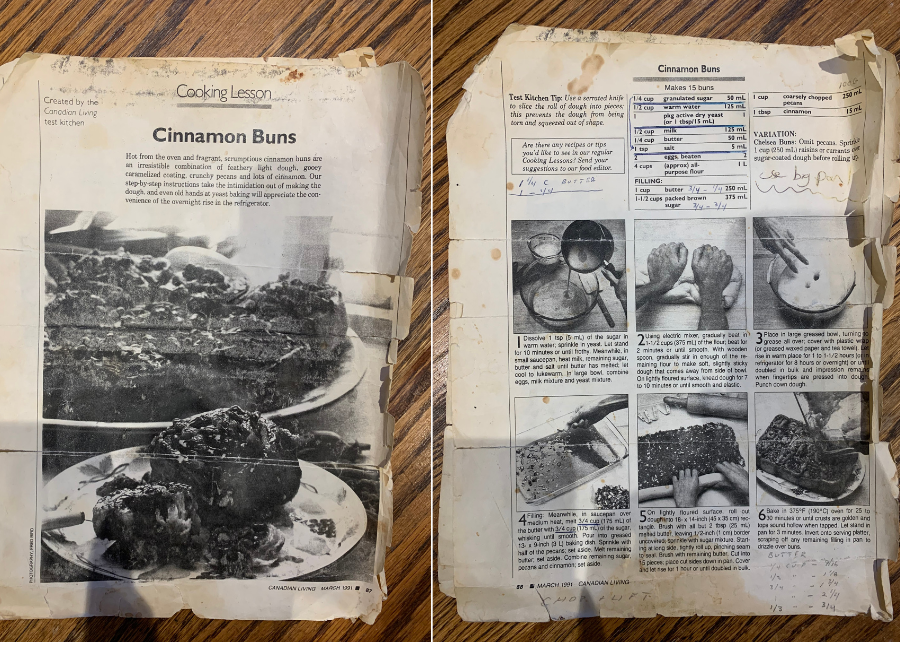 Cinnamon Buns
Ingredients:
Buns:
1/4 cup granulated sugar

1/2 cup warm water

1 package active dry yeast (or 1 tbsp.)

1/2 cup milk

1/4 cup butter

1 tsp. salt

2 eggs, beaten

4 cups all-purpose flour
Filling:
1 cup butter

1 -1/2 cups packed brown sugar

1 cup coarsely chopped pecans

1 tbsp. cinnamon
Directions:
Dissolve 1 tsp. of the granulated sugar in warm water; sprinkle in yeast. Let stand for 10 minutes or until frothy. Meanwhile, in a small saucepan, heat milk, remaining sugar, butter and salt until butter has melted; let cool to lukewarm. In a large bowl, combine eggs, milk mixture and yeast mixture.

Using an electric mixer, gradually beat in 1-1/2 cups of the flour; beat for 2 minutes or until smooth. With a wooden spoon, gradually stir in enough of the remaining flour to make soft, slightly sticky dough that comes away from the side of the bowl. On a lightly floured surface, knead dough for 7 to 10 minutes or until smooth and elastic.

Place in a large greased bowl, turning to grease all over; cover with plastic wrap (or greased waxed paper and tea towel). Let rise in a warm place for 1 to 1-1/2 hours (or in a fridge for 8 hours or overnight) or until doubled in bulk and impression remains when fingertips are pressed into dough. Punch down dough.

Filling: Meanwhile, in a saucepan over medium heat, melt 3/4 cup of the butter with 3/4 cup of the brown sugar, whisking until smooth. Pour into greased 13- x 9-inch baking dish. Sprinkle with half of the pecans; set aside. Melt remaining butter; set aside. Combine remaining brown sugar, pecans and cinnamon; set aside.

On a lightly floured surface, roll out the dough into 18- x 14-inch rectangle. Brush with all but 2 tbsp. melted butter, leaving 1/2 inch border uncovered; sprinkle with sugar mixture. Starting at long side, tightly roll up, pinching seam to seal. Brush with remaining butter. Cut into 15 pieces; place cut sides down in pan. Cover and let rise for 1 hour or until doubled in bulk.

Bake in 375F (190C) oven for 25 to 30 minutes or until crusts are golden and tops sound hollow when tapped. Let stand in pan for 3 minutes. Invert onto serving platter, scraping off any remaining filling in pan to drizzle over buns.
---
Shortbread
I know a lot of people think they make the best shortbread ever, but that's not true. My grandmother did.
I have many memories of making this recipe as a child. I remember how I'd be coaxed to gently work the dough in my hands and firmly press it into the pan. Then I'd get to prick it all over with a fork — our way of turning this humble but delicious treat into something fancy. From a young age, we kids would cover the shortbread in red and green coloured sugar to make it festive. And when I say cover, I mean cover. I think our mother eventually had to hide the little shakers.
The trick to getting this recipe right is in the kneading. As my mother explains, when we work it with our hands — warming up the butter and mixing it better — it makes the shortbread taste better. For me, the memory of the women in my family before me using their hands to create this treat also magically sweetens the flavour. Memory and hands commingle with the mere four ingredients and out comes something that melts in my mouth.
— Julie McGonegal, Associate Editor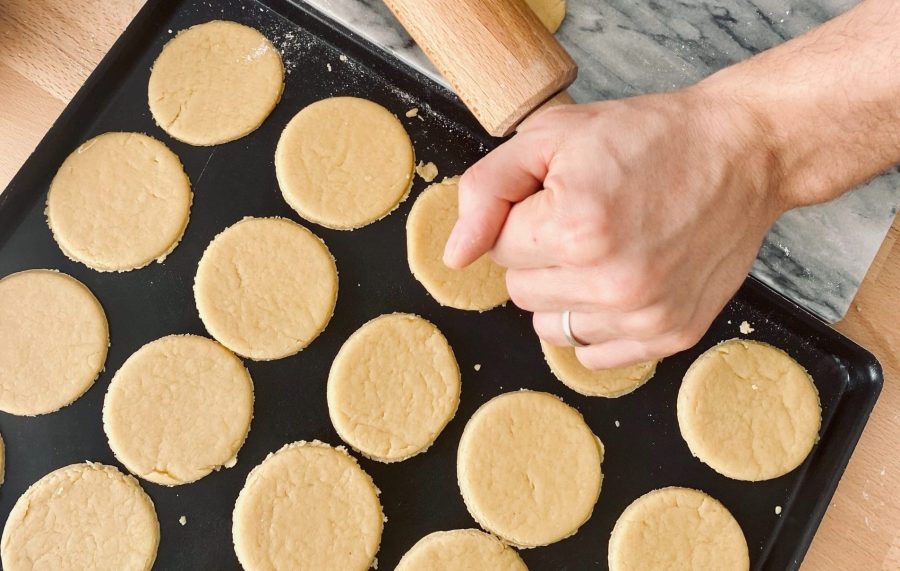 Shortbread
2.5 cups all-purpose flour

½ cup white sugar

¼ tsp. salt

1 cup butter
Directions:
Mix dry ingredients and blend in butter until the mixture forms small beads. Then work the mixture into a ball. Divide in half. Put each ball into a separate 8-inch tin. Press down evenly with your hands and prick all over with a fork. Bake at 275 degrees Fahrenheit for approximately 45 minutes or until lightly browned. When cool, cut into squares or triangles. Add festive sugar sprinkles (as many as you want!).
---
Cheese Puto
Cheese puto is a traditional Filipino steamed cake/muffin. There are tons of variations for Christmas, but we opt for the simplest version!
— Robert Liwanag, Associate Editor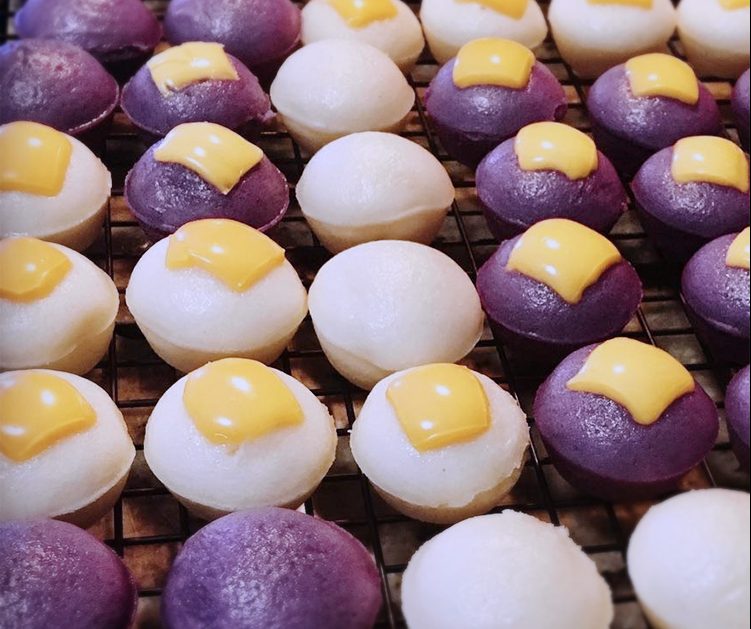 Cheese Puto
1 cup all-purpose flour

1/2 cup granulated white sugar

3 teaspoons baking powder

1 cup fresh milk

1/4 tsp. vanilla extract

3/4 cup shredded sharp cheddar cheese

5 cups water (for steaming)
Pour the water into a steamer or cooking pot. Bring to boil.

Sift flour, sugar and baking powder. Combine ingredients in a separate bowl. Mix well.

Slowly add the milk while stirring. Continue to stir until the texture of the mixture becomes smooth.

 Stir in the vanilla extract and half of the shredded cheese.
Pour the mixture into small- to medium-sized molds. Arrange in the steamer. Cover and steam for 25 minutes. Top each puto with the remaining shredded cheese. Steam for another 5 minutes.
Take the puto out of the steamer. Cool down.
Remove the puto from the mold with the help of a spatula.
---
Cornish Hens
My family likes to have roasted Cornish hens for Christmas dinner. Everyone gets their own individual hen with red currant jelly. For sides, we have ginger sweet potato and french beans.
— Anne Brooks, Editorial Administrator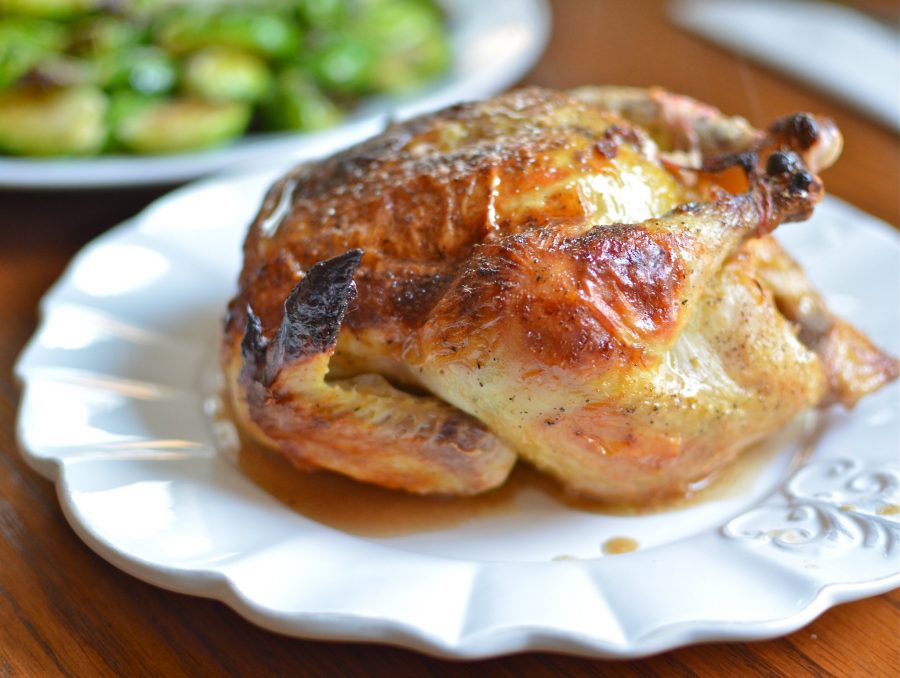 Cornish Hens with Lemon & Herbs
Cornish hens (about 1 3/4 lbs each) room temperature

1 bunch fresh thyme, plus more for garnish

4 lemons, halved, plus wedges for serving

1/2 cup loosely packed fresh flat-leaf parsley

6 tbsp. unsalted butter

Coarse salt & fresh ground pepper
Directions:
Preheat the oven to 450 degrees. Place hens in a roasting pan, breast sides up. Place thymes sprigs and lemon halves in each cavity. Place remaining thyme and the parsley under the skin. Squeeze remaining lemon halves over hens and rub butter all over hen. Season generously with salt and pepper.
Roast hens, rotating pan halfway through until skin turns gold brown and thermometer registers 180 degrees. Depending on the appetites of those you are serving, you can cut the hens in half lengthwise.
---
Baked French Toast with Caramelized Pear Sauce
Christmas morning deserves a special breakfast, in my opinion. I make this recipe a day ahead. When we wake up, I pop it in the oven before we open our stockings. By the time we're done, this hot breakfast is coming out of the oven. My son gets impatient to open the gifts under the tree, but we make him slow down and savour the moment — with a sweet slice of French toast.
— Jocelyn Bell, Editor/Publisher
Baked French Toast with Caramelized Pear Sauce
(Canadian Living January 2013)
Hands-on time: 20 minutes
Total time: 2 1/2 hours
Makes: 10 to 12 servings
4 pears (Bartlett or Anjou, ripe but still firm)

1/3 cup butter, softened

1 cup packed brown sugar

2 tbsp. corn syrup

1 cup thawed frozen cranberries

2 tbsp. all-purpose flour

6 thick (1-inch) slices egg bread

1 1/4 cups milk

1/2 cup whipping cream (35%)

5 eggs

1 tsp. vanilla

Pinch each nutmeg and salt
Topping: 
2 tbsp. granulated sugar

1/2 tsp cinnamon
Directions:
Peel, core and cut pears into 1/4-inch thick slices; set aside.
In skillet, melt butter over medium heat; cook brown sugar and corn syrup, stirring, until sugar is dissolved, about 1 minute.
Add pears and cranberries; cook over medium-high heat, stirring often, for 5 minutes. Whisk flour with 2 tbsp. water; whisk into pan and cook until pears are tender and sauce is thickened and syrupy, about 12 minutes. Spread in greased 13×9-inch baking dish; let cool for 20 minutes.
Layer bread over pear mixture. Whisk together milk, cream, eggs, vanilla, nutmeg and salt; pour over bread, making sure bread gets fully soaked. (Make-ahead: Refrigerate for up to 24 hours.)
Topping: Stir sugar with cinnamon; sprinkle over bread. Bake, uncovered, in 350 F oven until puffed and golden, about 50 minutes. Let stand 10 minutes before serving
---
Shortbread
Picture and recipe card of my maternal Gran's shortbread recipe, as transcribed by my loving sister for my wedding shower recipe box. We are different people; she preferred my paternal Nana's (overly sweet) pavlova recipe, I prefer my Gran's barely sweet, very short, shortbread. Hence her commentary on the top of the card!
I defy anyone to make it without adding an extra 1/3 lb. of butter to get them to hold together!
— Sarah Watt, Circulation Marketing Manager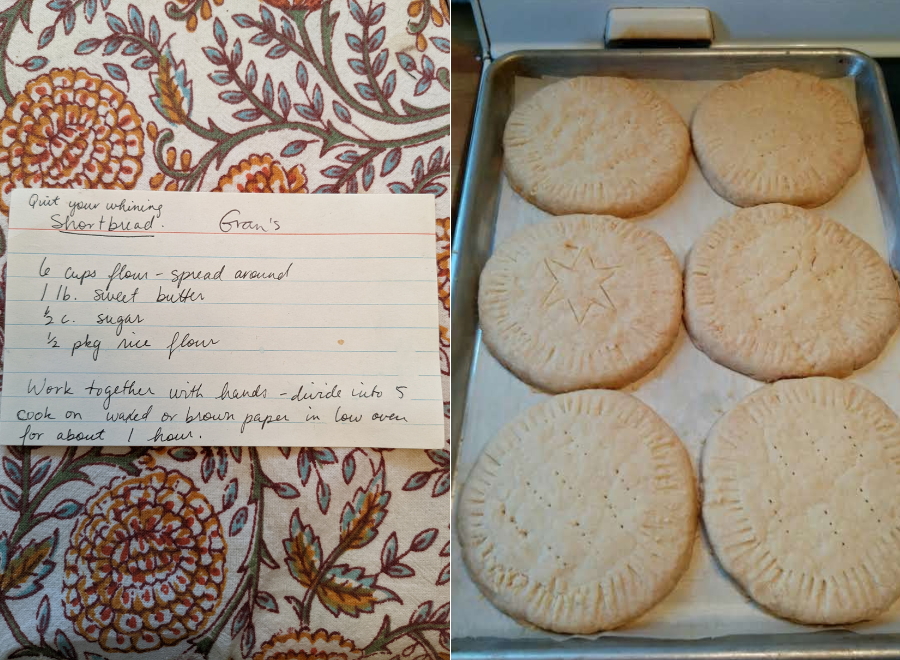 Shortbread
6 cups flour — spread around
1 lb. sweet butter
1/2 cup sugar
1/2 pkg. rice flour
Directions:
Work together with hands — divide into 5. Cook on waxed or brown paper in low oven for about 1 hour.