In the first season of The Wilds, a plane crashes, stranding a group of teen girls on a deserted island. In Yellowjackets, another plane, flying to Seattle, crashes, leaving members of a high school girls' championship soccer team to fend for themselves in the Canadian wilderness. In both shows, there are the usual assortment of archetypes — the jock, the loner, the rich kid, the poor kid and so on. Both shows were conceived and created by women, and largely written and directed by women as well. 
By telling survival stories through the eyes of teen girls, The Wilds and Yellowjackets offer a fresh twist on a familiar genre. Humans, in history and literature, have been marooned for millennia, from Homer to Gilligan. Odysseus is tempted by sirens on the rocks; Robinson Crusoe replicates society as he knew it with Eurocentric exotica and biases. In William Golding's famous 1954 novel, Lord of the Flies, a group of stranded British schoolboys turn feral and murderous. The dystopian story, which affirms a Hobbesian view of life as "nasty, brutish and short," has become a touchstone of modern survival fictions. With Yellowjackets, the creators challenged themselves to make a female version. The series is darker and more violent than The Wilds, a teen drama geared to young adults. But the idea that humans are innately monstrous without the nurturing influence of society doesn't ring true. Real-life survivor accounts present a more optimistic picture of human nature than Golding's vicious band of castaways. In their depictions of young women supporting each other through calamity, The Wilds and even Yellowjackets recognize this too.
---
Interested in more stories like this? Subscribe to Broadview's weekly newsletter.
---
Each episode of The Wilds is told from the perspective of one of the girls, reciting her version of days on the island. Toni (Erana James) is the Indigenous lesbian with anger issues; Shelby (Mia Healey) is the conservative Christian beauty pageant queen; Leah (Sarah Pidgeon) is the bookish brooder; Rachel (Reign Edwards) is the elite athlete, with Nora (Helena Howard) her protective sister. The emotional lives of the teens are complex, confusing and filled with contradictions. They struggle with their identities and sense of self-worth. Their anxieties shade how they see their lives and how they see each other. One of the great pleasures of this series is the richness of these characters.
The crash in Yellowjackets happens in 1996, with the action moving between the stranded teens and the adults they become a quarter century later. Teen Taissa (Jasmin Savoy Brown) is hypercompetitive; the adult Taissa (Tawny Cypress) is in a tight race to become a senator. Young Shauna (Sophie Nelisse) is the plain friend to the most popular girl, though she has a secretive adventurous side. She grows up to become a frustrated and angry housewife (Melanie Lynskey). Natalie (Sophie Thatcher) is the social outcast; her adult self (Juliette Lewis) spends years in rehab. Misty, as both a teen (Sammi Hanratty) and an adult (Christina Ricci), is smart and menacing. The four present-day women have had little contact with each other, preferring to move on from the trauma of the wilderness. They are brought together when one of the other survivors dies mysteriously. 
There are complicated plots in both shows, filled with intrigues and twists. Individuals can be petty and mean, and Yellowjackets has scenes of gore, including a grisly sequence in the pilot episode that shows a girl being hunted down, roasted and eaten by a squad of girls in animal pelts. The violence unleashed in the wilderness follows the survivors into their adult lives. "When did we become these people who lie and cheat and do awful things?" the 40-something Shauna asks her husband after stabbing a man to death with a kitchen knife. "We've always been these people," he tells her.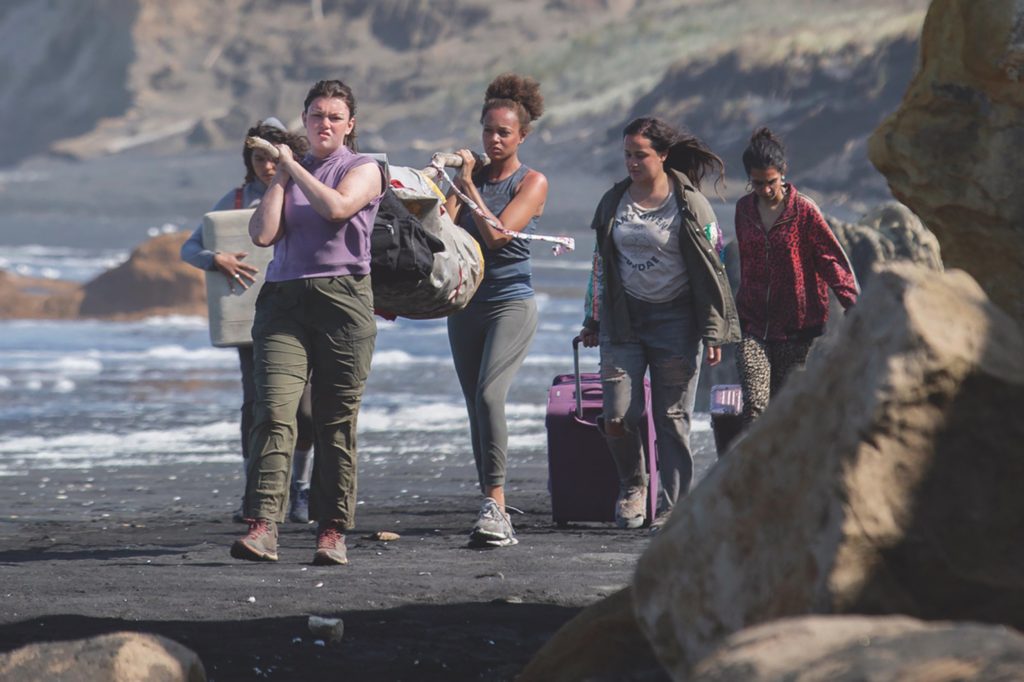 This brutish view of human nature makes for compelling drama, but it doesn't reflect real-life survival tales. In 1972, an all-male Uruguayan rugby team crashed in the Andes. Twenty-nine of the 45 on board survived; another 13 died before the team could be rescued over 70 days later, some cannibalized by the survivors. They did not turn feral, and the decision to eat the dead was made not out of collective madness but from necessity. The teammates worked together under extreme weather circumstances. (Their story was later made into the 1993 film Alive.)
In 1965, six boarding school boys from Tonga, tired of the same old cafeteria meals, decided to have a sailing adventure. They left in good weather, which turned into a storm the first night. The sail and the rudder broke. They drifted for eight days, landing on an island, which was to be their home for the next 15 months. When they were finally rescued, the teens had very long hair and were naked. They also had a community garden, water storage, a gym, a badminton court, a chicken coop and fire. The boys worked in teams, resolved conflicts and ended each day with song and prayer. 
---
More on Broadview:
---
These true events are very different from the pessimistic vision of humanity in fictionalized versions. The pessimist says they are being realistic when they are merely being fearful. Still, optimism is a lot of hard work. Marooned by the pandemic, many of us also felt despair. There were times we were exhausted by our loneliness, tired by the seeming indifference of others. Almost all of us, at one point or another, felt abandoned. There were no grown-ups to help us.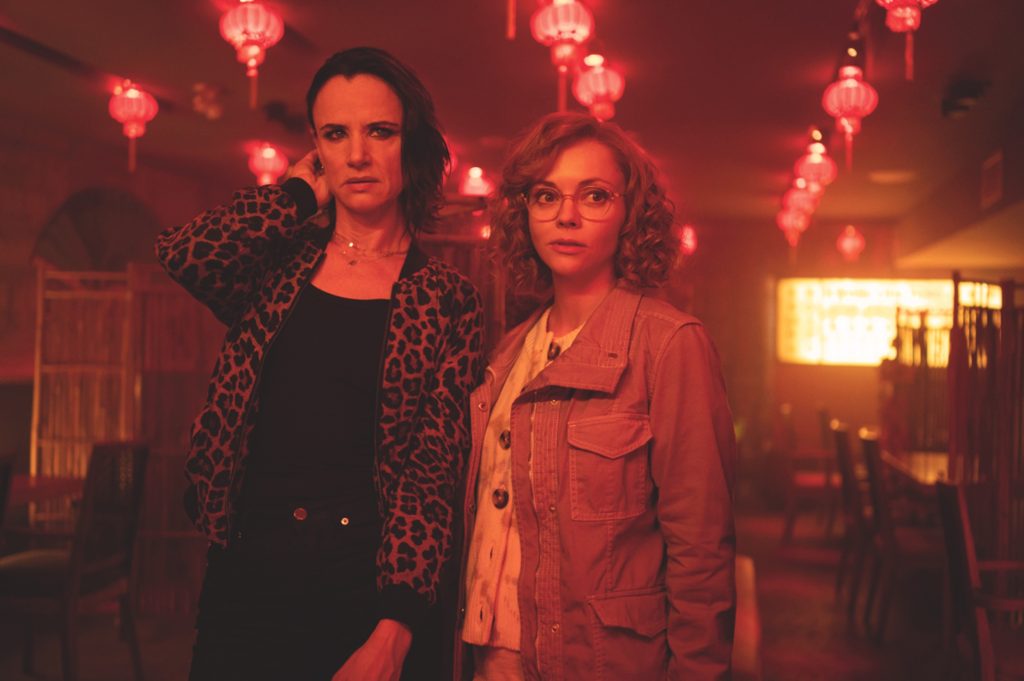 There are no grown-ups in teen tales; and if there are, they are ineffectual. Teens must discover the world anew in each generation. The young women in The Wilds and Yellowjackets are lost before their planes crash. They are alone together, as all teens are. They survive their traumas by working together.
In the fifth episode of Yellowjackets, the girls' menstrual cycles all synchronize to each other. They have to collectively deal with practicalities without relying on store-bought products. It works as a powerful metaphor for their circumstance: even before they have figured out how to handle what's happening to them in the wilderness, their bodies have already created community. That's their nature in action; the rest they have to nurture. 
The Wilds streams on Amazon Prime. The second season releases May 6. Yellowjackets, a Showtime production, is available in Canada on Crave.  
***
Andrew Faiz is a writer in Toronto.
This story first appeared in Broadview's June 2022 issue with the title "Lost together."
---
We hope you found this Broadview article engaging. 
Our team is working hard to bring you more independent, award-winning journalism. But Broadview is a nonprofit and these are tough times for magazines. Please consider supporting our work. There are a number of ways to do so:
Subscribe to our magazine and you'll receive intelligent, timely stories and perspectives delivered to your home 8 times a year. 
Donate to our Friends Fund.
Give the gift of Broadview to someone special in your life and make a difference!
Thank you for being such wonderful readers.
Jocelyn Bell
Editor/Publisher