"Honey, you should wreck the dress."
When Melanie Jaycock's mother, Fern, passed away in October 2021, the Woodstock, Ont., business owner inherited many personal effects. Included among them was her mom's wedding dress. Jaycock offered the polyester gown ("the cashmere of the '70s," she jokes) to museums without success. She was on the cusp of donating it to a secondhand shop when she heard about a unique fundraiser. With her husband's encouragement, Jaycock decided to wreck her dress.
The trend of wrecking or trashing a dress has been around for about 20 years. Fancy frocks are sullied to conclude wedding festivities with a bang or to mark the end of a marriage, with new divorcees donning their gowns one last time for a messy night out on the town. Thanks to Cheryl Haskett, a farmer, a co-owner of the Udderly Ridiculous Farm Life agri-tourism program, and an advocate for domestic violence survivors, this trend has become an empowering community experience.
---
Want to read more from Broadview? Consider subscribing to one of our newsletters.
---
Every fall, Haskett invites former brides, bridesmaids, and anyone with a special occasion ensemble to her Bright, Ont., farm for Wreck The Dress. Haskett describes the event as an "uplifting and soul-satisfying fashion event and fundraiser." Participants roll around in the muck and cuddle with baby goats, rendering their once-immaculate gowns filthy as they say goodbye to a chapter of their lives that no longer serves them. All program fees support a scholarship fund for domestic violence survivors.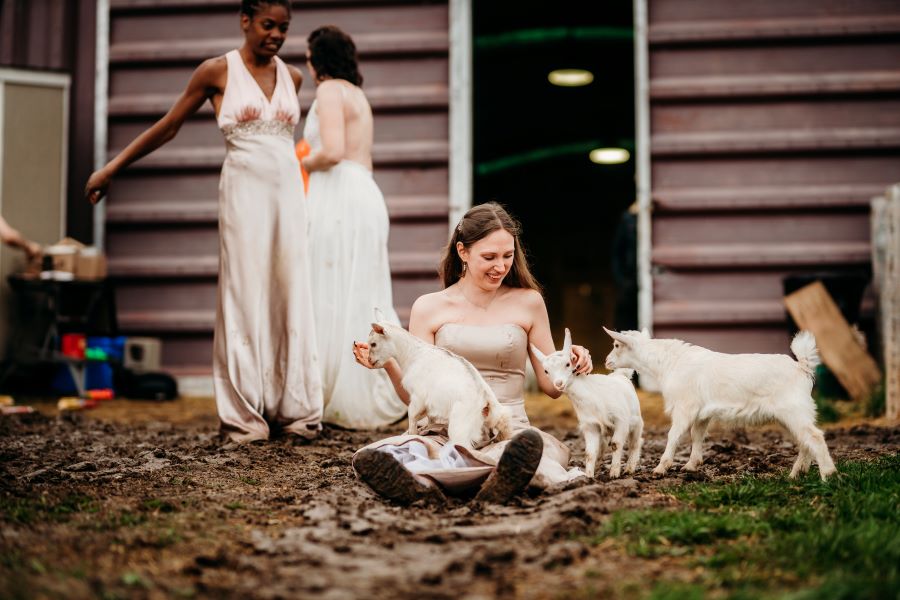 This combination of good energy for a good cause resonated with Jaycock, who was eager to channel her grief into something positive. She describes her participation in Wreck The Dress 2022 as an opportunity to let go, something both exhilarating and peaceful. Wearing her mother's wedding dress and carrying her photo, Jaycock joined about 50 other participants and got down and dirty amid the mud, straw and goats.
Haskett anticipates that this year's event, on Sept. 23, will have between 200 and 400 participants and promises more mess (farm-safe coloured powders are being added to the mix) and more time with the animals (always at a safe distance, so more reserved animals like alpacas still enjoy their personal space). Sustainability is front of mind, and Haskett is securing a sponsor to help clean the "wrecked" dresses so they can be donated to thrift stores. A live band, a women-owned marketplace, two food trucks, an aerial dance demonstration, an onsite raffle, and an online auction round out the festivities (which members of the public can enjoy via a spectator's ticket). Everything is captured by professional photographers.
The fundraiser benefits a scholarship administered through the Women's Crisis Services of Waterloo Region, a deeply personal cause for Haskett.
"I went through a women's shelter with my kids, and part of my backstory is going through domestic abuse and abuse when I was a child. And part of that story was that I wasn't actually allowed to continue my education. And it's something that still stays with me to this day," she says.
The scholarship benefits domestic violence survivors who are pursuing post-secondary education as well as those who need assistance starting a business.
---
More on Broadview:
---
"One of the things that I saw in going through that system was there was lots of support when you're there in the shelter, but then you leave, and you're sort of stuck…" Haskett says.
"And when that happens, getting a job that is going to support your family financially can be really challenging because you can be stuck in a system. For me, it's about women who are coming into these situations, and they are ready to be more than just a survivor and to have that tag of 'I'm a survivor,' and they're ready to thrive, but they need the support to do that."
A fancy gown such as a wedding dress used to be the definition of a one-time-use purchase, something that was meticulously cleaned and preserved, never to be used again. But thanks to Haskett, people like Melanie Jaycock can conclude a chapter of their lives on a high note and give their finery one last hurrah. When asked what her mother would have thought of the mud-covered hijinks, Jaycock doesn't hesitate: "I could feel her laughing!"
***
Vanessa Chiasson is a freelance writer, travel blogger, and digital strategist based in Ottawa.
---
We hope you found this Broadview article engaging. 
Our team is working hard to bring you more independent, award-winning journalism. But Broadview is a nonprofit and these are tough times for magazines. Please consider supporting our work. There are a number of ways to do so:
Subscribe to our magazine and you'll receive intelligent, timely stories and perspectives delivered to your home 8 times a year.
Donate to our Friends Fund.
Give the gift of Broadview to someone special in your life and make a difference!
Thank you for being such wonderful readers.
Jocelyn Bell
Editor/Publisher