After RCMP denied her access to her own territory on Monday to deliver cold-weather supplies and food to land defenders at a protest camp, Delee Alexis Nikal is angry.
"It made me feel like everything about my Wet'suwet'en heritage was being discounted and that they didn't recognize Wet'suwet'en as people," she told Broadview.
"It was not only frightening for the safety of the people that were up there, but very dehumanizing."
On Tuesday, the B.C. Civil Liberties Association said it was filing a legal complaint for Nikal and Cody Thomas Merriman, a Haida supporter who was also trying to bring in supplies, to the RCMP Civilian Review and Complaints Commission.
The complaint is another example of recent tension in northern B.C. where Coastal Gaslink, a natural gas pipeline, is under construction on traditional Wet'suwet'en land. 
#RCMP are now blocking access to #Wetsuweten territory, and only allowing hereditary chiefs that THEY approve to enter our own unceded lands. pic.twitter.com/LcyrqC4y34

— Gidimt'en Checkpoint (@Gidimten) January 14, 2020

The project has the approval of five elected Wet'suwet'en band councils but not the nation's hereditary chiefs, according to The Globe and Mail.
"It's very maddening that the hereditary chiefs' decision wasn't taken into account because they had very clearly, and have always very clearly said no to the project," Nikal said. 
Wet'suwet'en pipeline opponents maintain a camp on a logging road that serves a Coastal Gaslink work site, southwest of the town of Houston. Temperatures in the area have hovered around -30 C all week. 
On Monday, the RCMP set up a checkpoint at the 27-kilometre mark on the logging road ahead of the camp, saying felled trees on the road and flammable tire piles had made it unsafe and that emergency services could need access.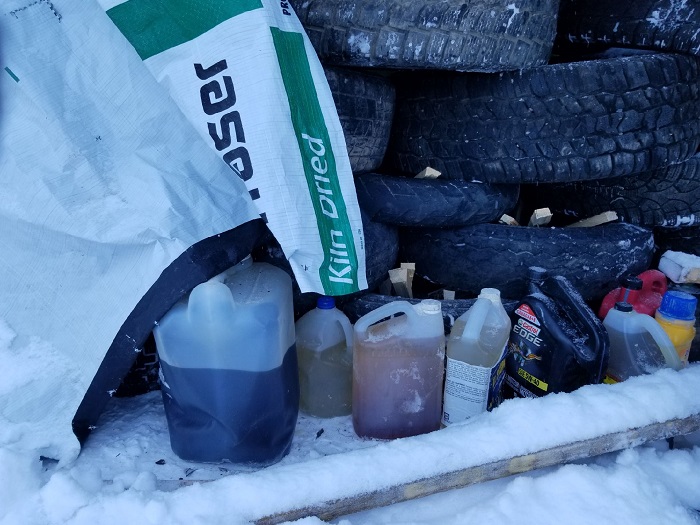 Police noted that hereditary and elected chiefs, journalists, and people delivering food, medicine and other supplies were among those who may be allowed past the checkpoint.
But they said Wednesday that Nikal and Merriman were turned away because of a "miscommunication," and that another person came to retrieve the supplies that Nikal had brought, which she confirmed in her interview with Broadview. 
In a press conference, the executive director of the the B.C. Civil Liberties Association, Harsha Walia, said she didn't believe the police's reasoning that the checkpoint was needed for safety.
"The RCMP is claiming broad and vague powers of public safety despite no stated or identifiable threat," she said.
"Rather, the exclusion zone places Wet'suwet'en people at risk and their safety at risk by controlling their access to food, medical supplies and emergency equipment.
"We remind the RCMP that the constitution is the ultimate law that they are charged to uphold, and that they must respect the constitutionally protected and inherent rights of Indigenous peoples on their territories."
On Dec. 31, the B.C Supreme Court granted an injunction to stop pipeline opponents from blocking Coastal Gaslink's access to its work site. 
Less than a week later, Wet'suwet'en hereditary chiefs served on-site Coastal Gaslink workers an eviction notice, with which they peacefully complied, according to The Canadian Press. 
"We must reassert our jurisdiction over these lands, our right to determine access and prevent trespass under Wet'suwet'en law, and the right to free prior and informed consent as guaranteed by the UN Declaration on the Rights of Indigenous Peoples (UNDRIP)," the Wet'suwet'en leaders said in a press release.
B.C. Premier John Horgan said Monday that the Coastal Gaslink project will go ahead despite protests. His comments come two months after B.C. government passed legislation committing to implement UNDRIP.
Broadview is an award-winning progressive Christian magazine, featuring stories about spirituality, justice and ethical living. For more of our content, subscribe to the magazine today.