"There's something about listening to music in the place it is birthed," narrates Maya, the protagonist in Erum Shazia Hasan's debut novel, We Meant Well, as she is chauffeured to the charity she oversees in the fictional African village of Likanni. "When the landscape and music match, it's like being on a drug-induced high."
Maya has been summoned to this foreign yet deeply familiar landscape after a hiatus in her home city, Los Angeles, but the reasons for her return are less than idyllic. Her colleague Marc — a white Frenchman — has been accused of sexually assaulting a young woman from the village. Compounding the horror is that the woman, Lele, is Maya's former protege: a precocious young adult with leadership and humanitarian skills, whom Maya envisioned one day taking over the charity centre in Likanni.
---
Want to read more from Broadview? Consider subscribing to one of our newsletters.
---
Moreover, Maya cannot write off Marc as a rapist so easily. During his 10 years at the charity, she had witnessed him rescue people from a dreadful fire at a displaced persons camp; he pulled victims out with what seemed to her the utmost fervour and selflessness.
Is Marc's saviourism cloaking his abusive inner nature? If he is the perpetrator, how will Maya hold him accountable for the assault while maintaining the reputation of a charity she deems necessary?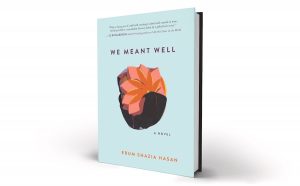 Seeking out an answer to these questions is only part of what keeps the reader glued to the book — the narrative is also propelled by Maya's gracious introspection. "I started this career wanting to heal the world of its ills," she reflects. "I've since learned that when you make a career out of helping the starved, you somehow become part of whatever is starving them."
---
More on Broadview:
---
Hasan's writing has a diary-like quality that she interlaces with pointed commentary on the sociopolitical issues befuddling the characters. As a sustainability development consultant for United Nations agencies, the Toronto-based author brings an insider's intimacy to the often- exploitative power dynamics at play in international aid work. She also captures Maya's constant feelings of in-betweenness as a brown-skinned aid worker married to a wealthy white lawyer. While in Likanni, Maya feels tethered to, yet dissociated from, her dramas in Los Angeles, and vice versa while she is in the United States.
Though these coalescing personal dilemmas might risk making the novel convoluted, they instead make it richer, with Hasan giving each crisis the evaluation it needs. When Maya is apprehensive about visiting Lele for the first time, we feel her stress. When she drowns in the painful discovery of her husband's infidelity, we gasp for air with her. This emotional acuity, mixed in with thought-provoking moral questions, makes the novel a fascinating and illuminating journey for any reader.
***
Mzwandile Poncana is a journalist and writer in Montreal.
This story first appeared in Broadview's June 2023 issue with the title "Between Two Worlds."
---
We hope you found this Broadview article engaging. 
Our team is working hard to bring you more independent, award-winning journalism. But Broadview is a nonprofit and these are tough times for magazines. Please consider supporting our work. There are a number of ways to do so:
Subscribe to our magazine and you'll receive intelligent, timely stories and perspectives delivered to your home 8 times a year. 
Donate to our Friends Fund.
Give the gift of Broadview to someone special in your life and make a difference!
Thank you for being such wonderful readers.
Jocelyn Bell
Editor/Publisher