The Chinese government forced Qelbinur Sidik to teach Mandarin to so-called illiterate Uyghurs in detention and incarceration camps in 2017. Authorities threatened that if she didn't agree to keep quiet about what she would see, they could reach her daughter in Holland.
As Sidik's students arrived in her classroom, some wept; they had been in cells, shackled by their hands and feet. Their heads were shaved, and they wore green uniforms. The use of names was strictly forbidden; they were only to be called by the numbers on their clothing.
The classroom had eight cameras to watch everything. Sidik realized she made her first mistake when she welcomed the class with the traditional Muslim greeting salaam alaikum (peace be upon you) and was met with a frightened silence. Afterwards, other staff warned that if she ever used that phrase again she could be jailed.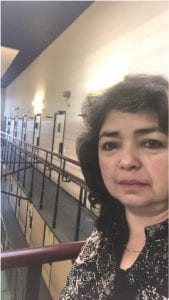 On her second teaching assignment, she saw 40 to 50 people jammed into cells built for 10 to 15 people. "These are prison cells, not dormitories; put in as many as you can," she says of the authorities' approach. The prisoners were fed mostly rice water with a little bit of rice and a small piece of bread.
Ethnic Uyghurs are a Muslim minority in the northwestern Chinese region of Xinjiang. News organizations have estimated that China has interned a million Uyghurs in hundreds of camps since 2017. "This is ethnic cleansing and genocide," Sidik told me via videoconference from Holland, through an interpreter, in late January. Torture and rape are rampant, children are removed to state-run orphanages, and hunger is used as a form of torture, she says.
The Chinese government is also sterilizing Uyghur women. Sidik herself was forced to have an IUD implanted at 47 years of age. She describes seeing rows of women lined up in front of clinics. "No one is free to escape this cruelty," she says. "We cannot even control our own bodies." Sidik adds, "As long as I am living, I will speak about the atrocities I have witnessed….It is my moral duty."
---
More on Broadview: 
---
The Uyghurs' homeland is on the famed Silk Road trade route that once linked China to Europe. Mehmet Tohti, executive director of the Uyghur Rights Advocacy Project in Ottawa, says the current persecution is part of China's ambitious Belt and Road Initiative, which seeks to link over 60 countries across Asia, Europe and Africa into one integrated trade route. "We are located in a land corridor to eight other countries. Without this, China cannot complete the Belt and Road Initiative," he says. He adds that China sees the Uyghurs as a hurdle to being a global power.
In a white paper published last September, China stated that from 2014 to 2019 it sent 1.29 million people a year to "vocational training" through "proactive labour and employment policies."
VIDEO: Qelbinur Sidik describes what she saw in the detention camps
Despite China's denial, evidence of massive human rights violations is growing, and a variety of international human rights organizations have called for governmental action. On Feb. 22, Canada's Parliament voted (despite the abstention of cabinet ministers) to name China's treatment of Uyghurs and other Turkic Muslims a genocide. But neither the United Nations nor many ecumenical organizations have called this a genocide or even a crisis.
"This is ethnic cleansing and genocide." — Qelbinur Sidik
As of press time in mid-April, the United Church of Canada had not issued a statement about China's treatment of the Uyghurs. The denomination is known for its activism in the anti-apartheid movement in South Africa and has been a leading advocate for occupied Palestine and around issues involving the divided Korean Peninsula.
Asked about the church's response to the Uyghurs, Patti Talbot, team lead for global partnerships, says that "the United Church's advocacy on global issues is grounded in the witness of church partners and seeks to amplify church partner voices rather than highlight our own…. In all actions, an imperative is 'do no harm' that could risk the safety and security of partner churches, their leadership and communities."
Talbot says that China's leadership is tightening political control and is increasingly intolerant of dissent. Speaking out could potentially endanger church partners in mainland China and Hong Kong, who wish "to be understood and seen as making positive contributions to Chinese society." The United Church has no way to be authentic in this situation, she adds.
Other Canadian faith groups are taking a bolder approach. In 2019, the Canadian Council of Imams called on the Canadian government "to condemn these brutal and inhuman actions and to play a more significant role in the preservation of human rights of the Uyghur ethnic minority."
Last September, B'nai Brith issued a statement in solidarity with the Uyghur community.
VIDEO: Qelbinur Sidik urges Canadians to take action
"We are calling on all international human rights organizations to unequivocally condemn the mistreatment of the Uyghurs," said CEO Michael Mostyn.
The Islamic organization Justice for All said they were "the first organization in the world which declared this a genocide," in 2017. Their letter of October 2020 was sent to Prime Minister Justin Trudeau urging action for Uyghurs, and was signed and supported by the Presbyterian Church in Canada, the Pentecostal Assemblies, the Baptists and the Free Methodists.
As faith communities, we need to listen to what the Uyghur community is asking of us and respond — not to speak for them, but alongside them. We also need to stand with our Canadian Muslim brothers and sisters, in defiance of this murderous form of Islamophobia, to join the call to boycott Chinese textiles made by Uyghur slave labour. This issue is about not only genocide but also the future of our global community, the rule of law, free speech and freedom of religion.
"Whatever the Uyghurs are experiencing today is all our future," Tohti says. "It is the cause of humanity."
***
Rev. Christopher White is a minister at Kedron United in Oshawa, Ont.
This feature first appeared in the June 2021 issue of Broadview with the title "Listen to the Uyghurs."
---
We hope you found this Broadview article engaging. 
Our team is working hard to bring you more independent, award-winning journalism. But Broadview is a nonprofit and these are tough times for magazines. Please consider supporting our work. There are a number of ways to do so:
Subscribe to our magazine and you'll receive intelligent, timely stories and perspectives delivered to your home 8 times a year. 
Donate to our Friends Fund.
Give the gift of Broadview to someone special in your life and make a difference!
Thank you for being such wonderful readers.
Jocelyn Bell
Editor/Publisher