At the end of the long, winding road lined with ancient oaks and cedars that leads to Five Oaks, the 67-year-old United Church-­affiliated education and retreat centre in Paris, Ont., there's a welcome sign that reads: No Matter Where You Are From We're Glad You're Our Neighbour. Underneath is a translation in Arabic. Outside the building's entrance this past spring, a barefoot woman welcomes visitors to the centre's annual meeting, playing a flute around a small fire.
There's a celebratory mood at the meeting — no surprise since Five Oaks has sprung back to life after almost going bankrupt three years ago. Back then, it seemed as doomed as its United Church-affiliated sister retreats did in 2015. The Naramata Centre in British Columbia and the Tatamagouche Centre in Nova Scotia had ceased operations after years of budget deficits, decreased demand for programs, mounting debts, layoffs and, in the case of Naramata, an eight-month strike by 30 unionized workers. All three centres had been kept on life support thanks to grants or large loans from the United Church's General Council, Conferences or Presbyteries (about $200,000 for Five Oaks in 2014, and more than $2 million for Naramata in 2013). But when the bulk of that funding dried up — General Council announced in 2015 that it planned to stop providing each centre $80,000 annually — all three centres nearly pulled the plug.
For years, the picturesque centres specialized in spiritual programming for United Church visitors. Five Oaks' managing director, Michael Shewburg, says the crisis forced them to imagine how they could revitalize. "Sometimes the best thing for a forest is a forest fire. In the short term, it doesn't feel great, but if it can be managed and controlled, then you can come out of it on the other side."
At the annual meeting, Yvonne Stewart, who served as director in the 1990s and recently completed her term as board chair, receives a standing ovation for spearheading the drive to keep Five Oaks alive. "When I first came to work here in 1994, the centre was in much worse shape than in 2016," she tells the assembly of about 50 people. "I thought then that if this place was going to survive, it was not going to depend on me; it was going to depend on whether people wanted it to survive. They did, and it did. And the same thing happened after 2016 — people who love this place or who see the potential rose to the occasion, and here we are."
Five Oaks has been resuscitated. Naramata and Tatamagouche have also come back to life. All three have managed to reduce their operating costs and increase revenues, and each had a budget surplus in 2018.
So what happened? New leadership, for one thing. Shewburg, formerly a program co-ordinator at the national office of the United Church, joined Five Oaks two years ago while Josie Baker, formerly the co-ordinator of the Cooper Institute, a community development organization in Newfoundland, was brought on-board at Tatamagouche. In May, Naramata announced it had hired Susan Smith, the former chief operating officer of Habitat for Humanity Canada. New business plans are being implemented, focused on reducing expenses by drastically cutting staff, outsourcing services, limiting in-house programming, boosting volunteer hours and, in Naramata's case, planning to sell off a portion of property and extending oper­ations to become a four-season resort.
"For the centres to be viable in the future, we need people to use them."
But their survival isn't solely due to cutbacks. The centres are expanding their reach by creating partnerships with other faith and social justice groups, and renting space to social enter­prises. "We have to grow the circle," says Shewburg. Five Oaks has aligned itself with the local Muslim and Six Nations Indigen­ous communities, inviting representatives of both groups to sit on their board. It's also working with local businesses such as Grand River Rafting to bring in school groups for mid-week outdoor education experiences. Meanwhile, Naramata has partnered with Pacific Jubilee, a spiritual-­direction organization, and Tatamagouche has recently worked with the Dartmouth YMCA, A Mindful Death Inc., and other groups.
The centres are promoting their unique settings to groups outside of the church looking for something beyond the typical conference environment. Naramata has a nine-hectare Okanagan Lake waterfront property; Tatamagouche has a similar-size bayfront location; and Five Oaks is situated on 50 hectares on the Grand River. "We may not have an indoor pool, but we're offering higher value in other ways," says Tatamagouche's Baker. "The experience of coming here is markedly different than going to, say, a Best Western. You can't smudge in a hotel. Besides, this land has history. It has presence. It's a sacred space." The retreats are also able to accommodate guests in ways that many other venues and hotels can't, or won't. For example, when Five Oaks recently rented space to a weekend gathering of 45 women from the University of Toronto Muslim Students' Association, it was able to ensure there wouldn't be any male employees on the premises so that the women could remove their hijabs.
In addition to facility rentals, program fees and some small grants, donors are helping to fill in the gaps. So far, seven individuals or groups have shelled out $4,200 each to help pay for renovations as part of Five Oaks' "Sponsor a Bedroom" campaign. Last year, 300 people gave a total of $86,000 to the centre, which this year was also the beneficiary of a hefty legacy gift in excess of $250,000.
At the same time, the centres are staying true to their theological ori­gins. Although they are producing less of their own programming than in the past, the goal is to continue to include offerings that touch on spirituality. Naramata's programming features music, art, dance and tai chi this year, while Tatamagouche is hosting a social justice youth camp, a feminist theology retreat and a workshop on home death care. "Our centre is about personal and social transformation, and our programs are how we fulfil our mission," says Baker.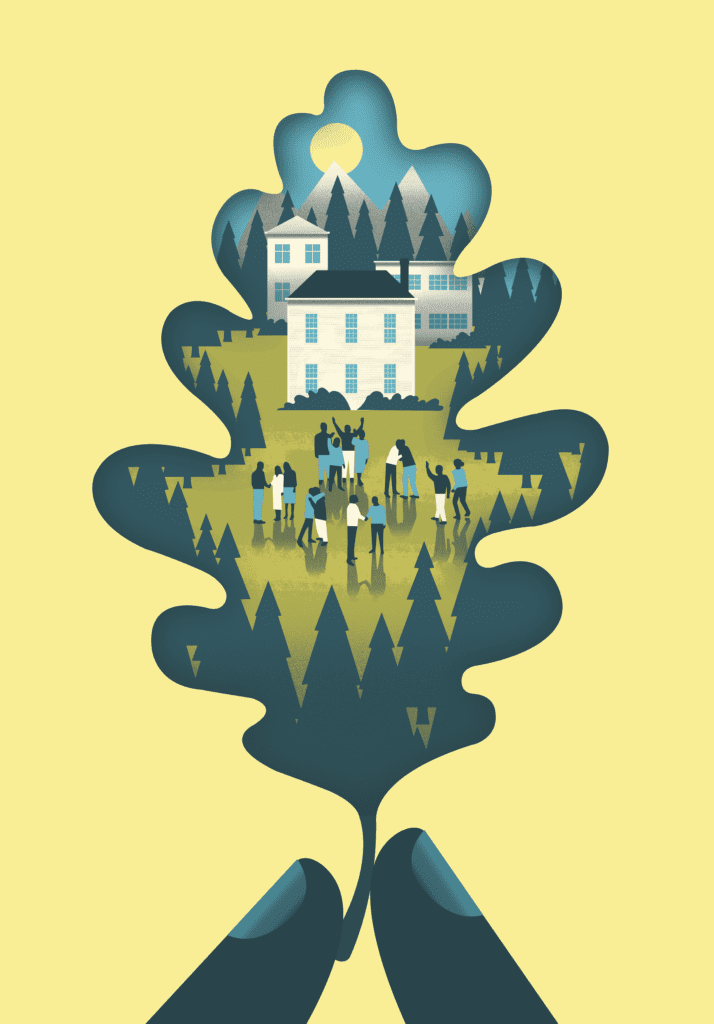 Both Naramata and Tatamagouche have retained their Christian roots, while Five Oaks has repositioned itself as a multifaith and multicultural retreat, arguably the only one of its kind in Canada. Its former chapel has been transformed into a meditative space with a prayer mat and Qur'an, and there's a wudu cleansing station in a nearby washroom. Indigenous items such as the two-row wampum and a shell with sage for smudging are available for use, in addition to Christian-­themed items such as candles, water and oil. There is also a Bible available.
The retreat centres have had a faithful following for generations thanks to people like Rev. Nancy Hardy, a retired United Church minister who first came to Five Oaks 60 years ago when she was 16 for a Bible school camp leadership training program. "I'm still learning here all these years later," she says. Most recently, she attended a workshop presented by Mary Jo Leddy, a Catholic author, activist and director of Toronto's Romero House for Refugees. "This is a spiritual centre where you are surrounded by built-in commun­ity," Hardy adds.
The Five Oaks annual meeting wraps up with a hymn, Draw the Circle Wide, which reflects the mandate of all three centres to expand their reach beyond the United Church community. That reach includes 29-year-old Naba Choudhury, a Muslim member of the Five Oaks board and a theology student at Toronto's Emmanuel College. He is at the meeting with his wife and three young children, who he hopes will keep coming to events here. "Five Oaks is trying to create a community that can meet, have fun, share ideas and work with one another," he says, "where we don't have to check our spiritualities, traditions or practices at the door, even though we might not see eye-to-eye on everything .…It's such a breath of fresh air to be able to get out and enjoy connecting to the sacred in nature."
The three managing directors, who collaborate regularly by phone, are eager to get the word out that they are open for business. "For the centres to be viable in the future, we need people to use them," says Shewburg, who first visited Five Oaks 23 years ago at age 18 for a Canada World Youth leadership orientation program. Now, when he drives up its long, winding road to go to work, he never fails to be moved by the retreat's beautiful setting. "It's like crossing a threshold into a holy place," he says. "Sometimes there's a mist that hangs low or I'll see a flock of wild turkeys or a deer — and I realize once again how important this place really is."
This feature first appeared in the September 2019 issue of Broadview with the title "Retreat revival." For more of Broadview's award-winning content, subscribe to the magazine today. 
CORRECTION: A previous version of this story stated that there is no Bible in the meditative space at Five Oaks, when there is, in fact, one available. This version has been corrected.