The Toronto Raptors are NBA champions. Months later, I still can't believe it. I was there to witness the moment at the deciding Game 6 in Oakland, Calif. As a long-suffering fan, it was the surreal event of my wildest dreams.
My brother lives in the Bay area of California where the Golden State Warriors established their basketball dynasty. Upon learning that his boyhood team would challenge the Warriors for the NBA championship, he invited me to join him for Game 6 at Oracle Arena.
On June 13, we boarded the train to the arena, keenly aware that we were in enemy territory. Clad in Raptors red (or classic purple, in my brother's case), we stood out in a crowd of Golden State yellow. We acknowledged the other Raptors fan on the train with head nods and chest pounds but did so discreetly.
We weren't sure how we'd be received. We were blatantly cheering for the other team. In the previous game, overzealous Raptors fans celebrated too enthusiastically in an embarrassing display of poor sportsmanship when a Warrior all-star suffered serious injury. What payback would Warriors fans exact upon their boorish rivals?
We experienced graciousness and welcome that went above and beyond our expectations. Yes, there were good-natured jokes and teasing from the arena staff that they gave away our seats to real fans, or that our money was no good, so we should just leave. While lined up for hot dogs and drinks, intrigued Golden State fans asked if I made the journey all the way from southwestern Ontario for the game. They respected my commitment to my team and appreciated the effort I expended to be there.
I had the sense that, regardless of our allegiances, the gathered crowd was of one community: basketball junkies, nerds for Naismith and homers of the hardcourt. We supported opposing squads but we all understood the magnitude of the moment. We were part of this sports story, regardless of the game's outcome.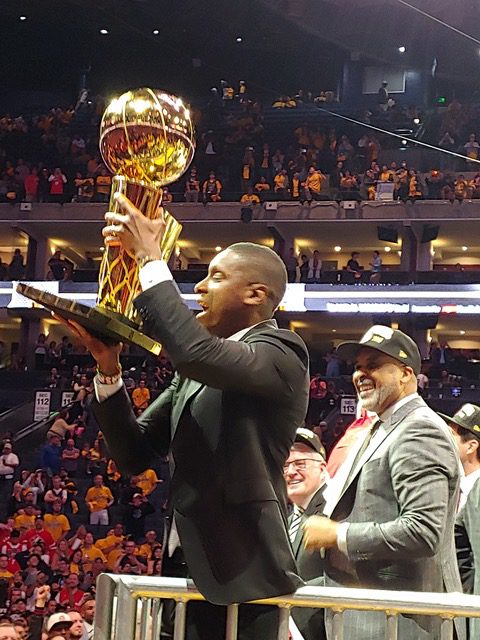 Stellar basketball unfolded before our eyes. We were all winners as we witnessed a well-played, close game between equally-matched competitors. Perhaps I can afford to be so magnanimous and philosophical about the whole experience because my team won.
What of the spirituality of championship basketball? I could opt for the obvious and force an insipid metaphor comparing the final, perplexing 0.9 seconds of the game to the confusion of Jesus' disciples on the first Easter morning. I could manufacture connections to Jeremiah's prophecy of an invading nation sweeping in from the north to devastate a chosen people. I could praise the value of teamwork and togetherness, of setting aside egos and agendas for a common goal.
But I keep coming back to the real community that formed when thousands of fans congregated for a decisive and dramatic Game 6. 
Basketball brought me into communion with other fans. We connected around a common experience which uplifted the spirit and reinforced that we are not alone.
The outlook for my beloved team in the upcoming season is subdued. No reasonable sportscaster predicts a repeat championship. It's insulting, really. But that is life as a Raptors fan: underestimated and overlooked, lovable losers from a hockey-loving nation. Except that this year, the reigning NBA champions are my team.
I keep telling myself that because it's finally sinking in. Game 6 happened. It was great. The Raptors won. Can you believe it?
EDITOR'S NOTE: A previous version of this post stated that the author attended Game 7, not Game 6. This version has been corrected.
Broadview is an award-winning progressive Christian magazine, featuring stories about spirituality, justice and ethical living. For more of our content, subscribe to the magazine today.