UPDATE 02/23/2021: The City of Toronto announced Friday that it had filed an injunction to stop Khaleel Seivwright from erecting his shelters, On Monday, Seivwright put out a statement in response. You can watch it below.
Toronto-based carpenter Khaleel Seivwright has been hard at work since September building tiny homes for local people experiencing homelessness this winter, but the City of Toronto is threatening to stall the project. 
In an email Seivwright received Thursday night, the city demanded he "immediately cease the production, distribution, supply and installation" of his shelters, and threatened to do it for him and charge him with the cost of removal. 
"The City currently has programs and policies in place for encouraging and facilitating the relocation, on a voluntary basis where possible, of persons from City property to safe shelter accommodation," the letter says. "Your activities are interfering with this initiative and may have the effect of encouraging individuals to continue to occupy public property in conditions which are both dangerous and unhealthy."
Speaking from his Toronto workshop, Seivwright says he is shocked by the message. "I've been in conversation with different people from the city saying they would like to make a partnership happen," he says. 
Despite the warning, he still plans to go ahead with the construction of the tiny homes. "My intention is still the same," Seivwright says. "It's just going to make it a little more difficult." 
The structures he has built and delivered to individuals who need them are currently located in parks across the city, but are each placed on wheels and can be moved as needed. (Seivwright does not want to reveal the exact number for the safety of those staying in the shelters.)
"This will force us to find a place for these shelters to exist if they are forced out of the parks, and then find a future home for the shelters that we are going to continue to build."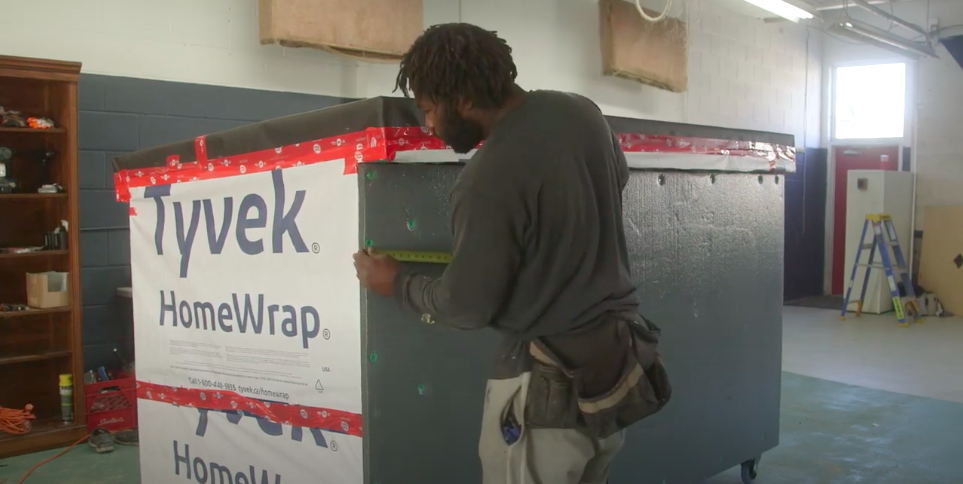 Seivwright's project received widespread media attention last month as donations to his GoFundMe page started to roll in. The number is at $129,485 as of Friday. 
With the donated funds, Seivwright has been able to move to a new workshop and gather a team of more than 10 people to help with the construction process. They have been producing around seven tiny homes a week, although Seivwright says he hopes to increase the output as winter sets in.
Each structure is mobile and is five feet tall and eight feet long, enough to be warmed with the body heat from one individual and withstand temperatures as low as -20 Celsius. Despite their relatively small size, the shelters cost about $1,000 each to build. 
Seivwright has been informally distributing the structures to those in need with the help of the Encampment Support Network Toronto, a volunteer-run group of people supporting Torontonians experiencing homelessness. 
Last year, 128 people who were experiencing homelessness died in Toronto. A least 46 died between November and February. The City of Toronto has received criticism for not doing enough to protect the growing number of people living on the streets as a result of the pandemic. 
When asked for comment, the City of Toronto noted its recent plan to add 560 additional spaces to the shelter system for the winter. "Conditions in encampments create significant health and safety concerns for those living outside, as well as for the community-at-large," read the email statement. "The City's Streets to Homes outreach team continues to engage with those living outside to encourage them to come inside where it is safest."
Seivwright doesn't think its enough. "There are people falling through the cracks that [the City is] not acknowledging," he says. "I think that is the most important part of all this."
***
Amy van den Berg is a writer based in Northern Ontario.
---
We hope you found this Broadview article engaging. 
Our team is working hard to bring you more independent, award-winning journalism. But Broadview is a nonprofit and these are tough times for magazines. Please consider supporting our work. There are a number of ways to do so:
Subscribe to our magazine and you'll receive intelligent, timely stories and perspectives delivered to your home 10 times a year. 
Donate to our Friends Fund.
Give the gift of Broadview to someone special in your life and make a difference!
Thank you for being such wonderful readers.
Jocelyn Bell
Editor/Publisher