It took a verbal attack and someone spitting on her on public transit for Hannieh Amiri to question the hijab she had worn for seven years. She was in Grade 9 and wearing a light purple hijab—a headscarf worn by some Muslim women to cover their hair and neck—one day when she boarded the bus after school. A man rang the bell to get off as soon as she entered, mumbling about the Prophet Muhammad on the way to the next stop. "F— Muhammad," Amiri recalled the man saying as he spat on her leg while making his way to the door. "My eyes were tearing up, and it was just humiliating," she said. "Everyone was kind of looking at (me) as if they pity (me)."
Amiri started wearing the hijab at age eight when she moved to Canada from Iran. While she didn't understand the concept of hijab and what it meant, she was excited to wear it, because, growing up in the Islamic republic, women around her wore it and she wanted to be like them. She had never questioned her decision until the day she was attacked. And every night for two months, she went to bed thinking about how her hijab was the reason she was targeted and how her life would be better without it.
Other moments had made her wonder. Like when she was clinically depressed in high school but teachers never bothered to ask if she was okay or offered her help the way they did with her white classmates. This made Amiri's depression worse. "I think that was because they don't really see hijabis as anything other than hijabis," she said. As a kid who enjoyed being active in school, her soccer coach would ask if she would choke while wearing the hijab and classmates inquired why she wore it in the first place, which frustrated her over time.
Hijab is an Arabic word which literally means curtain, barrier, or partition. At the time of the Prophet Muhammad, curtains or partitions separated men and women when speaking to one another and gave the prophet's wives privacy from his frequent visitors. Hijab eventually came to mean modesty more broadly in behaviour and dress for both men and women in Islamic scholarship. Increasingly, the term is now being used to describe the different forms of physical veils that Muslim women wear to show modesty. The hijab refers to the veil that covers the hair, neck and body, while the niqab refers to a type of veil that covers everything except for a woman's eyes and hands. Some women also choose to wear the burqa, which is a veil covering the entire face.
Many people's connection to their faith is being put to the test, however, by Islamophobic incidents and hate crimes. Statistics Canada data on police-reported hate crime in 2017 shows a sharp increase of 47 per cent over the previous year—largely in Ontario and Quebec. Following a decrease in reported hate crimes against Muslims in 2016, the numbers more than doubled in 2017 with a 151-per-cent increase.
And while women taking off their hijabs is not widespread, Muslim spiritual care worker Aisha Sherazi said it has become more frequent in the past couple of years.
According to Sherazi, Muslims are constantly under the microscope for their beliefs, which affects people's religious identity. "When you're bombarded with those images consistently and then you visibly identify with that faith group that is constantly vilified and targeted, it becomes a real strain," Sherazi said. Muslims then have to be confident enough to defend their faith from public attacks, something many struggle with because faith is usually personal. "A lot of people don't feel confident enough to do that. They no longer want to necessarily identify with that faith group," Sherazi said.
Amiri is also not the only one who has decided to take off the hijab because of an attack or discrimination. Some Muslim women in Ottawa and Toronto are choosing to stop wearing the hijab as a direct result of Islamophobic incidents like the one she described.
Sidrah Ahmad, a researcher at the University of Toronto, is looking at the impact of these incidents on women. She interviewed 21 Muslim women, aged 18 to 58, who have been victims of Islamophobic violence. While some women stopped wearing the hijab for reasons unrelated to Islamophobia too, at least three of them took theirs off because of Islamophobic attacks. The women in the study said the violence ranged from attempted murder, verbal and physical assault to sexual assault and online harassment and threats. Because of these experiences, some participants in Ahmad's study said they no longer wanted to do anything that looks "too Muslim" in public, such as reading the Qur'an or wearing clothes that can be identified as Muslim.
Studies have shown that for Muslims, discrimination has been associated with psychological impacts such as distress, anxiety and depression. After a physical attack, one of Ahmad's research participants developed post-traumatic stress disorder. The participant's anxiety increased so much that she couldn't function and eventually took off her hijab. Ahmad said that taking off the hijab gave her participant "a lot of relief," but that she also mentioned wanting to be able to wear it again one day. Another research participant wore the niqab—the face veil—but was excluded by those around her and was yelled at on the street. "She was just noticing how difficult life was for her and based on that, she decided to take off her niqab." The woman told Ahmad that she misses wearing it and the move made her sad.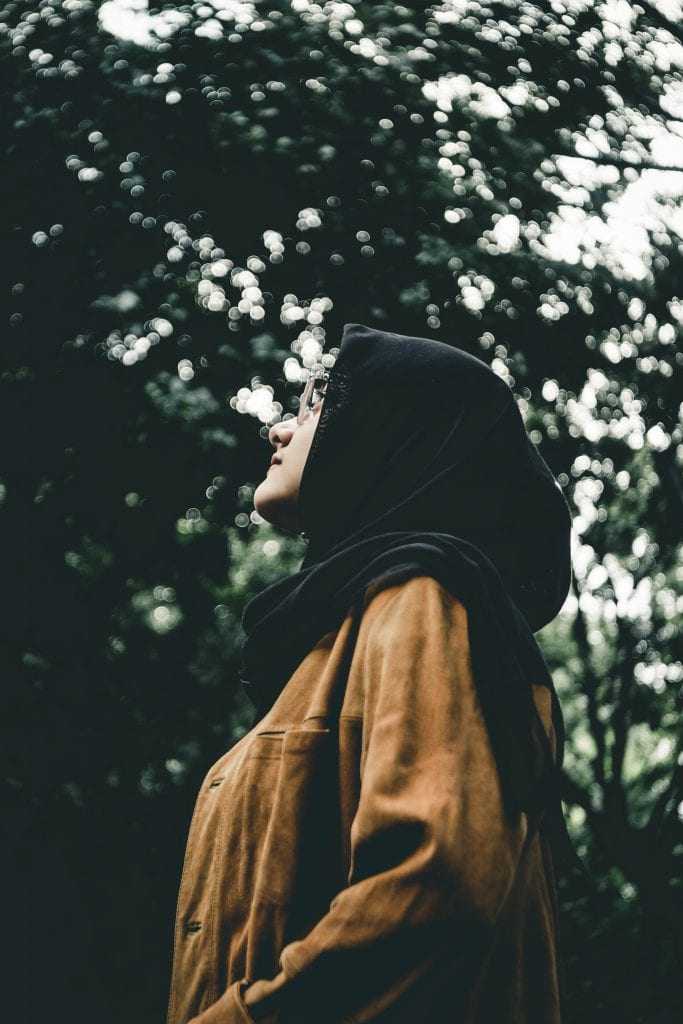 For Amiri, the bus incident cemented the idea that being a visibly Muslim woman sometimes placed her in situations that compromised her well-being and safety. When she started university in 2015 and moved out of her parents' home, she took off her hijab.
She didn't see anyone in her program wearing one and moving out gave her the opportunity to take it off without judgment from her family.
The change was immediate. Walking around campus, she noticed that people weren't looking at her. One of her professors, who had never chosen her previously when she would raise her hand to ask questions or participate in discussions, picked her after disregarding her the previous week.
She admitted that she was happy after she took off her hijab because she finally felt like herself. She noticed that people in the street now made eye contact. "Looking into people's eyes when you walk by them is just validation that you exist," she said. But these changes came at the expense of a physical connection to Islam, and she said she feels sad that she "wasn't strong enough to power through" despite the abuse.
But while while taking off the hijab made her feel less Muslim physically, it hasn't affected her relationship with her faith. "I have the same views and beliefs as I did before," she said. After seeing more representation of Muslim women in politics, business and the fashion industry, she has considered putting it on again.
Mariam: Reassurance in the face of hate
An Ottawa mother, whom we're calling Mariam to protect her privacy, said she feels depressed and disappointed that her 20-year-old daughter ,who chose to wear the hijab at age 12, has wanted to remove it for the past three years. Mariam's daughter was in downtown Ottawa with a relative who also wore the hijab when a stranger yelled at them from a distance, insulting Muslims. "They just ignored her, they pretended they didn't hear her," she said.
The mother said her daughter believes women who wear the hijab are singled out, so she styles it like a turban to make it less obvious. "That helps her feel a little bit more confident about not being targeted," Mariam said.
Mariam, in an attempt to comfort her daughter, reassured her that as a Muslim, she can protect herself from harassment through prayer and supplication before leaving the house. But Islamophobia isn't the only reason her daughter wants to take off the hijab. She told her mother that she "feels ugly" and feels like "she was too young to make a lifelong decision."
Rania: Learning to let go
Rania, another Ottawa mother, said her daughter took off her hijab for about a week at age 14 because she felt different and people looked at her. She said her daughter went to a "very white school," but that there were also many Muslims.
Rania said she felt that she had maybe been too strict with her daughter in the past about covering her neck and wearing looser clothing. Now, Rania said she takes a more relaxed approach because her daughter is still wearing the hijab. "It is a struggle. I am seeing older women taking off their hijab," she said.
She said she also has an older daughter who's working towards becoming a midwife and feels like "she's looked down at because she wears the hijab." But her older daughter said she will continue to wear it.
My journey
As a Muslim woman who wears the hijab, I feel that it often weighs more than the physical scarf. I chose to wear it at age 12 after many discussions with my parents, who worried that I was too young, naive and influenced by several friends who wore it. Since then, I never really thought about taking it off, but it never fails to be the reason for funny looks or street harassment. Like the Muslim women in Ahmad's research, I have been verbally harassed — at least three times in Ottawa, and once in Toronto while I was there for a visit. About three years ago, while waiting for an event to start at the University of Ottawa, a man felt it was his duty to yell at me, insult the Prophet Muhammad, and spit on the floor in front of me before walking away.
While this incident didn't scare me enough or cause me to question my decision, it left me hyper-aware of my place in the world and the spaces I occupy. I don't take public transit at night, or walk alone after dark — I even avoid being in downtown Ottawa unless otherwise necessary, because that's where all the anti-Muslim incidents I faced happened.
In the end, hijab, for me, is my assertion of control over how the world sees me. In it, I find pride in my identity, comfort and confidence.
EDITOR'S NOTE: This story was updated on Dec. 6 to remove one source's story.
Broadview is an award-winning progressive Christian magazine, featuring stories about spirituality, justice and ethical living. For more of our content, subscribe to the magazine today.