I remained blissfully unaware for much of Sunday morning. I woke up, ate breakfast and headed to the pool, not knowing that, here in Negombo, a primarily Catholic, tourist-friendly beach town just north of Sri Lanka's capital, Colombo, a scene of carnage and chaos was unfolding at St. Sebastian's Church, just around the corner — a little more than a kilometre from where I'm staying. Dozens were dead there — it was one of the hardest-hit places in the series of coordinated bombings that wracked this country Easter Sunday — and hundreds slain across Sri Lanka.
For me, it was all silent. Groggy with sleep and jet lag, having landed in the country less than 24 hours before, I was vaguely aware that the power had gone out, at the time that I now know the bomb detonated, and the blades of my hotel ceiling fan stilled, for just a few seconds, before the generator kicked in. I just rolled over and slept until breakfast.
I saw St. Sebastian's the day before, coming in from the airport. My first visit to Sri Lanka, I was unaware of its Catholic minority (about six percent of the population) and, consequently, that such a grand church would be found here. I remarked to my taxi driver that it was lovely — built in a Gothic style, it was patterned on Reims Cathedral in France.
Not a Catholic, I nonetheless made plans to visit for Easter Sunday services. It seemed like a cool way to connect with the culture. But I slept through the 8 a.m. service time. In the country to embark on an itinerary planned by Intrepid Travel, I connected with Darshika Jones, a regional director, who is here to lead the (now-cancelled) trip. A Sri Lankan native, her family fled to Australia with two suitcases after the outbreak of civil war in the early 1980s.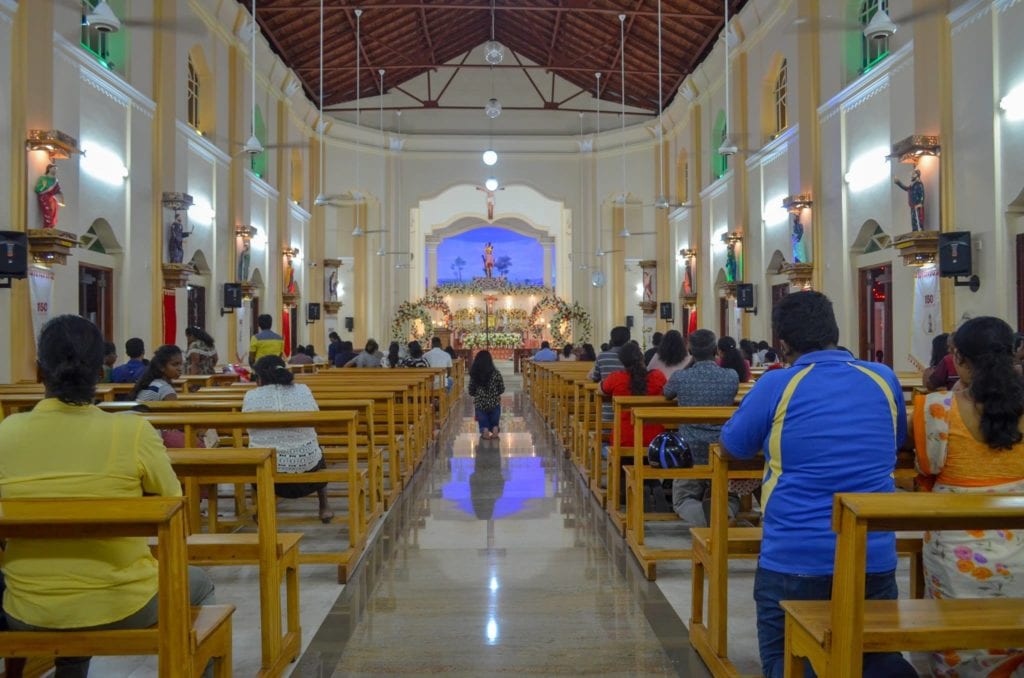 Jones's day today was mostly consumed by connecting with, and ensuring the safety of, some 200 travellers in the country on Intrepid itineraries. But she began her morning by heading to St. Sebastian's for sunrise service, fortunately opting for another church when she saw how full it was there. "It was packed," she told me as we sat outside at the hotel bar Sunday evening, heat lightning flashing over the sea. She noted that people had actually anticipated the crowd and brought their own plastic chairs to sit on the lawn outside. Thinking back to just a few hours before, she shook her head. "It's so horrific."
My day proceeded in a surreal bubble of calm. Alerted to the attacks by friends on Facebook, I resolved to stay away from the church until I was certain I wouldn't be in the way of first responders (or, to be honest, in harm's way), planning to visit the site later this afternoon. Here at the hotel, the only sign that anything was amiss was the increasing unreliability of the internet, the eventual shutdown of social media sites, and the fact that everybody I could see was having a Skype chat with their loved ones at home, assuring them that they were safe. By the time I planned to venture out, the government had declared a country-wide curfew.
So I was left with my thoughts — my sadness for the worshippers who awoke Sunday morning, ready to rejoice, and instead faced an evil fate; for the families who will spend a sleepless night mourning a sudden, unexpected, and incomprehensible loss; for the lives changed forever.
I asked Jones about her hopes and fears. "After so much unrest, we've had a long period of peace and calm," she said, finally striking a hopeful note. "It's sad that this may have changed that. But I don't think so. I just don't think so."
For more of Broadview's award-winning content, subscribe to the magazine today.