Adam Prashaw's life was full of surprises from the moment he was born. Assigned female at birth, and with parents who had been expecting a boy, he spent years living as "Rebecca Danielle Adam Prashaw" before coming to terms with being a transgender man. Adam captured hearts with his humour, compassion and intensity. After a tragic accident cut his life short, he left a legacy of changed lives and a trove of social media posts documenting his life, relationships, transition and struggles with epilepsy, all with remarkable transparency and directness.
From his early childhood through coming out first as a lesbian and then as a man, and his battles with epilepsy and refusal to give in, the book "Soar, Adam, Soar" chronicles Adam's drive to define himself, his joyful spirit, and his love of life, which continues to conquer all.
Below is an excerpt from the book, which can be ordered from independent book stores, Indigo, Amazon, or rickprashaw.com.
Chapter 3: A Beautiful Baby Girl 
April 22, 1993
Sudbury General Hospital, Sudbury, Ontario 
It is love at first sight. 
We are at the Sudbury General Hospital late in the afternoon. Suzanne has had a ringside seat for those nine months leading up to today. This is her account: 
Rebecca was born on a cool April day after staying in the womb a little longer than I expected. She was my fourth child; she was ten days overdue. The night before she was born, I took a long walk, frustrated with the false labour leading nowhere and eager to hold her in my arms. 
Of course, at the time, I thought she was a he. Many of you have heard the story of me being so convinced I was carrying a boy I called my growing belly Adam for nine months. I was shocked when the doctor said, "Congratulations, you have a beautiful baby girl." I was truly stunned; I had had no doubt that baby was a boy. 
When she decided it was time, she entered the world so fast it was over before I understood the labour. That Thursday afternoon, I was walking the halls of the hospital before 4:00 p.m., worried it was more false labour, and then seventeen minutes later, Rebecca entered the world. In many ways, this was the story of her life. She was slow to jump into anything, but once she decided to do something, she jumped into it with gusto. 
Typical of stories, I have my own version of the pregnancy and birth. This kid, Rebecca Adam, is indeed my first child. I had married Suzanne the year before, choosing to leave active ministry as a Roman Catholic priest. It was a willing, magical jump into the deep end of family life; I was an instant stepdad of three children — Lindsay, Lauren, and David. In truth, as "with it" as I liked to think that I was as a priest, I knew next to nothing about birth and babies, even though I had baptized hundreds of them. Suzanne was the expert, with three kids already. She said we were having a boy, and that was good enough for me. We put a name on that "growing bump in the belly." For close to nine months, I enjoyed talking directly to Adam and with Suzanne about our Adam. 
The labour is short. I hold Suzanne's hand too hard. She tells me to look south or I will miss the quick birth. An intern catches the baby. No doctor could be found fast enough. The intern breaks the news of the gender of our child. Mom is gobsmacked. A third girl? Where did our Adam go? Suzanne sits halfway up on the delivery table, looking for a second opinion. The intern, the calmest in the room, announces that although it is the first baby he has ever delivered, he is confident that we are parents of a "beautiful baby girl!" 
But moms know best, right? 
---
When Adam came out as a boy years later, he told his own amazing, heartfelt version of how he came to have the name he loves. And he fashioned the news into his own birth announcement on Facebook:
Adam
September 13, 2014
… this is something that has been bugging me for a while…. and I do mean awhile… since I was a baby even in my mom's womb, I always considered myself a boy. I got used to Rebecca or Becca only because that's what I was born with and called all around. But my real full name is "Rebecca Danielle Adam Prashaw." Danielle was for my pepère [grandfather] whose name is Daniel but my parents added "le" to it to make it feminine but gave me Adam because they didn't want to have a ultrasound to see what I was because my mom had already had two girls and they were at the bottom of her belly and then had my bro and he was at top of her belly … so when she was having me she felt me up in her stomach for a while, not below like my sisters. So she and my dad expected a boy and came up with Adam for me. But when it was time I came out, it was total opposite, I was a girl … and they were shocked but still happy and of course with my dad's past life he came up with Rebecca and they gave that to me. 
As I grew up I felt like it just sounded odd, and inside I always loved boy things: playing with boys, playing video games, being Prince rather than princess, hated Barbie, built forts and played lego with my bro, power rangers etc! It has been very difficult for me to speak my mind and what my heart and mind wants. And been afraid of losing people or making people laugh at me… but thanks to a lot of newer friends and close friends I've had for a while some I call "bro" lol love them all … but now I want to start being who I really am… I've had to hide it well all my life… and felt uncomfortable till now and I just want now my family and friends to still be there and love and accept me for who I am.. 
So everyone, as of today as you saw already on my FB name I am a transgender named Adam. I was born with that name for a reason and so it is kept in as my name now.. this is Adam Prashaw Thanks 😛 means a lot.
Quite the birth announcement from our Adam! Better than the one we wrote for the Sudbury Star in 1993. Get my kid wound up and there is no end to what you will hear. And never doubt a mother's intuition. Adam delighted in telling people that his mom knew before he did that he was a boy. Years later, on his Facebook page, I joke that he must have smart parents to have known who he was from day one. 
So, in one way, I guess our Adam "came out" and "came into" himself when he was in his late teens and early twenties, but he says it best: Adam was there all along. We somehow knew that, too. However, accepting the doctor's declaration and what our eyes saw, we did name our "girl" Rebecca. It evolved into Becca. She spelled it "Bekkaa" on her first Facebook page. We included Adam in the legal name. Call us crazy. I have often wondered if Adam was up to some early mischief influencing this unusual choice, or was it that we parents were smarter than we thought? 
Growing up, our Rebecca was into Legos and building things, action figures — never dolls. She liked boy shirts. Forget makeup. If we were ever separated in a department store, I never bothered checking the girls' clothing section. I smiled when I saw my Rebecca next to a "girly girl" classmate or neighbour. That was like gender shock therapy for this dad.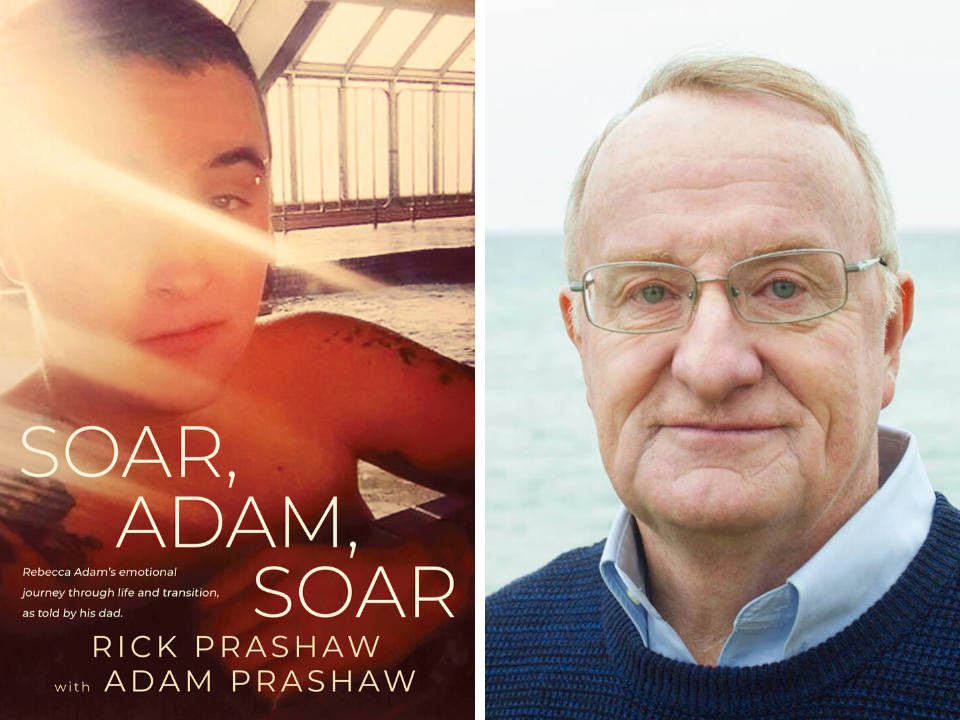 In his "I am Adam" 2014 Facebook post, he referred to his dad's past church ministry to explain the choice of the name Rebecca. He was right about that. I admired Rebekah in the Old Testament of the Bible. Rebekah figures prominently in Israel's story (Genesis 24–27). Mate of Isaac, mother of Jacob, she was destined to become ancestor of Israel. In a patriarchal world, she seized power, taking an active role in the many negotiations surrounding her family. This was certainly a foreshadowing of my child's character! My kid became proficient at seizing power in family negotiations. 
This biblical Rebekah was strong, courageous, an independent thinker, and knew how to exercise power. I wanted my kid to have a strong name, be confident as a child, and grow into a strong woman. We would not be disappointed, although we were not necessarily thrilled every time this strong-willed kid came knocking. A girlfriend called him "hard-headed." That is Adam. 
I went back to the early pages of the Old Testament to find that name. Who could imagine that, one day, our kid would trump that and turn back to the first page of that sacred book, to the story of creation, for his name. 
And none of us could ever imagine how strong our kid would be. 
[From Facebook:]
Bekkaa
April 4, 2013
forget the risk and take the fall, if it's what you want, then it's worth it all [Malik Ferraud, "You Alive"]
---
Excerpt from Soar, Adam, Soar by Rick Prashaw © 2019. All rights reserved. Published by Dundurn Press Limited.
Broadview is an award-winning progressive Christian magazine, featuring stories about spirituality, justice and ethical living. For more of our content, subscribe to the magazine today.