UPDATE: Shepherds of Good Hope announced Thursday that they had raised about $750,000 over the last two weeks.
Staff, volunteers and clients at Shepherds of Good Hope in Ottawa experienced a tumultuous weekend at the end of January due to the Freedom Convoy protests. But an outpouring of support  — including from some protesters — has turned a bad situation into a hopeful one.
"It's been amazing," says president and CEO Deirdre Freiheit of the more than 12,000 individual monetary donations the homelessness-focused organization received between Jan. 30 and Feb. 1 alone. "To have that many donations for us in 48 hours is staggering," she says.
Donations also included so much food the organization had to ask people to stop donating, as its kitchen storage was stuffed.
Shepherds of Good Hope runs a soup kitchen offering three meals a day at its main location on Murray Street in downtown Ottawa. The non-profit also operates assisted housing facilities and a transitional emergency shelter where nurses treat people in crisis related to alcohol or drugs.
The pandemic, the city's housing crisis and more deaths from toxic street drugs have all made the past few years especially difficult for Shepherds' vulnerable clients.
The arrival of the convoy, which includes people protesting vaccine mandates for truckers, on Saturday, Jan. 29 did not help.
"The chaotic environment has put stress on our community," says Freiheit.
---
Interested in more stories like this? Subscribe to Broadview's weekly newsletter.
---
That day, two trucks parked in Shepherds' ambulance drop-off. "It blocks the closest entrance," says Freiheit, who says paramedics and police had to drop people off further down the street. It took nearly 12 hours for the trucks to be towed away.
Late Saturday, protesters began demanding meals and verbally abusing staff in the soup kitchen. The kitchen was understaffed as only one volunteer had been able to make it in, staff say.
Then, in the early hours of Sunday morning, a protester assaulted a shelter client on the street. When a peer support worker and security guard went to help him, someone yelled a racial slur at them.
On Sunday morning, leaders were alerted to an audio message circulating on Twitter. It told protesters if they needed a meal, they could get one from Shepherds.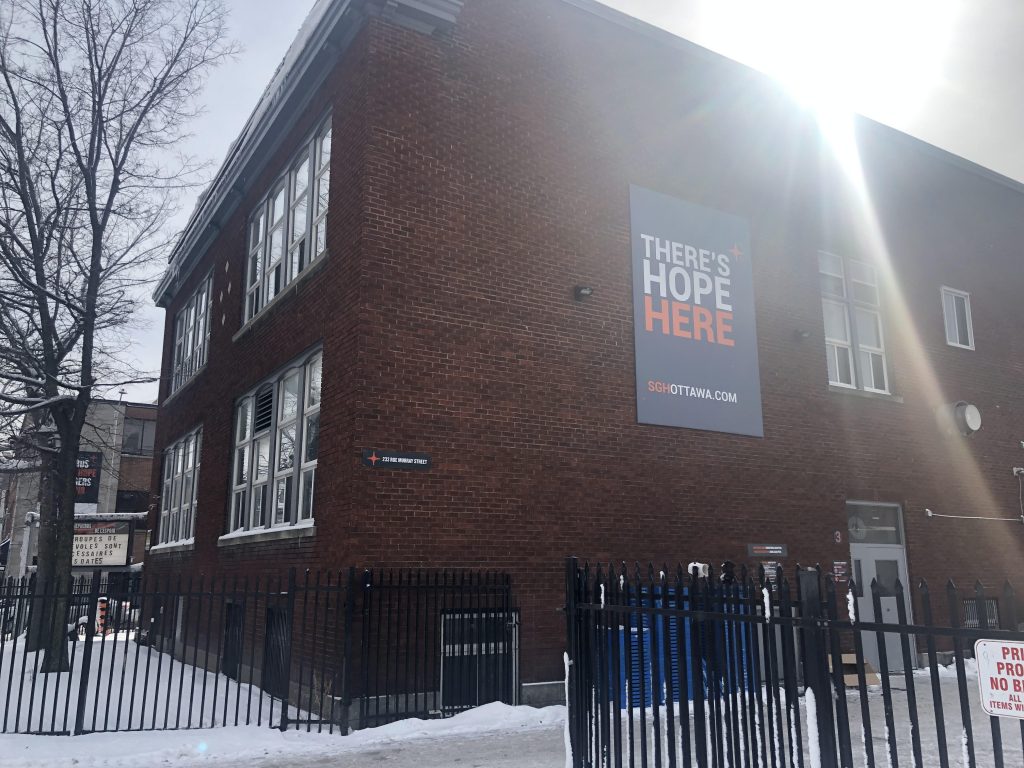 "That's when we felt we had to say that we're here for those who are most vulnerable in our community. We need to be able to do that work without anyone harassing staff," says Freiheit. She and her team composed a statement for Twitter that outlined what had happened on Murray Street.
Within hours, Shepherds was inundated with calls, direct messages, monetary donations to its website and food gifts. Many who stopped by with sandwiches, desserts and bags of groceries were protest participants. These donors said they endorsed the main protest messages but did not support acts of violence and wanted to make amends.
The rest of the week continued to be a challenge for Shepherds with noise unnerving clients, and staff and volunteers struggling to commute in. Cornerstone, a women's shelter, also released a statement about how much the protest was impacting its operations. "Women and staff are scared to go outside of the shelter, especially women of colour," it wrote.
---
More from Broadview:
---
But with a new campaign underway to promote a better understanding of homelessness, Shepherds of Good Hope might be able to leverage this sudden attention to galvanize its community against stigma.
On Feb. 1, the organization launched Change the Frame, a planned online campaign aimed at changing the conversation around homelessness. Two videos for the series have gone live that introduce viewers to Shepherds' clients, how they came to experience homelessness and the impact of stigma on their lives.
"If we have an increased audience, maybe some of them go beyond and learn a little bit more about what we do, look past the controversy and watch these videos to hear peoples' stories," says Caroline Cox, senior manager of communications for Shepherds.
Staff had no idea that this whole experience would lead to a unprecedented donation surge.
"This money will go far to addressing homelessness in Ottawa," says Cox. Shepherds is opening a new assisted housing facility this year and the organization is seeing ever-increasing demand for its services.
"Coming out of this, it brings us hope that there are good people out there who care, and that's inspiring for us," says Freiheit.
EDITOR'S NOTE: This story was updated on 02/15/2022 to clarify that the 12,000 donations Shepherds of Good Hope received were solely monetary. 
***
Diane Peters is a Toronto-based freelance writer and editor. She covers health, business, science, urban planning and whatever else comes her way.
---
We hope you found this Broadview article engaging. 
Our team is working hard to bring you more independent, award-winning journalism. But Broadview is a nonprofit and these are tough times for magazines. Please consider supporting our work. There are a number of ways to do so:
Subscribe to our magazine and you'll receive intelligent, timely stories and perspectives delivered to your home 8 times a year. 
Give the gift of Broadview to someone special in your life and make a difference!
Thank you for being such wonderful readers.
Jocelyn Bell
Editor/Publisher